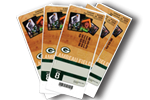 Go to the game!
Game Tickets/Packages available from the Packers' Official Tour Company!
» Go to the game with us!
Offensive tackle duo could be next Clifton-Tauscher combo at 1265
By CHRIS HAVEL
In the NFL the center holds an offensive line together, but it is the tackles that keep it from caving in.
In Green Bay, Aaron Rodgers has been harassed, hurried and hit more than any NFL quarterback in the past six seasons. Since becoming the starter in 2008, he has been sacked 34, 50, 31 36, 51 and 21 times. Last season, Rodgers endured a career-low 21 sacks, but only because he missed seven games with a broken right collarbone. That must stop if Green Bay expects to return to the Super Bowl.
Enter the tackles, David Bakhtiari and Bryan Bulaga. They are the bookends on an offensive line with strong veteran starting guards (Josh Sitton and T.J. Lang), a hotly contested battle between J.C. Tretter and Corey Linsley at center and decent depth. They are entrusted with Rodgers' health and well-being.
The Packers haven't had bookend tackles since Chad Clifton (left tackle) and Mark Tauscher (right tackle) teamed up in 2000. They stepped in as rookies and were an outstanding tandem for the next decade.
Remember the mess Cliffy and Tausch cleaned up way back when? On the right side, Earl Dotson was a Super Bowl-caliber tackle at the end of his career. On the left side, the erratic Ross Verba was giving the coaches headaches. Beyond that the options were Slim & None.
In one fell swoop, GM Ron Wolf solved the revolving door at tackle. He drafted Tennessee's Clifton with the 44th pick in the 2000 NFL Draft. He followed up by selecting Wisconsin's Tauscher with the 224th pick. Together, they enabled Brett Favre to never miss a start. Now, Bakhtiari and Bulaga must try to do the same for Rodgers.
Packers head coach Mike McCarthy sounded a positive note at the team's recent OTA's.
"Bryan Bulaga looks good," he said. "We're in the OTA practices and I think our pass-under-pressure drill has been good, so we're getting some work there with the sets. So the individual work is what our offensive line coaches do a great job of, so he's getting exactly what he needs. He's stronger. He weighs a little more than he has in the past. So he's having a heckuva spring."
Bulaga, 25, is coming off a torn ACL in his left knee. He injured the knee during Family Night last August as the starting left tackle. Now, he comes into the season as the starting right tackle after missing most of the past two seasons with hip and knee injuries.
Bulaga's comeback and sustained health are critical to the team's success. Don Barclay, who stepped up last season, has played well enough to believe he provides reliable depth as a backup. As the full-time starter, however, he is lacking.  Bakhtiari, 22, eventually won the starting job at left tackle, where he played admirably as a rookie.
"David has established himself as a left tackle," McCarthy said.
The question is this: Will he be THE left tackle? So far, there's no reason to think a bigger, stronger and more experienced Bakhtiari won't build upon his strong first season.
That is critical because Derek Sherrod, his backup, hasn't practiced full-time since breaking a leg as a rookie in 2011. To expect Sherrod to miraculously stay healthy and play well enough to be counted on is probably a reach. Until it happens, it's probably more wishful thinking.
That's why Bakhtiari and Bulaga need to roll through training camp with a clean bill of health. Otherwise, it's doubtful if Rodgers will be able to do the same for an entire regular season
Chris Havel is a national best-selling author and his latest book is Lombardi: An Illustrated Life. Havel can be heard Monday through Friday from 4-6 p.m. CDT on WDUZ FM 107.5 The Fan, or on AM-1400, as well as Fan Internet Radio (www.thefan1075.com). Havel also hosts Event USA' MVP Parties the evening before home games.