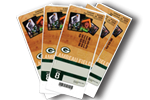 Go to the game!
We have lots of ways to get you to the games, for ANY Budget!
» Go to the game with us!
Neck injury forces RB Franklin out;
TE Rodgers, S Hyde sharp early on

By CHRIS HAVEL
Rookie tight end Richard Rodgers' presence and veteran Andrew Quarless' absence during the Packers' OTA's and minicamp revved up the intrigue at one of several key positions.
Rodgers, the unheralded third-round pick from Cal, showed everyone he has plenty of speed, agility and soft hands to be effective in the passing game. That was the greater question with him. Most "experts" believed he would be an effective in-line blocker capable of sealing the edge.
When the pads come Rodgers' stock will rise, which makes the Packers' tight end core extremely competitive and deep.
The same could be said of the running back group until last week.
Second-year running back Johnathan Franklin's release Friday due to a neck injury abruptly ended a promising career.
It also created a void in the backfield where Franklin was expected to compete with Dujuan Harris for the third-down back duties.
Franklin, a fourth-round pick from UCLA, played in 11 games last season. His season and ultimately his career ended in Week 12 when he was injured returning a kickoff. He received a concussion and neck injuries, and eventually was placed on season-ending injured reserve.
His best day as a pro came at Cincinnati when he rushed for 103 yards in a half before being injured. He was a hard worker, a talented player and an engaging person who will be missed.
"It's never easy releasing a player, but it's especially difficult when a young man's opportunity is taken away from him because of an injury," Packers GM Ted Thompson said. "Johnathan is a great person, a wonderful teammate, and a man that lives by his faith. The Packers are fortunate to have had the chance to work with him and we know that he will excel in whatever the future holds for him. He will always be a member of the Packers' family."
Now, it is up to Harris to seize the opportunity. Harris' most memorable moment came two years ago in the playoffs when he rushed for 53 yards in the first half of the Packers' blowout loss at San Francisco.
The Packers are counting on Harris to be available and productive during training camp. If he falls short McCarthy may just go with two running backs (Eddie Lacy and James Starks) and a fullback (John Kuhn). That cuts it awful short at a position where injuries are common.
Meantime, Quarless, Rodgers, Ryan Taylor, Brandon Bostick, Colt Lyerla and others will be competing at tight end. Who survives may depend on how many tight ends Thompson and McCarthy decide to keep.
Quarless' injury, like linebacker Nick Perry's, is something of a mystery. If he returns to form, he should be the starter. However, if he is slow to recover look for Rodgers to thrust his way into a starting role with Lyerla and Bostick being used in the passing game and on special teams.
On defense, the Packers used Julius Peppers at both outside linebacker and defensive end. Look for the veteran to seek out favorable one-on-one matchups while offenses are forced to keep an eye on Clay Matthews.
In the secondary, Micah Hyde lined up with the first unit at safety and certainly is in the mix to start. Whether it is Hyde and Morgan Burnett, or first-round pick Ha Ha Clinton-Dix and Burnett in the starting lineup, look for Hyde to be on the field for a lot of snaps.
McCarthy likes his versatility and playmaking ability.
Unless Burnett shows up with a strong training camp, it might be Hyde and Clinton-Dix as the safeties with Burnett used in sub-packages. Clearly, Hyde's development and the talent and depth at cornerback put Burnett's status in doubt.
That is one of several key questions that begin to be answered July 26.
Chris Havel is a national best-selling author and his latest book is Lombardi: An Illustrated Life. Havel can be heard Monday through Friday from 4-6 p.m. CDT on WDUZ FM 107.5 The Fan, or on AM-1400, as well as Fan Internet Radio (www.thefan1075.com). Havel also hosts Event USA' MVP Parties the evening before home games.