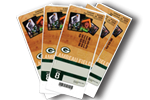 Go to the game!
The Season is almost here and we can get you to the games!
» Go to the game with us!
List of most engaging characters in franchise history begins with Favre

By CHRIS HAVEL
In August of 1991 I began my first season as the Packers' beat writer for the Green Bay Press-Gazette.
Twenty-three years later, I am still amazed at the quality, character and talent of the players, coaches, scouts and front office executives who have been subjected to my scrutiny. Occasionally, I will grab a pen, some paper and a cool drink while conjuring column topics. Today's topic focuses on some of the most engaging people I have interviewed, reported on and opined about.
It is difficult to say which person was the most engaging.
Longtime team president Bob Harlan possessed a quiet dignity, trustworthiness and competence that served the Packers tremendously. He never betrayed a trust, exaggerated an issue or leveraged information in order to promote his own agenda.
If he could give the facts he did. If he couldn't he would say so.
Ron Wolf, the lifelong Raider who transformed the Packers into winners, is worthy of an entire volume of books. His knowledge was at once impressive and imposing. Interviewing Wolf was like playing a game of tag with a much quicker, more nimble opponent. I felt like I was always "it" with little chance of turning the tables.
At times, interviewing Wolf turned into an interrogation – he of me – and I could feel the heat rise off the back of my neck, and the sweat trickle down the middle of my back. Mostly, Wolf exemplified all that is great about the NFL. He was a talent scout supreme who took no shortcuts and expected no favors. He was a staunch member of the NFL-AFL's old guard. Wolf, along with Raiders owner and football pioneer Al Davis, did much to develop the game millions of fans enjoy each autumn.
Mike Holmgren was the task-master, teacher, father figure and disciplinarian rolled into one. He also knew football – especially offensive football – as well as anyone on the planet.
Mike Sherman probably didn't get the credit he deserved as a coach. He never really got a firm grip on his Hall of Fame quarterback, Brett Favre, and that coupled with his GM aspirations were his undoing.
Mike McCarthy might be the most straightforward, tell-it-like-it-is head coach in the entire league. He doesn't play games with the media. He hasn't the inclination or the time. He has been able to sustain his message, enhance his legacy and elevate his stature in Green Bay.
McCarthy is going to be a first-ballot inductee into the Packer Hall of Fame, and he quietly is stacking up success upon success. I predict McCarthy-Rodgers will win at least one more Super Bowl and advance to no fewer than two in their remaining time together.
Speaking of Rodgers, the NFL's top quarterback is on the verge of greatness. His career numbers already compare favorably to anyone who has ever played the position. They can only increase. Rodgers' handling of the media has been a thing of beauty. He is accessible without being oversaturated. He speaks when he has something on his mind. Otherwise, he is friendly, funny and fairly playful when being interviewed.
Meantime, Favre remains the most engaging of all the characters throughout Packers' history. Certainly Reggie White, Sean Jones and Gilbert Brown were larger-than-life figures who played prominent roles in Green Bay's Super Bowl renaissance.
However, Favre remains the most intriguing character of all. The "Iron Man" and country boy is both simple and complex. By the time he finishes answering some questions you're not sure if Favre has overanalyzed or oversimplified.
He is OK with his own company, but also a social butterfly if the occasion suits. My guess is a lot of fans will be reminded why Favre was so special if/when the team retires his No. 4 and places it on the Lambeau Field ring of honor.
On a lengthy list of engaging characters Favre still rates top dog.
Chris Havel is a national best-selling author and his latest book is Lombardi: An Illustrated Life. Havel can be heard Monday through Friday from 4-6 p.m. CDT on WDUZ FM 107.5 The Fan, or on AM-1400, as well as Fan Internet Radio (www.thefan1075.com). Havel also hosts Event USA' MVP Parties the evening before home games.