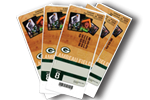 Tickets/Packages
We get you to the game and more!
» Go to the game with us!
Thompson, McCarthy & Rodgers headline intriguing 2014 season
By CHRIS HAVEL
Ted Thompson's role in building the 2014 Packers is slowly drawing to a close. Green Bay's general manager has done his best to improve the team's talent and depth.
Thompson acquired Julius Peppers in free agency. He adroitly re-signed B.J. Raji and Sam Shields. He drafted a safety (Ha Ha Clinton-Dix), a couple receivers (DaVante Adams and Jared Abrederis) and a nose tackle (Khyri Thornton) to fight for starting jobs and roster spots.
Now it is up to head coach Mike McCarthy to mold and develop the talent. Beyond that it is quarterback Aaron Rodgers who must run the show. Together, this trio gives the Packers a chance to win every season.
In 2014, Green Bay seems poised to win the NFC crown. The players sense this is their time. Some of that is due to acquiring a player such as Peppers, who brings immediate character and credibility. It tells the younger players, "The front office and coaches believe we're close – so let's go out and prove them right."
It was no secret the Packers needed help at safety. To have Clinton-Dix, arguably the top player at that position in the draft, fall to them was fortuitous. To have Adams, a player they coveted at a position they needed help, also was a bonus.
In 19 days, McCarthy will roll out the 2014 season for fans who entertain high hopes and expectations.
Rodgers will be healthy and ready to roll off his best offseason, according to the head coach.
The offensive line is as settled as it's been going into camp. Once McCarthy decides who to start at center (my guess is J.C. Tretter) the line will have time to work together and gel.
The running game is outstanding with second-year back Eddie Lacy.
The defense has been significantly upgraded by an infusion of talent through free agency (Peppers, Shields, Raji, etc.), the draft (Clinton-Dix, etc.) and healthy returning players (Jerel Worthy, DaTone Jones, Randall Cobb, etc.).
The special teams have been upgraded by the addition of assistant coordinator Ron Zook. His experience should be most useful to coordinator Shawn Slocum.
There seems to be a positive aura surrounding this team. It comes from surviving and even thriving at times during a difficult season the year before. And it comes from knowing that if the Packers handle their business as a team, they should be playing for an NFC Championship.
First, the Packers must control the NFC North. That won't be easy given the obvious talent in the division. However, the Packers are the defending champions and they have reached the post-season five straight years. That doesn't mean they've been good. They've also been a match-up problem for division foes.
Sure, the Bears' offense has been upgraded under head coach Marc Trestman and the Alshon Jeffrey-Brandon Marshall tandem is dynamic. Even running back Matt Forte is dangerous. The problem is the Bears' defense isn't as good as Green Bay's and neither is Chicago's quarterback. That's two big realities to overcome.
The Lions have a new head coach but many of the same old questions. Is the offensive line good enough to protect Matthew Stafford? Is Stafford good enough to win the big game? Is the defense going to play with discipline or continue to do as much damage as good?
Then there is the Minnesota Vikings. Enough said.
Everything from the offseason to the opponents and even the schedule sets up nicely for the Packers. They open at Seattle – a tremendous challenge to be sure – but it also means an opportunity to get off to a fast start against a conference opponent with a road victory. If the Packers lose, well, it's one of 16 … and a road game besides.
But now isn't the time to talk of losses. It's time to look forward to what shapes up to be a superb 2014 season … 19 days and counting.
Chris Havel is a national best-selling author and his latest book is Lombardi: An Illustrated Life. Havel can be heard Monday through Friday from 4-6 p.m. CDT on WDUZ FM 107.5 The Fan, or on AM-1400, as well as Fan Internet Radio (www.thefan1075.com). Havel also hosts Event USA' MVP Parties the evening before home games.