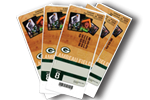 Tickets/Packages
Are you ready for football? We get you to the games & more!
» Go to the game with us!
Rodgers, Lacy headline reasons Hall of Fame RB, T like chances
By CHRIS HAVEL
Ahman Green is the Green Bay Packers' all-time leading rusher. Ken Ruettgers is one of several key players who helped Green Bay bridge the gap from Lindy Infante's futility to Mike Holmgren's brilliance.
They will be honored at the 44th annual Packer Hall of Fame banquet this summer. On Monday, they attended the Packer Hall of Fame Golf Classic at The Bull in Sheboygan Falls. Their paths to greatness and Packer immortality are divergent, but their belief in the Packers' 2014 team is identical: Both see the potential for a sixth straight playoff appearance and a possible Super Bowl berth.
"Oh, man, I really like this team," said Green. "We haven't really seen Aaron Rodgers and Eddie Lacy together for an entire season. That's really going to put a lot of pressure on defenses. Those who know football know that you have to control the interior of the line between the tackles. To be honest, when the Giants knocked out the Packers after the 15-1 season, it was because (Green Bay) couldn't control the inside.
"Now, you've got Lacy slamming it in between the tackles, which forces defenses to commit more players to stopping the run. That's fine. The Packers still have Aaron throwing the ball to the perimeter. It's really going to put a lot of pressure on defenses."
Ruettgers, the seventh player selected in the 1985 NFL draft, played with the Packers from 1985-1996. His film study and attention to detail made him a 6-foot-6, 295-pound tactician and technician. When he was at the top of his game opposing pass rushers were routinely and unceremoniously stoned. Ruettgers was a focused player who played with purpose and through pain. His knees were grinding bone-on-bone when he finally called it a career.
But not before he helped the Packers win Super Bowl XXXI in 1996. He didn't play in the game, but he did receive a Super Bowl ring.
"I take a lot of pride in being able to have helped the Packers get from losing teams to the playoffs," he said. "It was nice to be a part of that history, and it's an honor to be in the Packer Hall of Fame."
Ruettgers believes the Packers' offensive line is going to be able to protect Rodgers, who he sees having an excellent season.
"The NFC is very competitive," Ruettgers said. "But I think the Packers have a chance to go deep in the playoffs and get to the Super Bowl."
Green agreed.
"They have a lot of offensive firepower," he said.
Green, who lives in Green Bay and is involved in his Ahman Green Foundation, supports several causes including Alzheimer's research. He also coaches high school football and track, and is an administrator for the Green Bay Blizzard Indoor Football League team. Ruettgers, who lives in Bend, Ore., worked in the publishing industry briefly before founding the non-profit, GamesOver.org, which is dedicated to helping former pro athletes cope with the stress of retirement.
"There is the need for a way to bridge that gap," Ruettgers said. "We help athletes make the transition from pro athlete to retirement.
He has his B.A. in Business Administration and also earned a Ph.D in sociology from Cal State University, Bakersfield. He enjoys teaching and also coaching high school football. However, he counts his induction into the Packer Hall of Fame among his greatest achievements.
He bridged the Packers' gap from loser to winner, and he now helps athletes to bridge the gap from the NFL to society.
Both are proud of their contributions to the Packers' success, which they are confident will live on with the 2014 edition.
Chris Havel is a national best-selling author and his latest book is Lombardi: An Illustrated Life. Havel can be heard Monday through Friday from 4-6 p.m. CDT on WDUZ FM 107.5 The Fan, or on AM-1400, as well as Fan Internet Radio (www.thefan1075.com). Havel also hosts Event USA' MVP Parties the evening before home games.