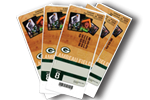 Players are in Camp!
Great Selection NOW on Game Tickets & Packages!
» Go to the game with us!
Lacy, Richard Rodgers bring attitude to offense
By CHRIS HAVEL
Training camp officially opened for the Green Bay Packers with Saturday's morning practice on Ray Nitschke Field. Its unofficial opening arrived Monday when the pads came on. It didn't take long to be reminded why expectations are high.
In one of the early periods Eddie Lacy took a handoff, barreled off right tackle and welcomed Utah State rookie linebacker Jake Doughty to the NFL. Lacy feigned outside, ducked back inside and slammed his left shoulder pad squarely between the 4 and the 5 on Doughty's jersey. I suspect Doughty's family and friends felt the blast back in Utah.
Meantime, Lacy seemed barely inconvenienced.
A bit later third-round draft pick Richard Rodgers was running a seam route when an Aaron Rodgers fastball came upon him in a blink. Just as quickly the tight end reached up and plucked the ball out of the air. The ease with which Rodgers snatched the football was impressive.
The running back-tight end combo of Lacy and Rodgers gives the Packers' offense a chance to play with physicality and finesse. Rodgers, at 6-4, 257, is a rare dual threat at tight end who can block and catch with equal aplomb. He's still raw which means he'll only get better as the season progresses. Lacy, who is only 24, has gone from last year's training camp curiosity to this year's offensive cornerstone.
When I see Lacy and Rodgers I think two words: "Play" and "action." The Packers can ground and pound if they choose to do so, but the reality is this is a pass first, run second team. In that regard, the quarterback looks terrific and the receiver corps looks talented and deep.
The newly minted Jordy Nelson looks superb, as does No. 2 receiver Randall Cobb, who is noticeably stronger in the upper body. Furthermore, second-round pick Davante Adams immediately flashed as a smooth, sure-handed pass catcher who seems eminently self-assured.
Jared Abbrederis, the pride of Wisconsin and Wautoma, made a diving catch early in practice and had a bad drop late. If Abbrederis makes the 53-man roster it will mean he had one tremendous camp. That's because Jarrett Boykin, Kevin Dorsey and Chris Harper all flashed Monday. Boykin made a nifty sideline catch, Harper snagged a difficult pass and Dorsey was smooth and sure-handed as a return man.
Defensively, Micah Hyde lined up opposite Morgan Burnett at safety with the No. 1 defense. While the popular storyline here is that Hyde is ahead of first-round pick Ha Ha Clinton-Dix, the reality is that Burnett better up his game because Clinton-Dix is waiting in the wings. In fact, I suspect it will be the Hyde-Ha Ha show at safety within a year and maybe sooner.
Fellow safety Sean Richardson had a nice interception on a Rodgers-to-Nelson pass down the middle, and the cornerback quartet of Sam Shields, Tramon Williams, Casey Hayward and Davon House all appeared lean, mean and ready to roll.
Once again, defensive coordinator Dom Capers had Julius Peppers and Clay Matthews lining up all over the place. Peppers would have his hand on the ground in a pass-rushing position on one play, and line up as a stand up outside linebacker on the next.Matthews was equally active and disruptive.
The defensive line certainly looks the part. Third-round pick Khyri Thornton moves much quicker than you might guess for a 304-pound man. Speaking of looking quicker, B.J. Raji seems like he's in the mood to earn a lot of money this season. Raji was hustling and showing a nice burst in the one-on-one pass rush drills.
For one padded practice, at least, it was all systems go.
Chris Havel is a national best-selling author and his latest book is Lombardi: An Illustrated Life. Havel can be heard Monday through Friday from 4-6 p.m. CDT on WDUZ FM 107.5 The Fan, or on AM-1400, as well as Fan Internet Radio (www.thefan1075.com). Havel also hosts Event USA' MVP Parties the evening before home games.