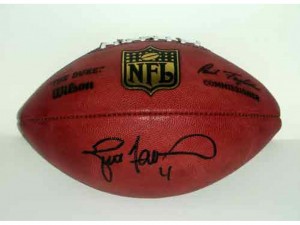 Get your #4 Piece of History!
Favre Footballs, Helmets & Framed Prints from The Vault!
» Brett Favre Autographed Memorabilia
Plus, the latest from training camp: Abbrederis deals with tough injury
By CHRIS HAVEL
In the National Football League, as in life, timing is everything. In this case the sooner, the better.
So it is with Brett Favre and the Green Bay Packers, who in a joint news conference today, announced that Favre's No. 4 jersey will be retired and he will be inducted into the Packer Hall of Fame July 18, 2015. The honor is richly deserved by Favre, who isn't merely one of the NFL's greatest quarterbacks of all-time, but one of its greatest players.
Favre was a savvy, durable, hard-nosed football player whose insanely strong right arm dictated that he play quarterback. His leadership was palpable, his toughness at quarterback unparalleled and his love of the game as unrelenting as his never-say-die spirit.
Bob Harlan, the Packers' chairman emeritus, said today, "Brett was the greatest competitor I have ever been around."
Clearly, it wasn't a matter of "if" Favre's jersey would be retired and he would be inducted into the Packer Hall of Fame. Rather, it was a question of "when"? Now we know.
So a week after Packers GM Ted Thompson's contract extension was announced the team then jointly announced plans to honor Favre. If there was any "Favre vs. Thompson" drama this ends it. In fact, Thompson and his head coach, Mike McCarthy, attended today's news conference and appeared to be enjoying the proceedings.
The Packers and President Mark Murphy – after a drama-filled summer surrounding Favre's "return to the family" – bounced back strong by bringing one of their greatest players back home. Favre is synonymous with the Packers, and vice-versa, so to honor the man is to honor the franchise.
It ought to be one tremendous party next summer.
Training camp notes, quotes and observations…
Jared Abbrederis' knee injury rates among the greatest disappointments of Packers' training camp. The ex-Wisconsin receiver showed he can play in the NFL before his injury. Now, it is up to him to come back bigger, stronger and even better prepared to make the Packers' 53-man roster in 2015.
In his brief time at training camp, Abbrederis displayed soft hands and precise route-running to go with his more than adequate speed. However, his upper body and torso need to be strengthened. Sadly, the knee injury will give Abbrederis an opportunity to get stronger. I suspect he'll make good on his vow to do exactly that.
Mason Crosby was perfect during the Family Night practice. On a personal level, I am pleased for Crosby. On a professional level, as a sports radio talk-show host in Green Bay, I can only say, "Thank you! Thank you! Thank you!"
J.C. Tretter is improving with each practice in his role as the team's starting center. Much is expected of Tretter, but as long as he maintains quarterback Aaron Rodgers' trust he should be OK. While Tretter needs to keep growing and improving, he also needs to stay healthy in light of rookie center Corey Linsley's shoulder injury. The Packers' offensive line gets a bit thin if Linsley has to miss time.
The Packers' defensive backs look like they are ready to challenge Seattle's "Legion of Boom!" for NFC bragging rights. Certainly, it's a long way from last year's Packers defense to where the Seahawks were at, but Tramon Williams, Sam Shields and Co. definitely looks the part.
Davon House is noticeably bigger and stronger while also appearing to be quicker and more aware. Casey Hayward is reminding everyone why fans were so gaga over him two seasons ago. Also, Ha Ha Clinton-Dix is progressing, Micah Hyde looks like he was born to play safety, and Sean Richardson looks pretty good backing up Morgan Burnett.
Julius Peppers is doing his part in Bryan Bulaga's return to form by challenging him at each practice.
"You just don't see many guys that big, strong and athletic," Bulaga said. "So it's good for me to work against him every day, and he'll let me know what I'm doing wrong or need to work on."
It is just one way Peppers is making an impact without registering his first sack in a Packers' uniform.
Chris Havel is a national best-selling author and his latest book is Lombardi: An Illustrated Life. Havel can be heard Monday through Friday from 4-6 p.m. CDT on WDUZ FM 107.5 The Fan, or on AM-1400, as well as Fan Internet Radio (www.thefan1075.com). Havel also hosts Event USA' MVP Parties the evening before home games.