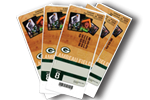 We get you to the games
Great Selection NOW on Game Tickets & Packages with options for all budgets!
» Go to the game with us!
Tretter, Bostick, Clinton-Dix among Packers singled out by head coach
By CHRIS HAVEL
Mike McCarthy's best decision in the Packers' preseason opener Saturday night at Tennessee came before kickoff.
A driving Nashville rain resulting in sloppy field conditions sealed McCarthy's decision to sit Aaron Rodgers and Eddie Lacy along with Jordy Nelson, who is day-to-day with a sore hamstring. Without the Packers' top three offensive weapons on the field, it was up to others to step up their game. McCarthy wasn't disappointed.
The offensive line and first-year starting center J.C. Tretter played well, especially in the run game. Tretter handled the wet football, played with command and didn't get rattled when he made a mistake.
"I thought J.C. had a good game," McCarthy said Monday. "It gives me more confidence in him."
It's all about trust in the NFL, and Tretter, tight end Brandon Bostick and first-round safety Ha Ha Clinton-Dix gained a fair measure in the Packers' 20-16 loss to the Titans in the preseason opener. Bostick showed big-play capability from the tight end position and perhaps the ability to mitigate the loss of Jermichael Finley.
Clinton-Dix, who played the entire first half, teamed with second-year defensive back Micah Hyde on the first unit. Clinton-Dix was beaten at the line of scrimmage by Titans tight end Taylor Thompson, but recovered in time to strip the football loose for an incomplete pass.
Clinton-Dix also was a willing and able tackler, and it appears the Packers' first-round pick out of Alabama will see considerable playing time as a rookie. He will be involved in sub-packages and also will play a key role in special teams' coverage units.
Clinton-Dix's solid debut coupled with veteran Morgan Burnett's return to practice Monday after missing several days with an oblique strain qualifies as good news for the defense. McCarthy also praised linebacker Sam Barrington (playing faster), center Garth Gerhardt (handled the second- and third- offensive line units well) and linebacker Joe Thomas (on special teams).
Veteran outside linebacker Julius Peppers played about a dozen snaps. While his production was minimal, his mere presence was formidable. Peppers' athleticism at his age (34) and size (6-foot-7, 287 pounds) is absolutely freakish. Peppers' bookend, Clay Matthews, participated in the half-line drill during Monday's practice and his thumb appears to be healed. The action was pretty heated at times and there were several scuffles.
"You're at that point in camp (when) there's an irritation level that's higher," McCarthy said. "You're working against the same guys all the time, and we had a lot of hitting today in practice."
For his part, McCarthy was pleased with Saturday night's sloppy conditions because it allowed his players to work through adversity.
"To me it's one of the best preseason games I've ever been part of because it's a training camp environment you can't create," he said. "You do wet ball drills and all of that, but the headsets went down, we had players making calls and checks on the field. Those are things you coach, you try to create in practice, but to have the real thing, the tackling, the footwork, to play with balance … it was a great opportunity."
McCarthy didn't mind that it was a balmy 70 degrees in Nashville. He also liked what he saw.
"It's nice when it rains like that when it's still warm," he said. "That game was something we can build off."
Perhaps the best performances were turned in by third-string quarterback Scott Tolzien (8-for-12) and backup ball carrier James Starks (6-for-49 and a touchdown). Now, the Packers get ready for Saturday's game at St. Louis, where the Rams' defensive line will pose a serious challenge.
Fortunately, McCarthy can feel better about that because Derek Sherrod and J.C. Tretter played so well at Tennessee. It will be nice to see Aaron Rodgers – and to not see him get hit.
Chris Havel is a national best-selling author and his latest book is Lombardi: An Illustrated Life. Havel can be heard Monday through Friday from 4-6 p.m. CDT on WDUZ FM 107.5 The Fan, or on AM-1400, as well as Fan Internet Radio (www.thefan1075.com). Havel also hosts Event USA' MVP Parties the evening before home games.