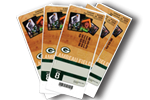 Preseason Deals!
Raiders – 8/22; Chiefs – 8/28.  Special deals now in effect including skybox seats!
» Go to the game with us!
By CHRIS HAVEL
Mike McCarthy held his regular Monday news conference in the wake of the Packers' 21-7 victory Saturday at St. Louis in Week 2 of the NFL's preseason. The Packers' head coach talked about the first-team offense's tempo, the defense's improvement against the run and which players stood out.
What he didn't have to dwell on was injuries. The Packers have had a productive and healthy training camp thus far. In McCarthy's world, the less drama that exists, the better.
Backup offensive lineman Don Barclay's season-ending injury has been about it from the bad news department. Otherwise it's been full speed ahead with a roster that appears to be talented and deep. In 16 days, the Packers will travel to Seattle to face the defending Super Bowl champions in the Sept. 4 regular-season opener. Between now and then McCarthy has to play two preseason games, navigate two roster reductions and be prepared for a challenging first month of the season.
The Packers' performance at St. Louis suggests everything is on track. Aaron Rodgers and the No. 1 offense looked mid-season sharp on a 12-play, 86-yard touchdown drive to open the game. The Packers' blend of pass-run coupled with Rodgers' weaponry should be dynamite. The defense appears competent, at least, compared with last season's unit at this stage.
Up front, B.J. Raji has been disruptive, while Mike Daniels continues to impress and DaTone Jones continues to improve. The addition of Julius Peppers gives Clay Matthews a pass-rushing counterpart, and the defensive secondary seems equipped to do some heavy duty ball-hawking.
Individually, first-round pick Ha Ha Clinton-Dix looks smooth at safety. The Packers have put him in a position to succeed by featuring his skills in sub-packages, rather than rushing him into a starting role. Clinton-Dix's range, tackling ability and instincts are readily apparent. Micah Hyde also looks as if he was born to play safety. Hyde has been an aggressive, sure-tackling player with a knack for making plays near the line of scrimmage. Third-year safety Sean Richardson also has been solid, while incumbent Morgan Burnett is back from a spate of injuries. Burnett has been more physical than in the past and might be feeling the heat.
Offensively, the Packers' toughest decision is which skill players to keep. It appears Jordy Nelson, Randall Cobb, Jarrett Boykin, Davante Adams and Jeff Janis will be the receiving corps. The tight ends will be Richard Rodgers, Andrew Quarless, Brandon Bostick and Ryan Taylor. It gets trickier at running back behind Eddie Lacy and James Starks. While some view the third running back as a battle between DuJuan Harris and the field, John Kuhn's job may not be secure.
Derek Sherrod struggled Saturday at St. Louis, but that's to be expected given his lengthy layoff with injuries.
The other decision is a quarterback where Matt Flynn and Scott Tolzien are competing behind Rodgers. Tolzien was 10 for 15 for 107 yards against St. Louis, while Flynn was 2-for-3 including a 34-yard touchdown pass to Janis.
"The offense got off to a great start," McCarthy said. "I really liked the production that we were able to get done in the first two series."
The guess here is that Tolzien has a chance to beat out Flynn for the backup job with a strong showing against the Raiders, in which case I suspect the Packers will keep just two quarterbacks on the roster.
At any rate, expect the Packers to be sharp against the Raiders on Friday night. McCarthy has been on top of everything from offense and defense to nutrition and sleep in an effort to best-prepare his team.
So far, it's been all good.
Chris Havel is a national best-selling author and his latest book is Lombardi: An Illustrated Life. Havel can be heard Monday through Friday from 4-6 p.m. CDT on WDUZ FM 107.5 The Fan, or on AM-1400, as well as Fan Internet Radio (www.thefan1075.com). Havel also hosts Event USA' MVP Parties the evening before home games.