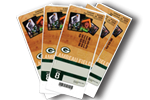 Great seats for Jets at Packers – 9/14
From end zone to midfield and all budgets we got you covered.
» Go to the game with us!
By CHRIS HAVEL
It's rare when the safest prediction is the weather going into a football game in the Pacific Northwest.
The Seattle forecast for Thursday's Packers-Seahawks season opener calls for sunshine and a daytime high of 76 with an evening low of 55. It also calls for a light northwest breeze and zero percent chance of rain.
Whether the 2014 Packers can run stuff Seahawks running back Marshawn Lynch remains to be seen. It also will be interesting to see if Green Bay's defense can generate an effective, sustained pass rush. Packers head coach Mike McCarthy expressed confidence in his defense during Monday's post-practice news conference.
"We're a better pass rush team today than we've been in a long time," McCarthy said. "Some of the things we've changed schematically, we've worked at it a lot more … and I think we saw the benefits in the preseason."
I couldn't agree more. Clay Matthews has never lined up opposite a big-time pass rusher. Still, he has 50 sacks in five seasons. That annual sack average may skyrocket now that he has 13-year veteran Julius Peppers across from him.
Peppers, 34, didn't act his age during the preseason. He showed uncommon strength, speed and agility for an athlete who stands 6-foot-7 and weighs 287 pounds.
Obviously, the Packers must control Lynch and the Seahawks' running attack if they are going to pull off an upset. Seattle is a 6-point favorite, but if the Packers can force Russell Wilson into passing situations – especially while building an even modest lead – the Seahawks' 12th Man is apt to be extremely disappointed.
If the Packers take the lead and/or stuff the run defensive coordinator Dom Capers should be able to cut loose his ball-hawking secondary. That is especially true if the Matthews-Peppers duo brings it strong.
"It'll be fun to see," Matthews said. "I know, as I've seen over the years – and as Dom has shown – we keep a multitude of defenses and schemes and formations, and (the Seattle offense) presents the very same problems. So we'll look to unleash it in Week 1 and hopefully it works in our favor."
Clearly, the Packers' special teams – especially the coverage units – must be solid. And it's likely Aaron Rodgers, Eddie Lacy and the Packers' offense will put up points even against Seattle's stingy defense. Jordy Nelson, Randall Cobb and the rest are too good to be shut down, and Seattle's defense can't possibly play like it did in the playoffs.
The Packers lost nose tackle B.J. Raji to a season-ending biceps tear late in training camp. Letroy Guion, who was acquired in the offseason, will start at the nose with Josh Boyd and Mike Pennel backing him up. I'll be curious to see how they perform against the run in concert with inside linebackers A.J. Hawk and Brad Jones. Clearly, the defense will receive upgraded run support from the safeties.
Ultimately, I see the Packers' offense and its 1-2 punch of Rodgers and Lacy controlling much of the action. I also see Green Bay's improved defense playing a more aggressive, ball-hawking style than last year.
It should add up to the NFL's first upset of the season.
Chris Havel is a national best-selling author and his latest book is Lombardi: An Illustrated Life. Havel can be heard Monday through Friday from 4-6 p.m. CDT on WDUZ FM 107.5 The Fan, or on AM-1400, as well as Fan Internet Radio (www.thefan1075.com). Havel also hosts Event USA' MVP Parties the evening before home games.