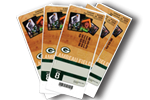 Great seats for Jets at Packers This Sunday!
From end zone to midfield and all budgets we got you covered.
» Go to the game with us!
Meantime, Green Bay offense fails to generate big plays in Packers' loss at Seattle
By CHRIS HAVEL
That's not a silver lining in the clouds. It's a jet. Actually, it's the New York Jets, who double as the Packers' next opponent and will hopefully be the start of good things.
The Jets used to be a pushover, an afterthought, an automatic 'W' on the schedule, just like the pre-Pete Carroll Seattle Seahawks used to be. It's not that way anymore, a fact the Packers and head coach Mike McCarthy faced last Thursday and again in Sunday's Lambeau Field season opener against the New York Jets.
The Jets (1-0) got past the Oakland Raiders and rookie quarterback Derek Carr 19-14 thanks to a strong pass rush and running back Chris Ivory's 71-yard touchdown jaunt in the second half.
Meanwhile, the Packers are seeking redemption and their first victory in the wake of last Thursday's loss to the defending Super Bowl XLVIII champion Seattle Seahawks in the NFL season opener.
The Packers' defense showed they have not yet made the progress they had anticipated from last year. For example:
Julius Peppers wasn't the factor we had hoped in the game. That has to change if Green Bay's defense is going to tighten up.
Clay Matthews showed tremendous burst in the pass rush, but the Seahawks picked up lots of rushing yards by going at his side. Marshawn Lynch, who ran for 110 yards and two touchdowns, broke several tackles while running off right tackle.
Sam Shields and Tramon Williams were very good, and the safeties were improved from last year. However, the inside linebackers (A.J. Hawk and Brad Jones) need better play. That has to change. To add to that issue, Brad ones had two costly penalties.
On offense, quarterback Aaron Rodgers never seemed to get settled in. Some of that discomfort might've been due to right tackle Bryan Bulaga's absence after injuring his knee in the first half. Bulaga's injury will keep him out a yet undetermined number of games. Derek Sherrod had a disappointing outing in relief of Bulaga. He needs to play better and will open at right tackle against a Jets' defense that can apply pressure.
The Jets sacked Raiders rookie quarterback Derek Carr twice while limiting him to just 3-of-12 on third down conversions in the loss.
Rodgers can't be harassed the way he was at Seattle.
I would expect McCarthy to be able to get the right tackle situation fixed in time for Sunday's 3:25 kickoff. Sherrod is going to have to be sharper this game and, with a week or reps with the first team, he should be better prepared. If not, T.J. Lang might move from right guard to right tackle, with Lane Taylor going to right guard.
Eddie Lacy, who rushed for just 34 yards against the Seahawks before being injured, should be OK after clearing concussion protocols. Lacy's bruising style was on display in Seattle, but he had little room to operate. His acceleration and lowering of the shoulder into Seattle safety Kam Chancellor was a thing of beauty. There just was never enough room to sustain anything.
Meantime, the Jets and head coach Rex Ryan will bring in a decent offense to go with their feisty defense. On Sunday, quarterback Geno Smith settled down after a shaky start to complete 23 of 28 passes for 221 yards. The Jets also rushed for 212 yards, including Ivory's 10 carries for 102 yards (and the 71-yard touchdown) and Chris Johnson's 68 rushing yards. So, the Packers run D will again be tested.
Also expect the Jets to utilize some play-action passes and Jet Sweep action in its offensive attack Sunday. Ivory and Johnson are explosive backs who are tough to bring down on first contact. Hawk and Jones better be ready to bring it, and nose tackles Josh Boyd and Letroy Guion need to be much stronger at the point.
I'll be surprised if the Packers are outplayed by the Jets, but if it happens it'll be because Green Bay's offensive line didn't give Rodgers time and Lacy openings.
I like the Packers 27-17 over the Jets, but it won't be easy.
Chris Havel is a national best-selling author and his latest book is Lombardi: An Illustrated Life. Havel can be heard Monday through Friday from 4-6 p.m. CDT on WDUZ FM 107.5 The Fan, or on AM-1400, as well as Fan Internet Radio (www.thefan1075.com). Havel also hosts Event USA' MVP Parties the evening before home games.