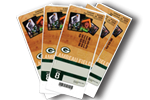 Packers Tickets/Packages
We get you to the game & more!
» Grab Your Spot
Rodgers-to-Nelson erases 18-point deficit as Packers' defense finally shows up
By CHRIS HAVEL
A game like this gives players a chance to grow as one. From its stale start to its scintillating finish the Packers came together on their way to a 31-24 victory over the New York Jets in Sunday's regular-season home opener at Lambeau Field. The Packers looked more like the visiting team at the outset.
Green Bay fumbled away its first snap and the Jets responded by scoring on their first three drives. Before a sellout crowd could decide what hit it the Jets led 21-3 and appeared to be in complete control.
"It's a game of adversity. It's a game of momentum swings. It's a game of big plays," Packers head coach Mike McCarthy said. "We were in a spot, but our players stayed the course."
That's when Green Bay's defense grew a spine and forced the Jets' first punt late in the first half.
"The momentum came when we stopped them and started making plays and got off the field and got off on third down," Packers linebacker Jamari Lattimore said.
The Packers' defense appeared to jell as the game unfolded. Players began to play aggressively rather than passively, and they seemed to play with more confidence in themselves and each other. Mostly, the defense seemed bent on locating the football and getting after the quarterback or ball carrier, whichever was required. Far fewer players appeared to be standing in no man's land, neither playing coverage nor rushing the passer. On Sunday, at least, defensive coordinator Dom Capers' unit appeared to take a step forward.
Aaron Rodgers did the rest. The Packers' quarterback targeted Jordy Nelson 16 times while connecting on nine passes for 209 yards and the go-ahead touchdown. The big play was an 80-yard touchdown play in which Nelson beat Jets cornerback Dee Milliner on an out-and-up move. That made it 31-24 late in the third quarter.
Earlier, Randall Cobb caught two touchdown passes and a two-point conversion to give Green Bay a 24-21 second-half lead. Rodgers completed 25 of 42 for 346 yards and looked much better than he did in the season-opener at Seattle.
Derek Sherrod started at right tackle and held up well enough to earn another start should Bryan Bulaga's comeback from a knee injury be delayed. Sherrod struggled at times, but got better as the game went on. He also received much-needed help from fullback John Kuhn and an array of tight ends.
Rookie receiver Davante Adams looked smooth and showed soft hands and confidence in his 2014 debut.
The Packers' defense got roughed up early, but bounced back midway through the second quarter to show some toughness. Mike Neal, DaTone Jones and others rallied to the ball carrier, and Clay Matthews and Mike Daniels applied good pressure on Jets quarterback Geno Smith. When the Jets' top weapon, receiver Eric Decker, left with a pulled hamstring late in the third quarter, New York's offense went stagnate.
Perhaps the Packers' biggest play came when cornerback Tramon Williams made a leaping interception in front of Jets tight end Zach Sudfeld at the Packers' 3-yard line. Then, Rodgers led the Packers on an impressive 10-play, 97-yard drive in 1:44. It was capped by a Rodgers-to-Cobb 6-yard touchdown strike that made it a do-able 21-16 five-point deficit at halftime.
"You never want to come out that flat, you never expect to come out that flat, but we did and we found a way to get through it," Williams said.
The way they got through it was together.
The offense relied on the defense. The defense earned a measure of trust. The special teams – including sensational work from Mason Crosby and Tim Masthay – also played well.
Rodgers and Nelson did the rest. Afterward, the quarterback had high praise for his primary weapon.
"Well, pretty impressive. Take it for granted sometimes. He's not a big 'me' guy … so he kind of gets overlooked sometimes," Rodgers said. "We know the kind of player he is."
The Jets, and everyone else, got a reminder on Sunday.
Chris Havel is a national best-selling author and his latest book is Lombardi: An Illustrated Life. Havel can be heard Monday through Friday from 4-6 p.m. CDT on WDUZ FM 107.5 The Fan, or on AM-1400, as well as Fan Internet Radio (www.thefan1075.com). Havel also hosts Event USA' MVP Parties the evening before home games.