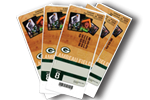 Great October Clashes Coming to Lambeau!
Let's get you to the games & more!
» Grab Your Spot
Rodgers neutralized against aggressive front 7; Lacy, run game falter
By CHRIS HAVEL
Aaron Rodgers and the Packers' offense hit a surprising slump against the Detroit Lions' defense.
The Lions' defensive front seven controlled the game in Detroit's 19-7 victory over Green Bay Sunday at Ford Field.
And that D even put up nine first-half points on defensive back Don Carey's 40-yard fumble return for a touchdown, and linebacker DeAndre Levy's tackle of Eddie Lacy in the end zone for a safety. That gave Detroit a 9-7 halftime lead.
A 30-yard Nate Freese field goal in the third quarter and Reggie Bush's 26-yard run for a fourth-quarter touchdown sealed the win. Meantime, Green Bay's offense couldn't get its groove on. The Packers ran just 51 plays while Rodgers finished an ordinary 16 of 27 for 162 yards and a first-quarter touchdown pass to Andrew Quarless.
"They've got a good defense," Rodgers said. "You've got to give them credit. As well as our defense played today, we scored seven and we gave up nine with our offense. They didn't even need to score."
The challenge continues this week as the Packers (1-2) are at Chicago (1-1) Sunday in the second of three straight NFC North games.
The Packers-Bears matchup features Julius Peppers' return to Chicago. It's magnified by the possibility that Packers linebacker Clay Matthews could be limited or out with a groin injury. Matthews didn't finish the Lions game, and the severity of the injury wasn't known early Monday.
The Packers' defense forced three turnovers and held the Lions to a manageable 353 yards of total offense. However, the Packers' dicey decisions such as re-kicking after a 5-yard penalty, and calling a timeout late in the first half when the Lions were content to run out the clock were debatable. Most disappointing was the Packers' lack of a running attack.
Afterward, Rodgers admitted the Packers' offense wasn't able to move against the Lions' "Cover 2" defense without a running game.
"Their goal was they were going to limit the number of one-on-one coverages and roll the coverage to Jordy (Nelson)," Rodgers told Packers.com. "We need balance. We have to run the ball better, more effectively. We haven't done it in the first three games."
Rodgers continued, "We have to run block better and we have to run better. We've had two marginal performances and one average performance."
At least Rodgers admitted it isn't just the run game that's struggling.
"We haven't been a sharp offense," he said. "I haven't been as sharp. We have to play better. We have to adjust better. They played a lot of two high (safeties) and we never successfully adjusted."
Rodgers was sacked twice and constantly harassed. He didn't have time to pick apart the Lions' MASH unit secondary, and never looked comfortable.
The Lions' Ndamukong Suh and friends were all too happy to wipe the smile off Rodgers' face after a short touchdown pass to Quarless, as they thereafter managed to pitch a shutout the final three quarters.
"I think we have an opportunity to dominate every particular game," Suh told reporters. "As long as we hone into our keys, get off the ball and do what we're taught and execute."
Now, the Packers must figure out how to jumpstart the offense. Rest assured the Bears' defense is going to employ the "Cover 2" and challenge the Packers to run the football.
Whether it's rookie center Corey Linsley's inexperience, a lack of technique and concentration line-wide or the ball carrier's inability to maximize yardage isn't clear. What is perfectly clear is the Packers' offense, like most offenses in the NFL, can't function anything near its best without at least a semblance of balance.
Right now it's putting too much pressure on a still-evolving defense to expect it to carry a sputtering offense. In fact, defensive coordinator Dom Capers' unit is going to have its hands full with a Bears offense that features an impressive array of weaponry.
If a less-than-stellar performance at Detroit isn't a wake-up call, the prospect of starting 1-3 surely is.
Chris Havel is a national best-selling author and his latest book is Lombardi: An Illustrated Life. Havel can be heard Monday through Friday from 4-6 p.m. CDT on WDUZ FM 107.5 The Fan, or on AM-1400, as well as Fan Internet Radio (www.thefan1075.com). Havel also hosts Event USA' MVP Parties the evening before home games.