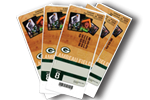 Great October Clashes Coming to Lambeau!
Let's get you to the games & more!
» Grab Your Spot
By CHRIS HAVEL
R-E-L-A-X, Green Bay Packers fans. Aaron Rodgers had it covered.
The same cannot be said of the Chicago Bears' beleaguered defense. When it rushed five Rodgers stood tall in the pocket and picked it apart. When it finally flushed him, Rodgers adroitly slid out of harm's way and into position to throw four touchdowns passes.
When Rodgers wasn't playing catch with his receivers, the Packers' defensive backs were playing catch with Jay Cutler. Green Bay's defense intercepted Cutler twice in the decisive third quarter of a 38-17 blowout win Sunday at Soldier Field.
The Packers (2-2) are tied with the Bears (2-2) and the Vikings (2-2) and sit one game behind the NFC North Division-leading Lions (3-1). The Packers host the Vikings Thursday night at Lambeau Field to wrap up a three-game stretch against division rivals.
Green Bay's rout of Chicago gives it a chance to go 2-1 in that stretch and still have a world of possibilities ahead. Such is life in the NFL. So much can change from game-to-game, let alone month-to-month.
Packers head coach Mike McCarthy appreciated that the Bears win was the 700th in Packers history. He also appreciated an offense that went on the attack with double-tight end personnel and never looked back.
"Big win," McCarthy told reporters. "It's always nice to be part of history. I feel very good about what was accomplished today."
The Packers scored on each of their first six possessions, frequently deploying Andrew Quarless and rookie Richard Rodgers together with two receivers (Jordy Nelson and Randall Cobb) and one running back (Eddie Lacy). While the Packers' running game didn't take off, the double-tight end personnel allowed Green Bay to throw out of run formations and convert first downs. It also gave Nelson and Cobb ample opportunities in single coverage, and Green Bay's wide receivers made Chicago pay.
The Packers' passing attack averaged an astounding 10.8 yards per completion, offset only by the fact that Green Bay's defense surrendered 7.5 yards per catch. Rodgers was 22 of 28 for 302 yards and a passer rating of 151.4, fourth all-time for the Packers' quarterback. He would have had a fifth touchdown pass, but a holding penalty nullified a 34-yard completion to rookie Davante Adams in the end zone.
It was about the only mistake the Packers' offensive line made.
"We produced. We scored points. We were very basic in our approach," McCarthy told reporters. "The pass protection was very good. Aaron (Rodgers) was excellent throwing to the open guy. We wanted to come in here and play fast."
That they did. For his part, Rodgers relished the opportunity to ease Packers' fans concerns after a 1-2 start. Rodgers now has nine touchdown passes to one interception this season.
"I don't feel like I need to prove anything," Rodgers said. "But it sure is nice when people start doubting us to go out and have a performance like this."
The game featured several milestones and curiosities. Beyond the fact that it was Green Bay's 700th win in franchise history, it also saw Rodgers eclipse the 25,000-yard mark for passing yards, the earliest of any QB in NFL history, based upon passing attempts.
Furthermore, it spawned a trivia question: Who is the Bears' punter? Neither the Packers' Tim Masthay nor the Bears' Pat O'Donnell had to boom a single punt during the game, only the second time in the long history of the NFL that has happened in a regular season game.
Poor clock management by the Bears and a superb tackle by Clinton-Dix just shy of the goal line, as time ran off the clock, cost the Bears a pivitol TD at the end of the first half.
The Packers' defense gave up 33 first downs while the Bears' Matt Forte rushed 23 times for 122 yards.  Yet, the Packers' D stiffened for a goal line stand in the first half that forced the Bears to settle for 3 points.  The way this track meet started, anything less than a TD was a failure.
Ultimately, Cutler proved no match for Rodgers. He hit on 22 of 34 passes for 256 yards and two touchdowns, but it was his two interceptions that cost Chicago dearly.
Savvy veteran corner Tramon Williams read a pass play while sitting in zone coverage, jumped the route and deflected the pass to Clay Matthews, whose interception and return stifled a Bears' drive and set up a Green Bay touchdown. Later, Sam Shields picked off a pass after the Bears' Brandon Marshall elected to freelance and go deep.
Those two plays kept the Bears at bay. Now the Vikings and rookie quarterback Teddy Bridgewater come into Lambeau Field for a Thursday night encounter. Bridgewater left Sunday's 41-28 victory over the Falcons with an ankle injury, but later said he would be ready to go against the Packers.
Rest assured Rodgers and the Packers' offense will be ready to go, but in case you doubt it just heed the quarterback and relax.

Chris Havel is a national best-selling author and his latest book is Lombardi: An Illustrated Life. Havel can be heard Monday through Friday from 4-6 p.m. CDT on WDUZ FM 107.5 The Fan, or on AM-1400, as well as Fan Internet Radio (www.thefan1075.com). Havel also hosts Event USA' MVP Parties the evening before home games.