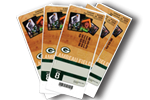 Pack on cruise control!
We can get you to all the upcoming games!
» Grab Your Spot
By CHRIS HAVEL
These days it is far better to play the Vikings than it is to be the Vikings.
From Teddy Bridgewater's absence to Eddie Lacy's resurgence, the Packers dominated throughout in Thursday night's rain-soaked 42-10 dismantling of a watered down Vikings team.
Sprinkle in Aaron Rodgers' three touchdown passes and Julius Peppers' first Lambeau Leap and the rout was on.
The Packers (3-2) saw their sluggish ground game grow legs with Lacy breaking out for a season-best 105 yards and two touchdowns. Aaron Rodgers added three touchdown passes, including a 66-yard bomb to Jordy Nelson, to highlight the conquest.
Frankly, the Packers did what was expected. That they did so in such splendid fashion – at least in terms of big plays – made an otherwise forgettable game actually watchable.
The Vikings (2-3) weren't in the Packers' class. Not by a long shot, which they were coming into game as 9 ½-point underdogs. Then, they proceeded to play like it with at times comical imprecision.
The Vikings didn't have their starting quarterback (Bridgewater), their starting tight end (Kyle Rudolph) or their starting running back (Adrian Pederson) to call upon. If the Packers didn't crush the Vikings under those circumstances, at their place, in that kind of weather, when would they?
Peppers' interception and 49-yard touchdown return was a special play by a big-time playmaker who is keeping Father Time at bay.
If the Packers' defense continues to improve under coordinator Dom Capers, Peppers' 10th career interception and ensuing Lambeau Leap might be viewed as the turning point.
Clearly, the Packers' 32nd-ranked run defense showed up. Even with Datone Jones' absence due to a second quarter ankle injury, Green Bay's defense stoned the Vikings' would-be running attack. Matt Asiata led the way with an inconsequential 72 yards on 15 carries with a long run of just 11 yards.
Asiata also fumbled after being stripped by safety Morgan Burnett. Cornerback Casey Hayward recovered what would be one of three Minnesota turnovers.
Ponder looked out of his league. He finished just 22 of 44 for 222 yards and two interceptions. Ponder's lack of pocket presence led the Packers' defense to pocket six presents – a total of six sacks with 1 ½ each by Mike Daniels and ex-Vikings lineman Letroy Guion.
Vikings first-year head coach Mike Zimmer acknowledged as much.
"Green Bay outplayed us," he told reporters. "They were more physical than we were. They did a much better job all night."
Bridgewater's ankle injury didn't have time to heal before Thursday night's game, leaving the Vikings saddled with Ponder. That the Packers raced to an early 14-0 lead certainly compounded Minnesota's numerous issues.
"I like the way it went tonight," Packers head coach Mike McCarthy said afterward. "Yeah, I'll take this."
Now, the Packers have 10 days to rest and prepare for a noon game at Miami on Oct. 12. Lacy's return to his hard-running ways, in part thanks to actually having holes to run through, gives the Packers' offense much-desired balance. With the play-action pass now up and, uh, running, Rodgers and Co. are that much more dangerous.
Nelson and Randall Cobb continue to be among the NFL's most dynamic duos, while rookie Davante Adams hauled in his first career touchdown pass. Those three plus Andrew Quarless and Richard Rodgers give McCarthy versatility in terms of personnel. McCarthy can throw with run personnel on the field (double-tight ends) and he can run with passing personnel (three receivers, one tight end and Lacy) with equal effect.
Clearly, the Vikings aren't at their best. What matters is that the Packers were well-prepared on a short week and controlled from start to finish.
The Packers probably aren't as good as Seattle and the NFC's top teams right now, but an NFL team is always a work in progress.
History suggests McCarthy's team will be playing its best football in December. Victories like Thursday night's over the Vikings provide a boost in terms of confidence, cohesiveness and identifying and executing roles. To say it was a glorified practice is to do the NFL a disservice – it remains the best thing going in professional sports.
However, the takeaway is that McCarthy and his team scored a victory against a division opponent to cap a 2-1 stretch vs. the NFC North. Green Bay will learn from it, heal after it and move on.
All in all it was pretty decent night's work.

Chris Havel is a national best-selling author and his latest book is Lombardi: An Illustrated Life. Havel can be heard Monday through Friday from 4-6 p.m. CDT on WDUZ FM 107.5 The Fan, or on AM-1400, as well as Fan Internet Radio (www.thefan1075.com). Havel also hosts Event USA' MVP Parties the evening before home games.