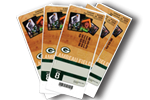 Panthers, Eagles & Bears… Oh My
We've got seats for all the fall games at Lambeau!
» Grab Your Spot
By CHRIS HAVEL
After a hot, humid afternoon spent dodging Dolphins beneath the glare of Miami's mid-day sun, Aaron Rodgers did what all great quarterbacks do. He rose to the occasion.
Rodgers led the Packers to 10 points on their final two drives to erase a 24-17 fourth-quarter deficit. His 4-yard touchdown dart to tight end Andrew Quarless with three seconds sealed Green Bay's 27-24 victory in front of 70,875 fans at Sun Life Stadium. Rodgers late heroics and a gritty defensive effort were enough to stave off Miami and extend the Packers' winning streak to three.
"One of those games where we were worn out, they were worn out, it comes down to the last drive," Rodgers said. "And we made enough plays."
The Packers' Mason Crosby nailed his second field goal of the afternoon from 30 yards with 4:09 to play. That made it 24-20 Dolphins. The Packers' defense then forced a punt and Rodgers was in business at the Green Bay 40 with 2:04 to play and no timeouts. No big deal.
After several scary moments, including a Rodgers fumble (which was recovered by right guard T.J. Lang) and a pair of clutch completions to Jordy Nelson (for 18 on fourth-and-10) and James Starks (for 10 yards on third-and-10). Following another completion, and with the clock running, Rodgers faked a spike before throwing a 12-yard pass to Davante Adams, who went out-of-bounds with six seconds to play.
"That was some free-styling right there," Rodgers said.
After Miami (2-3) took a timeout to catch its breath, Rodgers completed the game-winning pass to Quarless.
"You want an opportunity to make a play there at the end," Rodgers said.
The Packers mustered drives of 68 and 60 yards to overcome a 24-17 deficit and the 85-degree temperatures and tropical humidity. McCarthy wasn't surprised the victory was so difficult to attain.
"We knew this was going to be a tough game coming down here in the heat," McCarthy said. "We said we weren't worried about it all week, and we weren't worried. But the fact of the matter is, we are from Wisconsin. So we fought through it."
The Packers (4-2) showed a spine on defense. Green Bay held Miami's Knowshon Moreno to just 10 yards on six carries. The Dolphins finished with just 112 yards on 23 carries. Green Bay also forced three turnovers, including interceptions by Casey Hayward and Sam Shields, and a fumble recovery by Julius Peppers.
Meantime, the Packers' running attack was serviceable. They ran 34 times for 121 yards. They were led by Eddie Lacy who had 40 yards in 14 tough carries.
Rodgers hit on 24 of 42 passes for 264 yards and three touchdowns. He was sacked three times and harassed way too often. Nelson caught nine passes for 107 yards on 16 targets. Adams, the second-round draft pick, caught six passes for 77 yards, including one for 12 yards on the head's up fake spike.
Rodgers has 15 touchdowns to just one interception this season. His splendid play has left McCarthy grasping for the proper superlatives.
"I need to work on my vocabulary," McCarthy told reporters. "The guy is a remarkable player."
The Packers' defense saw a strong performance by Ha Ha Clinton-Dix, the first-round draft pick from Alabama. Clinton-Dix had a team-high seven tackles, followed by fellow safety Micah Hyde with six. Peppers had four tackles, a tackle for loss and a quarterback hit. Even veteran safety Morgan Burnett played well with three tackles and a pass breakup. They limited Dolphins quarterback Ryan Tannehill to a pedestrian 83.3 quarterback rating compared with Rodgers' 99.7.
Green Bay currently sits atop the NFC North tied with Detroit. The Packers are now 15-2 under McCarthy in games played after a bye or a Thursday game. Next up is Carolina, who fought to a 37-37 tie at Cincinnati in overtime. It sets up what should be a tough, physical battle Sunday at Lambeau Field.
Look for the Packers to keep streaking after a gritty victory.
Chris Havel is a national best-selling author and his latest book is Lombardi: An Illustrated Life. Havel can be heard Monday through Friday from 4-6 p.m. CDT on WDUZ FM 107.5 The Fan, or on AM-1400, as well as Fan Internet Radio (www.thefan1075.com). Havel also hosts Event USA' MVP Parties the evening before home games.