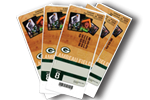 Don't miss Bears at Lambeau 11/9
We have your seat ready!
» Grab Your Spot
By CHRIS HAVEL
With Green Bay's offense and defense clicking at the outset, the soon-to-be one-dimensional Carolina Panthers were helpless as kittens en route to a 28-3 halftime deficit.
While Aaron Rodgers led the Packers to three first-quarter touchdown drives, Green Bay's defense was racking up three-and-outs with a rarely seen but refreshing regularity.
The old one-two punch KO'd Carolina as the Packers went on to rout the Panthers 38-17 Sunday at Lambeau Field. The Packers (5-2) rode an early lead and a stingy defense to smother the Panthers (3-3-1).
The victory was so lopsided that both Rodgers and the Panthers' Cam Newton were spectators before its conclusion. Rodgers sported a baseball cap and a smile as he chatted with teammates up and down the sideline late in the fourth quarter. On the visitor's side, Newton gazed into nowhere while tugging at either end of the towel around his neck.
"What I did wasn't good enough and I understand that," he told reporters after the game.
Rodgers led the Green Bay offense to scores on its first three possessions. He connected with Jordy Nelson for a 59-yard touchdown and the blowout was on. Eddie Lacy and James Starks each added touchdown runs to put the Packers firmly in control.
Cobb hauled in a game-high six passes for 121 yards and a touchdown. It was his eighth touchdown of the season. Meantime, Lacy racked up 63 yards on 12 carries (a 5.3 average) and Starks added 36 yards on seven carries.
"It definitely was a great game for us offensively, being able to put things together the way we did with the run, with the pass, play-action," Cobb told reporters. "So long as we can continue to execute the game plan and make plays, we're going to continue to have these types of wins."
Rodgers finished 19 of 22 for 255 yards, three touchdowns and no interceptions. He now has 15 touchdowns to just one interception this season. It was his sixth-straight game without an interception, which ties Bart Starr's franchise record.
"We had 21 first-quarter points … which made them one-dimensional," Rodgers told reporters. "Especially with the way that Cam ran the ball last week."
The Packers' hustling defense limited Newton to just 17 completions on 31 attempts for 205 yards, one touchdown and one interception. He finished with a 72.6 quarterback rating and an inconsequential 41 yards rushing on seven carries.
The Panthers' first touchdown came with 9:39 to play. Carolina's only other touchdown came with 1:24 to play when backup quarterback Derek Anderson connected with Brenton Bersin for a 1-yard score.
The Packers' overall performance was clean. They racked up 363 yards on 56 plays, including 122 yards on 30 rushing attempts. They also were three of four in the red zone, had just five penalties for 29 yards with zero turnovers.
The Packers remain in a first-place tie with the Lions (5-2) atop the NFC North. The Lions pulled out a 24-23 comeback victory at home against New Orleans. Chicago (3-4) slipped two games back with a 27-14 loss to Miami at Soldier Field. It was the Bears' third home loss and fifth in their last seven games at Chicago.
Looking ahead to New Orleans
Now, the Packers must prepare for a trip to The Big Easy and a game against the suddenly mortal Drew Brees and the New Orleans Saints.
Brees threw a critical interception late in the Saints' one-point loss to the Lions, so expect him to come out smoking on Sunday night. Look for the Packers' ever-evolving and slowly improving defense to be tested.
That said, Sunday night games are a national stage, which is a place Rodgers seems comfortable with.
The Saints will make some plays, and put up some points, but the Packers should prevail in convincing fashion. I'm thinking it'll be Rodgers' big night with a 31-21 victory to celebrate next week.
Chris Havel is a national best-selling author and his latest book is Lombardi: An Illustrated Life. Havel can be heard Monday through Friday from 4-6 p.m. CDT on WDUZ FM 107.5 The Fan, or on AM-1400, as well as Fan Internet Radio (www.thefan1075.com). Havel also hosts Event USA' MVP Parties the evening before home games.