Let us help you experience the 93rd chapter on November 9 at Lambeau.
Ticket & Tailgate Packages!
Don't need accommodations? From end zone to midfield, we have your seat! Plus: meet Gilbert Brown at our Tailgate Party before the game.
Shop Ticket & Tailgate
Meet Davon House & Richard Rodgers!
Meet the guys, get their autographs, and chat with them while enjoying delicious hors' d'oeuvres and cocktails! Packers expert and radio personality Chris Havel also digs into the hot topics with the players with an exclusive question & answer session.
Player Autograph Reception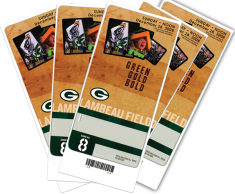 Need just tickets only?
Visit Event USA for great deals if you just need tickets and no other amenities.
Green Bay Packers Tickets Only