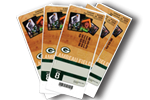 Bears at Pack Sunday.
We can get you to the game!
» Grab Your Spot
By CHRIS HAVEL
The news of Mike McCarthy's contract extension wasn't as surprising as the reaction by some fans. When the Packers announced Monday that McCarthy had signed a multi-year extension most fans seemed pleased. That I get. What I don't understand is the negative reaction by the rest.
In the highly competitive, parity driven National Football League McCarthy's Packers have been a model of competence and consistency. The Packers have the third-best winning percentage in the NFL since McCarthy became the 14th head coach in team history nine years ago.
His team won Super Bowl XLV, and followed it up with a 15-1 season in 2011. He presided over the difficult transition between Brett Favre and Aaron Rodgers, and he has owned the NFC North since his arrival. McCarthy's teams are 12-6 against the Bears, 13-3 against the Lions and 13-4-1 against the Vikings. That's a 73-percent winning percentage. What's not to like?
While it is true there is no pleasing some people I have a tough time finding any downside to McCarthy's extension, which is believed to run through 2018. McCarthy brings stability, an excellent understanding of the quarterback position and a great working relationship with GM Ted Thompson. He also is about as modest as any head coach in NFL history.
"Can we talk about the Bears now?" McCarthy said at Monday's news conference after fielding several questions about his new contract.
Of course, but not before I talk about McCarthy's perceived blind spot: His loyalty to defensive coordinator Dom Capers and special teams' coordinator Shawn Slocum. Both units have been average to poor with 2010 and 2011 being the exceptions, rather than the rule.
Fans who are displeased with the Packers' defensive and special teams play demand that the coordinators be fired. Fair enough. When this season ends and the Packers fail to reach the postseason both Capers and Slocum should be strictly evaluated and removed if necessary.
However, that is McCarthy's decision. Even with the contract extension, McCarthy's desire to win and lead the Packers' franchise supersedes any blind loyalty to his assistants.
To think otherwise is to be naïve to the NFL. McCarthy, 50, has tied his future to the Packers. He hasn't tied it to Capers and Slocum because he's proven capable of making the tough personnel decision. Just ask former defensive coordinator Bob Sanders.
If the Packers' final eight games are disappointing expect to see change. Until then let the season play out. The Packers (5-3) host the Bears (3-5) on Sunday night. A victory would make Chicago's playoff chances iffy at best. It also could mean a return to a first-place tie with Detroit (6-2).
The Packers' defense has been substandard, especially against the run. At his pre-bye news conference McCarthy admitted as much. Now we shall see what he intends to do about it. Firing Capers in early November isn't an option. Demanding more of his defense, and playing more ball control on offense, are the better moves.
Rodgers and Green Bay's offense can help the defense in two ways:
Score early and often so the opposing offense is one-dimensional.
Play keep-away by eating up clock, running the football and converting third downs so the Packers' defense is off the field.
Either option is good. Together they make the Packers tough to beat.
If it's all about winning (which it is) McCarthy's got the record to merit the extension. He is 93-53-1 in his nine seasons. He trails the great Vince Lombardi by just five wins to move into second place behind Curly Lambeau (212 wins).
"I think you win 100 games in this league as a head coach, it's definitely a milestone," he said.
"I'm not going to compare myself to Coach Lombardi," he added. "Let's be real here. I understand my place, my opportunity, and I'm very thankful for the people that came before me: Coach Lombardi, Curly Lambeau, Mike Holmgren, Ron Wolf … they made this place, the foundation of the building.
"So (GM) Ted Thompson, (president-CEO) Mark Murphy and my responsibility and Aaron Rodgers and the players' responsibility is to make sure we leave it better than when we arrived. That's the way I've always viewed it."
In that regard, McCarthy has been true to his word.
Packers' fans should be grateful.
Chris Havel is a national best-selling author and his latest book is Lombardi: An Illustrated Life. Havel can be heard Monday through Friday from 4-6 p.m. CDT on WDUZ FM 107.5 The Fan, or on AM-1400, as well as Fan Internet Radio (www.thefan1075.com). Havel also hosts Event USA' MVP Parties the evening before home games.