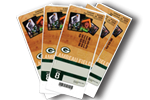 More exciting Football at Lambeau…
Patriots, Falcons and Lions yet to come. We get you there and MORE!
» Grab Your Spot
By CHRIS HAVEL
The Packers don't have home-field advantage at Lambeau Field. They have home-field in-VINCE-ability.
The numbers keep climbing, the records keep falling and the victories keep coming as visions of post-season greatness dance in Packers' fans heads.
The Packers' 53-20 annihilation of the Eagles on an overcast mid-November Sunday left little doubt as to Green Bay's playoff potential. With Aaron Rodgers and his receivers treating 20-degree temperatures and slippery footing as if it were perfect conditions the Eagles spent the day either gasping for air or grabbing at it.
How foolish the talk of Mark "Franchise" Sanchez seems in the wake of Sunday's abysmal but not unprecedented sub-standard performance. The Eagles' quarterback was swallowed whole by the Packers' rejuvenated defense. Not even a butt-fumble could provide Sanchez with a place to hide from Clay Matthews, Julius Peppers and a suddenly awakened defensive unit.
There was that and a Packers' offense which gave the Eagles' offense exactly no chance to keep pace. If it wasn't Eddie Lacy slamming into the end zone or Peppers and Casey Hayward cruising there, it was Rodgers' perfectly placed passes that kept drives alive and quashed the Eagles.
If there was a more dominant, complete victory by the Packers at Lambeau Field I can't recall it. The Bears weren't the main course in Green Bay's 55-14 thrashing last Sunday night. They were the appetizer.
The Eagles (7-3) and the Packers (7-3) share identical records, but Green Bay's future seems much brighter after Sunday's NFC blowout.
Eagles coach Chip Kelly called it the worst game of his 27 in the NFL. Nobody disagreed.
Meantime, Packers coach Mike McCarthy's most difficult tasks each week are polishing the game plan, setting the 45-man game-day roster and learning new superlatives to describe a topic that never gets old: Rodgers' magnificence.
As someone who routinely marveled at Brett Favre's greatness, which included his toughness, arm strength and will to win, I never thought another Packers quarterback could be so amazing. I was wrong.
Rodgers' uncommon accuracy and arm strength, coupled with eyes in his feet and a killer instinct, make him almost unbeatable. All he needs to get by is a little help from his friends, and the Packers' defense obliged in eye-popping fashion.
It appears Matthews' move to inside linebacker on run downs isn't a novelty. It's a solid football move.
The Packers' defense gets bigger, stronger and quicker at the point of attack against the run, especially with Mike Daniels and Co. playing well. Then, in obvious passing situations, Matthews might stay put inside, or he might leap to the edge. Either way it keeps Nick Perry on the field and the run defense legit.
The Packers' defensive backs continue their ball-hawking ways led by Tramon Williams, who made one of the finest interceptions you will ever see. Micah Hyde chipped in with a 75-yard punt return for a touchdown, which hopefully means no more Randall Cobb on punt returns.
Start to finish, with only a couple of errant snaps and bad holds along the way, the Packers were nearly perfect.
Lacy began slamming into the hole with force, and he continues to catch it smoothly out of the backfield. Andrew Quarless had an outstanding game, with rookie and fellow tight end Richard Rodgers also doing some heavy lifting.
With the Vikings ahead, and the New England Patriots on the horizon, Green Bay is poised to make a serious run into the post-season. The Lions (7-3) are tied atop the NFC North with Green Bay, but almost in spite of themselves. Detroit's 14-6 loss Sunday at Arizona came against a first-rate defense but a second-rate quarterback (Drew Stanton) and included a lackluster Matthew Stafford.
Detroit suddenly seems mere mortal, especially at Lambeau Field.
The NFC also seems winnable, although it'll take the Packers' best football to unseat the Seahawks and get past the 49ers, Cowboys and Cardinals.
Fortunately, that's exactly what McCarthy's Packers are doing: Playing nearly their best football, with a lot more to come.

Chris Havel is a national best-selling author and his latest book is Lombardi: An Illustrated Life. Havel can be heard Monday through Friday from 4-6 p.m. CDT on WDUZ FM 107.5 The Fan, or on AM-1400, as well as Fan Internet Radio (www.thefan1075.com). Havel also hosts Event USA' MVP Parties the evening before home games.