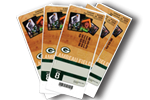 Super Bowl Preview this Sunday at Lambeau?
We can get you there!!!
» Grab Your Spot
By CHRIS HAVEL
The Packers woke up Sunday in a first-place tie with the Detroit Lions in the NFC North. They went to bed atop their division with visions of a MVP matchup dancing in their heads.
The Packers' 24-21 victory over Minnesota at TCF Bank Stadium maintained Green Bay's dominance against the Vikings and moved it a full game ahead of the Lions (7-4) in the NFC North race. Detroit lost at New England 34-9 to set up a Patriots-Packers game Sunday at Lambeau Field that some are billing as a Super Bowl preview.
Patriots quarterback Tom Brady doesn't want to get ahead of himself.
"We are so far from (the Super Bowl)," Brady said in a weekly interview with WEEI's "Dennis & Callahan" show. "We have so many games (left). If we are lucky enough to make it there, no one ever cares who we play. But that's so far down the road. We think about the one game we have ahead of us, which is a good opponent.
"We have nine wins. We've done a good job getting ourselves to this position. This is when the weather turns, the mental toughness, the discipline, how much we've improved really comes into play."
The Patriots (9-2) and the Packers are the NFL's top two teams in point differential. New England is plus-130 and Green Bay is plus-108.
The Patriots have won seven straight while the Packers are 7-1 since Aaron Rodgers proclaimed, "Relax," after a 1-2 start.
To get to this point, the Packers needed to get past Minnesota (4-7), which proved to be no easy task.
The Vikings' Teddy Bridgewater completed 21 of 37 passes for 210 yards and two touchdowns. Those numbers were comparable with Rodgers' performance (19 of 29 for 209 yards and two touchdowns) except for the interception.
Bridgewater's second-quarter pick, which was a horrible pass hauled in by a head's-up Micah Hyde, led to a Packers touchdown.
Rodgers capped a four-play, 53-yard drive with a 1-yard touchdown pass to a wide-open Richard Rodgers to put Green Bay up 14-7. The Vikings eventually closed to within 24-21 on a 5-yard Bridgewater-to-Greg Jennings touchdown, but the Packers' run game took over from there.
The Packers reeled off five straight running plays to Eddie Lacy, and it produced a first down that drained the final 3:23 of the fourth quarter.
"He's agile for a guy his size," Rodgers told reporters of Lacy. "He's got a great spin move. He takes care of the football. He does all the things you want."
Said left guard Josh Sitton: "(Lacy) doesn't go down, man. It's pretty fun to watch."
The offense got its usual top-notch play from Jordy Nelson (eight catches for 68 yards) and Randall Cobb (four for 58). Also contributing were an offensive line that allowed just one sack, and tight end Andrew Quarless, who merely had his best game in a Packers uniform.
Quarless' blocking while lining up in the backfield was outstanding. He is getting a knack for feeling where the linebacker will come from, and how Lacy will react. Quarless isn't a man-eater, but he is very detail-oriented and skillful in springing Lacy.
Morgan Burnett (10 tackles, one quarterback hit) and Ha Ha Clinton-Dix (nine tackles, one pass defended) were excellent. Hyde added four tackles, a sack and an interception.
Furthermore, the Packers committed zero turnovers on the road. That bodes well as the regular season draws to a close and possessions are at a premium.
Now, the Packers face the Patriots at Lambeau Field, where Green Bay is a perfect 5-0 thus far.
Brady versus Rodgers features the Patriots' No. 1 scoring offense (32.5 points per game) against the Packers' No. 2 scoring offense (32.2 points per game).
Brady told his radio listeners: "We're playing one of the best teams in the league. This team plays better – they play like we do at home – we always play well. We have our work cut out for us. They have a great offense, great defense. They do a lot of things defensively that are a challenge for us. They have a good rush, good coverage. They play the run well, and they score a lot of points."
It should be an entertaining, high-scoring game pitting two of the NFL's top coaches: the Patriots' Bill Belichick and his defense-oriented background versus the Packers' Mike McCarthy and his offense.
The safest prediction: Whichever team scores last wins.
Chris Havel is a national best-selling author and his latest book is Lombardi: An Illustrated Life. Havel can be heard Monday through Friday from 4-6 p.m. CDT on WDUZ FM 107.5 The Fan, or on AM-1400, as well as Fan Internet Radio (www.thefan1075.com). Havel also hosts Event USA' MVP Parties the evening before home games.