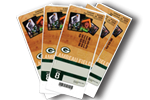 3 More Games + Playoffs!
We can get you to ALL the game!!!
» Grab Your Spot
By CHRIS HAVEL
The Packers certainly make a grand entrance. It's their exit that needs a bit of work. After building a 24-point halftime lead, Green Bay was outscored 20-9 in the fourth quarter before holding on to a 43-37 victory over the Falcons.
While the Packers (10-3) maintained their one-game lead over Detroit (9-4) in the NFC North with the win, they were reminded of a valuable lesson. Teams like Atlanta (5-8) who are clinging to playoff aspirations aren't going to quit. In fact, they are going to play to the bitter end. The Falcons did just that behind Matt Ryan's right arm.
Ryan, who had similar numbers to the Packers' Aaron Rodgers, completed 24 of 39 passes for 375 yards and four touchdowns. It was Ryan's early interception that proved costly. Instead of throwing the football away, Ryan tried to force a pass that was picked off by Morgan Burnett. It was Burnett's best game in a long time.
Also, inside linebacker Sam Barrington (seven tackles) was strong in his second start in place of A.J. Hawk. Burnett's pick sparked the Packers' 24-point second quarter, but even trailing 31-7 at half the Falcons didn't quit. Falcons' receiver Julio Jones torched the Packers' secondary with a career-best 259 yards on 11 catches. His 22-yard touchdown grab came in Atlanta's 20-point fourth quarter.
"Defensively, a tale of two halves," Packers coach Mike McCarthy said. "You have to give Atlanta's offense a lot of credit. We have plenty to clean up."
The Packers had better learn from this because the Detroit Lions, who seem destined for a showdown with Green Bay in the regular-season finale at Lambeau Field, feature a similar receiver in Calvin Johnson. The Lions, like the Falcons, won't go easily.
The Falcons had won three of four games coming in, and receiver Roddy White told reporters they still believe. Atlanta amazingly remains in a first-place tie in its dreadful division.
"Yeah, absolutely … we scored 37 points tonight. If you can't believe in that, then you don't need to be in this locker room – we need to cut some people," White told reporters.
Meantime, the Packers' defense needs to close out games. Their run defense was strong early in the game, but the pass rush developed late and wasn't nearly as consistent as it needs to be. If the Lions' Matthew Stafford has as much time as Ryan did it could be a long afternoon in three weeks at Lambeau Field.
"We can't play one half or three quarters or anything like that," Packers linebacker Julius Peppers said. "We've got to finish games."
And the Packers' special teams units need to sharpen up before Dec. 28. The Packers had a blocked point-after and nearly had a punt blocked. Those are would-be post-season killers.
The offense continues to hum along. Eddie Lacy overpowered the Falcons' defense and finished with 73 yards on 13 carries and a touchdown. James Starks added an impressive 75 yards on 10 carries including a 41-yard run to seal it. It was Green Bay's fifth straight victory and continued their home-field dominance.
"There's been some ups and downs on both sides of the ball all season," Rodgers told reporters. "But we're really getting this home-field advantage thing going, with the crowd noise, with the footing, with the way we're playing, being really balanced on offense."
The balance was impressive.  Jordy Nelson had eight catches for 146 yards, while Randall Cobb added four for 58. Cobb is quickly becoming Rodgers' go-to guy on third down. Tight end Andrew Quarless caught three for 52 yards, and Lacy moved the chains catching five for 33 yards.
Rodgers' two touchdown tosses to Nelson were the backbreakers. Rodgers hit Nelson on a 10-yard touchdown pass late in the first half, and again for a 60-yard bomb late in the game.
Now, the Packers have a week to prepare for Buffalo and its rugged defense. Then it travels to Tampa Bay before coming home to face the Lions in the season finale.
By then, Green Bay hopefully will have a two-game lead in the division and the No. 1 seed sewed up. But all of that seems doubtful. More likely the Packers will need another strong start from Rodgers and the offense, with a whole lot of help from the defense to close out the Lions.
Chris Havel is a national best-selling author and his latest book is Lombardi: An Illustrated Life. Havel can be heard Monday through Friday from 4-6 p.m. CDT on WDUZ FM 107.5 The Fan, or on AM-1400, as well as Fan Internet Radio (www.thefan1075.com). Havel also hosts Event USA' MVP Parties the evening before home games.