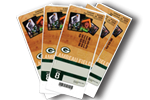 Happy Holidays from Event USA!
Event USA can get you to the upcoming games and more!
» Grab Your Spot
By CHRIS HAVEL
Whoever said Buffalo is a great place to visit wasn't a Green Bay Packers fan.
The Packers' losing streak there stretched to six Sunday with a 21-13 loss to the Bills at Ralph Wilson Stadium. The Bills' defense was everything it had been built up to be (a top 10 unit in almost every category), while the Packers' offense left a lot to be desired.
Certainly the Bills' defense had a hand in the Packers' offensive collapse, but let's be real: How often does Jordy Nelson drop a wide-open, surefire touchdown pass that lands gentle in his hands? Well, after Sunday's game, I can think of one time.
How often does the great Aaron Rodgers revert to mere mortal status? Again, I can think of just once off the top of my helmet.
How often do the special teams' coverage units let the Packers down in a big game? Well, in terms of special teams' disasters, there's too many to care to count.
The most recent Packers' special teams' breakdown was devastating.
The Bills' Marcus Thigpen accounted for Buffalo's lone touchdown with a 75-yard punt return in the second quarter.
Thigpen's catch-and-run was a thing of beauty, but let's be real about it: The Packers looked utterly ill-prepared to defend that play and it cost them. Frankly, return specialists have been getting closer and closer against Green Bay. This was coming for some time.
It needs to get fixed.
Otherwise sooner or later, special teams' coordinator Shawn Slocum is going to cost the Packers mightily in a critical game. The loss to Buffalo Sunday could be the reason the Packers don't have home-field advantage throughout the NFC playoffs.
The loss snapped Green Bay's five-game winning streak. It also left the Packers' mission clear: Win out and secure the No. 2 seed in the NFC, and perhaps the top seed with a little help.
A loss against Detroit (10-4) in the season-finale quite possibly could knock the Packers (10-4) out of the playoffs.
After Sunday's game, Rodgers said what everyone was thinking.
"It was frustrating," he told reporters. "Some days are going to be like this. We set the standard pretty high, and we like to live up to it every week."
Rodgers was a dreadful 17 of 42 for 185 yards and two interceptions. He came in with three interceptions all season.
Rodgers didn't get much help from his receivers, either.
Nelson and Co. combined for a season-high six drops that made finding any rhythm all but impossible on offense. Nelson's most stunning drop came when Rodgers found a wide-open No. 87 streaking down the right sideline. Rodgers laid out a perfectly thrown pass, but it caromed off Nelson's hands. Instead of a 94-yard touchdown catch-and-run, the Packers were staring at yet another harmless incompletion and missed opportunity.
Nelson, who rarely drops anything, shouldered the blame.
"We had exactly what we wanted," he told reporters. "We just didn't make the play. I short-armed it and dropped it."
Running back Eddie Lacy's touchdown run, in addition to several bruising gains, was the extent of the Packers' offense.
Indeed, there was little intrigue and even less to like about the loss.
Nevertheless, everything else is still a possibility, including Green Bay being the NFC's top seed or staying home for the post-season. Such is the logjam atop a conference where an 11-5 team might be outside.
The Packers' defense held Buffalo and quarterback Kyle Orton to just four field goals. It was one of the defense's stronger performances. Orton finished 14 of 27 for 185 yards and an interception. The Bills generated just enough offense to pull out the victory.
The Bills' defense also chipped in with a safety when defensive end Mario Williams stripped the football away from Rodgers in the end zone. When Lacy scooped it up and advanced it the ruling was a safety.
Without the safety and touchdown return, the Packers would have defeated the Bills 13-12 with a chance at the No. 1 seed. They can still be the top seed, but now they need some help.
Chris Havel is a national best-selling author and his latest book is Lombardi: An Illustrated Life. Havel can be heard Monday through Friday from 4-6 p.m. CDT on WDUZ FM 107.5 The Fan, or on AM-1400, as well as Fan Internet Radio (www.thefan1075.com). Havel also hosts Event USA' MVP Parties the evening before home games.