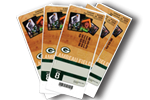 Happy Holidays from Event USA!
We can help you celebrate at Lambeau this Sunday and for the Playoffs!
» Grab Your Spot
By CHRIS HAVEL
In a long and winding season, the Green Bay Packers have held to several absolutes.
The first is that they always win following a loss.
The second is that Aaron Rodgers never plays poorly in back-to-back games.
The third is that the Packers' defense is steadily ascending toward competence with more frequent flashes of dominance, while the special teams' units need to get it together and soon.
Otherwise, the Packers' 20-3 victory over the Bucs Sunday at Tampa Bay revealed nothing new, although it did serve a purpose. It doubled as the stepping-stone into the postseason, and the launching pad for this Sunday's critical season finale against Detroit at Lambeau Field.
The Packers (11-4) can capture the NFC's No. 1 seed with a victory over Detroit and a Seattle (11-4) loss at home against St. Louis. The Packers can do no worse than the No. 2 seed with a victory over the Lions, while a loss likely will make the Packers the No. 6 seed.
While awaiting the Lions-Packers' 3:25 game Sunday, let's contemplate the Packers' 17-point victory.
Rodgers was an efficient 31 of 40 for 318 yards and a touchdown. He battled the flu and a strained left calf muscle throughout the game.
"I'll be OK for next week," Rodgers told reporters. "I hurt my calf pretty good, but the training staff helped me kind of get through it."
Rodgers said his calf muscle tightened as the game went on.
"It got really tight about halftime," he said. "Came in and got a little treatment, it loosened up just a tad, but it was still pretty tight … I was able to move in short segments in the pocket, which was all I needed to do today."
Eddie Lacy backed Rodgers' performance with a bruising 99 yards on 17 rushing attempts, including a 44-yard run that was highlight reel stuff.
The Packers' receivers atoned for their seven drops in last week's 21-13 loss at Buffalo by increasing their focus. Jordy Nelson caught nine passes for 113 yards and a 1-yard touchdown, while Randall Cobb had 11 receptions for 131 yards.
Packers head coach Mike McCarthy likes where his offense is at going into Sunday's showdown with Detroit for the NFC North title.
"I've obviously been with Aaron the whole time," McCarthy said. "You see him do things on the football field, as far as making plays and this and that. I think the last couple of days you see the kind of warrior he is. He battled whatever illness he's had the last couple of days and then goes out and strains his calf the first or second series. He didn't want to come out. … (It was) a really a gritty performance by Aaron."
Rodgers shrugged it off as part of the job.
"I battled the flu the past couple of days pretty bad, and that's why I was surprised I hurt my calf because I hydrated like no other (week). I was drinking a ton of water before the game. Unfortunately, the calf kind of gave up on me there. But it was a good win for us. The defense played great. Offensively, it wasn't pretty, but we had enough points to win."
Then there was the Packers' defense.
Clearly, the Bucs' Josh McCown was outclassed by Dom Capers' aggressive, blitzing attack. The Packers' defense racked up seven sacks and came from all different directions and angles.
The Bucs (2-13) couldn't protect McCown and failed to give running back Doug Martin much room to maneuver. Martin finished with a inconsequential 17 yards on 10 carries.
Clay Matthews stuffed the run and had 2 ½ sacks, while Julius Peppers added two sacks and was active from start to finish.
Now, the Packers take on the Lions for the division crown.
"We've won six out of seven games, so I'd like to classify that as playing a lot of solid football, that's for sure," McCarthy said. "We'll clean this game up tomorrow; we'll be on it. We'll also start on Detroit. I like where we're at, and I really like this football team. … I feel good about the offense, defense and special teams."
The loss was Tampa Bay's fifth straight and continued a season of struggles for first-year coach Lovie Smith. McCown finished just 12 of 26 for 147 yards and an interception.
Tampa Bay began the game with five straight three-and-outs.
Next up is Detroit (11-4) for the division crown.
It'll be one of the most anticipated regular-season games in recent memory. It also may be the challenge the Packers need to catapult them deep into the post-season, perhaps all the way to Arizona.
Chris Havel is a national best-selling author and his latest book is Lombardi: An Illustrated Life. Havel can be heard Monday through Friday from 4-6 p.m. CDT on WDUZ FM 107.5 The Fan, or on AM-1400, as well as Fan Internet Radio (www.thefan1075.com). Havel also hosts Event USA' MVP Parties the evening before home games.