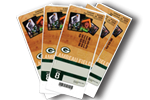 Packers Playoffs!
Tickets & Packages—great choices available now!
» Grab Your Spot
By CHRIS HAVEL
This time, Aaron Rodgers didn't rally the Packers to victory so much as the team carried its QB across the finish line. Not only do the Packers have Rodgers' right arm, they have his back.
Now, on the cusp of postseason play, the question has been answered: Can Green Bay defeat a playoff-caliber opponent when Rodgers isn't quite his MVP self?
Yes, it can. The proof is the Packers' 30-20 victory over a feisty bordering on filthy Detroit Lions team Sunday at Lambeau Field.
The reward is a bye week followed by a Jan. 10-11 NFC Divisional Playoff Game at Lambeau Field against the highest remaining seed (either Dallas, Arizona or Carolina).
Rodgers and his ailing calf muscle were at the heart of the drama.Despite being carted to the locker room after lobbing a 4-yard touchdown pass to Randall Cobb late in the second quarter to make it 14-0 Packers, Rodgers returned for the second series of the second half.
Right down to the limp ala John Wayne, Rodgers heroically but not surprisingly strolled through the tunnel and onto the home team sideline. Then, he went in and played well enough to help the Packers secure a critical victory.
After the Lions rallied to make it 14-14 in the third quarter, Rodgers led the Packers on seven-play, 60-yard drive that was capped by a 13-yard touchdown pass to Cobb (his second of the day). That made it Packers 21, Lions 14.
"It's clearly an MVP performance – another MVP performance – by Aaron Rodgers," Packers head coach Mike McCarthy said.
Green Bay salted it away with a 9-play, 42-yard touchdown drive with 8:45 to play in the game. It was capped by Rodgers' 1-yard quarterback sneak. It came after the Lions' Joique Bell fumbled.
The Packers followed with a safety of Matthew Stafford when the Lions' quarterback was penalized for intentional grounding while in the Detroit end zone. That made it Packers 30, Lions 14. Detroit would add a touchdown but failed to convert the two-point attempt.
The victory gives Green Bay (12-4) its fourth straight NFC North title. It also extends Detroit's losing streak in Wisconsin to 23 years, and forces the Lions (11-5) to travel to Dallas (12-4) in this weekend's wild-card round.
In the process, the Packers rallied around Rodgers for the victory, rather than the quarterback single-handedly leading them to it. The distinction might seem subtle, but the players know this was a team effort.
This type of win can do nothing but galvanize the locker room. A great quarterback can win a lot of games, but only a great team can win a Super Bowl. The Packers took a step closer to becoming that Sunday.
Obviously, it wasn't easy and far from perfect. The Packers' special teams' kick unit is driving fans insane with an epidemic of inexcusable blocked placements, and the coverage units still are a scary proposition.
But all of that was swept away, at least momentarily, in the tidal wave of Micah Hyde's 55-yard punt return for a touchdown. Hyde's explosive return put Green Bay up 7-0 and for most of the day the Packers' defense backed it up with a strong performance.
In between, Rodgers completed 17 of 22 passes for 226 yards and two touchdowns despite a noticeable limp. He even was forced to endure a not-so-subtle foot-stomping courtesy of the Lions' notorious defensive tackle, Ndamukong Suh.
The play occurred in the fourth quarter, when the Lions' Suh stumbled back and then stepped on a prone Rodgers and his lower left leg. The play didn't result in a penalty. Lions head coach Jim Caldwell said he didn't think it was intentional during his post-game news conference.
McCarthy took another view. While the Packers' head coach didn't see the play, his staff told him about it.
"There's no place for that," McCarthy said. "I don't understand it, frankly."
There may be no place for Suh in the postseason, as the NFL is reviewing the Rodgers' stepping. The Lions will have their work cut out with or without their fierce but frustrating defensive tackle at Dallas.
Meantime, Rodgers can heal his calf muscle, the Packers can rest up and McCarthy can enjoy what was a team victory.
Chris Havel is a national best-selling author and his latest book is Lombardi: An Illustrated Life. Havel can be heard Monday through Friday from 4-6 p.m. CDT on WDUZ FM 107.5 The Fan, or on AM-1400, as well as Fan Internet Radio (www.thefan1075.com). Havel also hosts Event USA' MVP Parties the evening before home games.