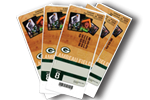 Packers Playoffs!
Tickets and Packages still available for "Ice Bowl II" this Sunday at Lambeau!
» Grab Your Spot
By CHRIS HAVEL
The Green Bay Packers discovered the second of two major obstacles facing them in the NFC Divisional Playoffs.
The first was Aaron Rodgers' injured left calf.
The second is the Dallas Cowboys, who defeated Detroit 24-20 in the NFC Wild-Card Playoffs to advance to Sunday's Cowboys-Packers game set for noon at Lambeau Field. It is the first time these teams have met in the postseason at Green Bay since The Ice Bowl in 1967.
The Packers (12-4) are coming off a first-round bye during which they hope Rodgers' injured left calf will sufficiently heal. Rodgers isn't expected to practice until Thursday at the earliest. However, Packers head coach Mike McCarthy said Monday that he's optimistic regarding Rodgers' health.
"I think he'll be in pretty good shape," McCarthy said.
Packers' fans are praying the coach is right.
The Cowboys (13-4) and their potent one-two punch of quarterback Tony Romo and the NFL's leading rusher, DeMarco Murray, present a formidable challenge on their own. Toss in Rodgers' injury and there isn't going to be anything easy about knocking out Dallas.
Rodgers' and Romo's season totals are similar. Romo's 113.2 passer rating led the NFL, while Rodgers' 112.2 mark was second. Romo was incredible on the road, where the Cowboys were 8-0 this season. He threw for 20 touchdown passes to just two interceptions. Rodgers threw for 25 touchdowns to zero interceptions this season at Lambeau Field. He also has thrown 418 straight passes without being picked off at home.
Romo and the Cowboys come in on a five-game winning streak. Romo threw for two touchdowns Sunday – the second TD late in the fourth quarter – to seal the win.
"You have to stay in the moment and understand the game," Romo told reporters after the victory. "It doesn't end after the first quarter, second quarter. You just have to keep calm. I've played enough games to understand that. Maybe I didn't do that as well when I was younger."
The Lions (11-6) couldn't have gotten off to a better start. They opened up a 14-0 first-quarter lead and still led 20-7 late in the third quarter. But Lions quarterback Matthew Stafford and the offense generated just three second-half points and failed on a last-minute drive to score the go-ahead touchdown.
That came after Romo led the Cowboys on an 11-play, 59-yard touchdown drive that was capped with an 8-yard strike to receiver Terrance Williams.
Lions' fans were still frustrated with Detroit's previous possession. Their team was clinging to a three-point lead when tight end Brandon Pettigrew drew a pass interference penalty on Cowboys linebacker Anthony Hitchens. Instead of a first down near the Dallas 30, the flag was picked up and the call was reversed.
Lions head coach Jim Caldwell elected to punt, rather than go for the first down on fourth-and-1. Detroit punter Sam Martin followed with a 10-yard shank that set up the Cowboys with great field position. Dallas did the rest by going in for what was the winning score.
Asked if the officials gave him an explanation, Lions head coach Jim Caldwell said, "Not a good enough one. I'm going to leave it at that. I'm not going to sit up here and act like that was the play that made a difference in the game. We still had our chances."
Now it's up to the Packers to end the Cowboys' season. McCarthy has no illusions about the challenge Dallas faces, and it's not only when the Cowboys have the football.
"I think (Dallas' defense) clearly is playing better this year than they were last year," he said. "I think it's more time in the system. (They're) very detailed (and) very disciplined in what they're doing on each and every snap. The thing that jumps off the video at you is their pursuit, the way they rally to the ball. This will be a big test for us."
McCarthy believes Rodgers will be up to the task. He also doesn't believe the offense's timing will suffer due to Rodgers' absence in practice.
"I'm not concerned," McCarthy said. "Look at the way he played in the second half of the Detroit game. He's learned to play through different situations. He has continuity with his teammates. So I think you've got to be in-tune with that. But hey, the way he progresses, he's a quick healer. He jumped out there last week and was playing normal football there until the injury. So I think he'll be in pretty good shape come Sunday."
The Packers' defense will be counted on to stop Romo, but first it must stop the Cowboys' running game and Murray.
"He's a big-time back," McCarthy said.
The Packers' special teams also will be looking to sharpen its play.
"The things that have gone wrong, protection, those are more technical, fundamental problems," he said. "I feel confident with them moving forward … all the things we need to improve on, we've addressed."
Now it's up to his players to make it happen Sunday.
Chris Havel is a national best-selling author and his latest book is Lombardi: An Illustrated Life. Havel can be heard Monday through Friday from 4-6 p.m. CDT on WDUZ FM 107.5 The Fan, or on AM-1400, as well as Fan Internet Radio (www.thefan1075.com). Havel also hosts Event USA' MVP Parties the evening before home games.