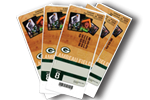 NFC Champ Game Tickets!
We can get you to the Packers at Seahawks Championship Game in Seattle!
» Grab Your Spot
By CHRIS HAVEL
Rather than bask in the afterglow of perhaps his finest hour, Aaron Rodgers already was looking ahead to the next two.
"I think I got 120 minutes left in me," he said.
The Packers' quarterback scarcely survived the previous 60 minutes due to a left calf injury, but still proved to be game despite being lame. Trailing by eight points late in the third quarter, Rodgers fired two touchdown passes to rally the Packers to a 26-21 victory over Dallas in Sunday's NFC Divisional Playoff Game at Lambeau Field.
Rookie receiver DaVante Adams punctuated a career day with a brilliant 46-yard touchdown catch-and-run to make it Dallas 21, Green Bay 20 with 1:41 to play in the third quarter. Then, Rodgers put the Packers ahead by hitting rookie tight end Richard Rodgers with a 13-yard laser to make it Packers 26, Cowboys 21 with 9:10 to play in the game.
The Cowboys weren't about to quit, especially on a day when quarterback Tony Romo (15 of 19 for 191 yards and two touchdowns) and running back DeMarco Murray (25 carries for 123 yards) were playing superbly despite fighting injury and fatigue.
Dallas answered by driving to Green Bay's 32-yard line with four minutes to play. That set up what proved to be the play of the game. Faced with fourth-and-2, Cowboys head coach Jason Garrett elected to go for it. Tony Romo spied single-coverage on Dez Bryant and lobbed a pass down the left sideline. Packers' cornerback Sam Shields leaped, but Bryant out-jumped him to pull the football in with his left arm.
However, as Bryant landed with the football cradled in his left arm, it touched the turf and he lost control for a split-second. Initially, the play was ruled a complete pass. But after seeing it on replay, Packers head coach Mike McCarthy threw the red flag to challenge.
After the review, it was correctly determined to be no catch and the play resulted in an incomplete pass. Dallas turned the ball over on downs, and McCarthy had won his first challenge of the season. It couldn't have come at a better time.
"Some people think throwing the red flag is fun," McCarthy told reporters. "It was such an impactful play, you had to challenge. It was a confident challenge … And a hopeful one, too."
Rodgers and the offense were able to seal the victory by running out the clock. The decisive play came on a tipped pass that was intended for Jarrett Boykin but was hauled in by Randall Cobb.
"It's unbelievable," Cobb said. "For the ball to get tipped and magically appear in my area, you can't tell me there's not a God. That was a crazy play."
Rodgers completed 24 of 35 passes for 316 yards and three touchdowns despite essentially playing on one leg. He had a quarterback rating of 125.5 and still hasn't thrown an interception at Lambeau in forever.
After two weeks off with the bye, Rodgers felt he could get through the game. He just wasn't sure how effective he could be in eluding the rush. It seemed he pushed it to the limit once the Packers fell behind 21-13.
Now, the question is how Rodgers' left calf injury will respond with only a week to rest.
"A little bit worse, yeah," he said of the injury after the game. "Hard to say, see how it feels in the morning."
The Packers (13-4) get a rematch with Seattle (13-4) in Sunday's NFC Championship Game. Kickoff is set for 2 p.m. when the Packers will try to avenge a 36-16 loss at Seattle in the regular-season opener.
Green Bay appears to be a much different team – a much better team, too – than it was in September. Defensively, Sam Barrington is starting at inside linebacker and Clay Matthews moves inside on early passing downs. Also, Letroy Guion is healthy and playing nose tackle at a high level. Furthermore, rookie safety Ha Ha Clinton-Dix has a full season and a playoff appearance under his belt, and Morgan Burnett and Micah Hyde have been playing well.
On offense, rookies Adams and Rodgers obviously are contributing in a big way. And the Packers' offensive line has been healthy and playing cohesively, especially since the bye week.On top of that, Eddie Lacy is healthy coming off a 19-carry, 101-yard day in which he battered the Dallas defense. Now, the big question is Rodgers' left calf injury.
The Seahawks' defense is arguably the NFL's finest. They played like it while overpowering Carolina 31-17 in the other NFC Divisional Playoff Game on Saturday. Surely the Seahawks and defensive coordinator Dan Quinn will focus on harassing and chasing Rodgers out of the pocket and into harm's way.
Clearly, the Packers can go into Seattle and win this game. They merely need to play their best game of the season. It's possible because the Packers' defense is much improved, the running game is for real and Rodgers is amazing even on one leg.
Chris Havel is a national best-selling author and his latest book is Lombardi: An Illustrated Life. Havel can be heard Monday through Friday from 4-6 p.m. CDT on WDUZ FM 107.5 The Fan, or on AM-1400, as well as Fan Internet Radio (www.thefan1075.com). Havel also hosts Event USA' MVP Parties the evening before home games.