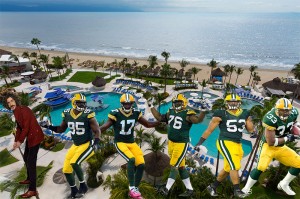 We got your spot!
Tickets/Packages for next season will be available in April, but grab your spot for our Players Resort Vacation and Kenny Chesney NOW!
By CHRIS HAVEL
Play-calling change, special teams' play included on Green Bay's 'To do' list
Now that head coach Mike McCarthy has finalized his coaching staff, the Packers' offseason officially begins this week. With it come five big questions the team must answer if it hopes to be playing in Super Bowl 50 at Santa Clara next February.
#1: Re-signing wide receiver Randall Cobb is a must.
The unrestricted free agent is essential to the Packers' passing game, especially at a time when McCarthy has handed off play-calling duties to Tom Clements, now the associate head coach/offense. Cobb's versatility, quickness and clever route-running provide the perfect counterbalance to Jordy Nelson. The Packers' dynamic duo cannot be broken up.
ESPN reports that Cobb is seeking a deal worth an average of $9 million annually. The Packers need to pay him and move on to the rest of the offseason without fear of losing a tremendous weapon.
#2: Resolving two lingering questions on defense: Inside linebacker and defensive tackle.
B.J. Raji's return to form would be a blessing. Raji was explosive during his short stint in training camp before his season-ending triceps tear. Certainly second-year player Khyri Thornton and third-year pro Josh Boyd need to continue to develop. What appears to be the loss of nose tackle Letroy Guion in the wake of his recent arrest creates a void.
Raji would be my first, best option to fill it. Inside linebacker is the other need on defense. The draft could produce a player such as Miami's Denzel Perryman, and a veteran free agent such as Brandon Spikes or David Harris at least merits a look.
I'm thinking the Packers will draft an inside linebacker within the first three rounds.
#3: Now we know the truth: The Packers never adequately replaced Jermichael Finley after his career-ending neck injury.
Finley could threaten defenses in the seam, and he could help the offense control the all-important middle of the field. Andrew Quarless, rookie Richard Rodgers and especially the now-departed Brandon Bostick were disappointments.
It might seem like a reach, but the Packers could select a tight end as early as the 30th pick of the draft.
#4: Special teams coordinator Ron Zook needs to be the answer, not a continuation of the problem.
Shawn Slocum had to go, and McCarthy made the difficult move of firing a close friend and colleague. Now, it's up to Zook and McCarthy to make it work. The return game should be in good hands with Micah Hyde and Cobb, plus whoever is the new third running back to replace DuJuan Harris.
The coverage units were awful on the NFL's worst special teams. McCarthy vowed to change the culture in the teams' meeting room. Any upward change would be welcome. The Packers' offense has carried the team about as far as it can.
#5: Restructuring Julius Peppers' contract to make it more cap friendly is necessary.
Peppers' influence and impact can't be overstated. His tackle of Dallas' DeMarco Murray in the NFC Divisional Playoffs quite likely saved the game. Clearly, Peppers remains a defensive leader and a big-game player on a unit that can use all the help it can get. The defense also needs its key second-year players like Ha Ha Clinton-Dix to continue to improve.
The Packers are among the NFC's top teams. A strong offseason quite likely will put them over the top.
Next Week: The Scouting Combine
News from the NFL's scouting combine including who the Packers might be interested in. Stay tuned.
Chris Havel is a national best-selling author and his latest book is Lombardi: An Illustrated Life. Havel can be heard Monday through Friday from 4-6 p.m. CDT on WDUZ FM 107.5 The Fan, or on AM-1400, as well as Fan Internet Radio (www.thefan1075.com). Havel also hosts Event USA' MVP Parties the evening before home games.