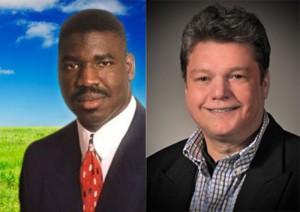 Between the Lines Podcast Coming Soon!
Introducing Event USA's new exclusive, weekly podcast: "Between the Lines" with Super Bowl Champ Sean Jones and Chris Havel!
» Between the Lines Podcast
By CHRIS HAVEL
Prospects strong for Packers' GM Ted Thompson to mine gold for defensive front 7
Few would describe a team with the 27th pick in the NFL draft as being in the catbird seat.
Then again, it's not always where you pick. It's what you do with the pick that counts.
Packers GM Ted Thompson is accustomed to selecting late in the first round. There's nothing new there. When you crank out playoff teams on an annual basis it goes with the territory.
What puts Green Bay on solid footing in this year's draft is a seemingly unusual number of quality defensive linemen that will be available when the Packers are on the clock.
Clemson's Kevin Dodd, Oklahoma State's Emmanuel Ogbah, UCLA's Kenny Clark and Baylor's Andrew Billings are just a few among an intriguing array of defensive linemen.
There is little debate as to the Packers' greatest need: Help along the defensive front seven, especially at defensive tackle. B.J. Raji's retirement, Mike Pennel's four-game suspension and Josh Boyd's comeback off a serious injury leaves the depth non-existent.
Furthermore, Pennel, Letroy Guion and Datone Jones all are subject to the NFL's substance abuse testing and therefore face lengthy suspensions if they mess up.
I doubt even the great Hall of Fame linebacker Ray Lewis could be a man-eater behind a defensive line that is so devoid depth and top-notch talent. Mike Daniels, Clay Matthews and Julius Peppers are the rocks. Inside linebacker Sam Barrington's return is a blessing and Jake Ryan's continued improvement in his second year is a positive.
Beyond that, edge rushers Nick Perry and Jayrone Elliott are about it.
The question is what's Thompson's game plan going in?
Ted Thompson: a shrewd poker player
It's most likely that Thompson, a shrewd poker player if ever there was one, will sit tight and select the top player on his board along the defensive front seven.
Whether it's an edge rusher like Boise State's Kamalei Correa, an inside linebacker such as Alabama's Reggie Ragland or the Packers' preference among a strong group of defensive linemen remains to be seen.
A top-flight pass rusher such as Correa would be difficult to pass up. In fact, if Correa is there I believe Thompson will draft him. Perhaps a freakishly gifted athlete such as Ohio State linebacker Darron Lee might be tempting, but I suspect he'll be long gone by the 27th pick.
The notion of trading up might be intriguing to some, but given this draft's depth at positions of need for Green Bay, it's more likely Thompson will trade down than move up.
Also, it's impossible to guess who the Packers will select without knowing who is already off the board.
However, Thompson's draft habits aren't a secret. He prefers to reward his talented, hard-working scouts by staying true to the board. In others words, he trusts the pre-draft process, and he's an advocate of "the more, the merrier" when it comes to picks.
Why go to all the trouble of crossing T's and dotting I's if the GM is going to play a hunch. It's why I believe Thompson will go with the best player on his board who lines up in the front seven. Strong cases could be made for several players.
At defensive end, Clemson's Dodd (6-5, 274) is interesting because of his great work ethic, maturity and production. The trouble is Dodd is viewed as a one-year wonder by some scouts. It's true he burst onto the scene last year after a non-descript college career. But that doesn't mean he's a flash-in-the-pan. It could be he finally was given an opportunity and seized it.
I prefer Oklahoma State's Ogbah (6-4, 275) to Dodd because of his speed (a 4.62 40-yard dash), his athleticism (a 35 ½-inch vertical jump and his potential to be a top-notch pass rusher.
The knock on Ogbah is his "motor" and the perception that he doesn't play hard all the time. Those are potential red flags, but Thompson and his scouts are paid to decipher fact from fiction.
At defensive tackle, UCLA's Clark (6-2 ½, 312) likely could step in and contribute quality snaps immediately. He is a true run stuffer whose game is fairly polished at this stage.
Billings (6-0 ½, 311) is a pure 3-4 nose tackle. He's powerful, stocky and strong at the point of attack. He isn't pretty, given his blocky build, but he is productive. His presence would go a long way to providing stability up front.
Mississippi State's Chris Jones (6-5 ½, 311) is a freak athlete. He was clocked in the 40-yard dash at 5.01 seconds and possesses a quick first step. Scouts are concerned with his occasional lack of hustle. Some suggest he's a boom or bust.
Thompson typically plays it safe. So what's going to happen Thursday night?
I have a sneaking suspicion that Thompson will sit tight and take the best available player in the defensive front seven. If a team comes calling to work a trade – and Thompson is certain he can still get a defensive player to his liking – he'll move down.
Armed with more picks in the second and third rounds, he could have his choice among defensive players who could bring immediate help.
One scout told me he'd rather have two high second-round picks in this draft rather than one pick from 10 to 20 in the first round.
I agree.
The only other possible scenario I see would play out if a top-notch wide receiver somehow slipped to 27th.
Now that would make for an interesting draft-day debate
Chris Havel is a national best-selling author and his latest book is Lombardi: An Illustrated Life. Havel can be heard Monday through Friday from 4-6 p.m. CDT on WDUZ FM 107.5 The Fan, or on AM-1400, as well as Fan Internet Radio (www.thefan1075.com). Havel also hosts Event USA's MVP Parties the evening before home games.