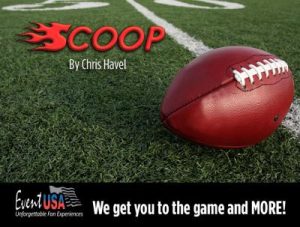 By Chris Havel
Special to Event USA
Green Bay's returnees, rookies and undrafted WRs asked to get job done
GREEN BAY, Wis. – The Packers' 2019 draft class offers at least a measure of insight into new head coach Matt LaFleur's preferred modus operandi on offense.
It appears LaFleur is intent on (not in any particular order):
** Throwing to the tight ends and running backs from the slot or out of the backfield;
** Using a tight end in motion to either run block or take off on a passing route at the snap;
** Running the football much more than in the Packers' recent past by the re-signing of Marcedes Lewis, a skilled run blocker and reliable pass catcher, who languished in moth balls last year. Lewis fits what LaFleur prefers to do, which is create balance.
Great New Deals on Packers Home Tickets & Packages! >>
What the Packers didn't do this offseason was add a veteran receiver in free agency to be Davante Adams' running mate.
What's more, for the first time in seven years, the Packers didn't draft a receiver. The fact that they selected three straight in the previous draft is just a fraction of the reasoning behind it.
Some of it has to do with which players were available when the Packers were on the clock last month.
For example, I loved Mississippi's A.J. Brown, who was drafted by LaFleur's former team, the Titans, with the 51st pick.
As much as I drooled over Brown, who wowed Titans fans with one-handed catches in his debut at rookie camp last week, the Packers were wise to select Mississippi State offensive lineman Elgton Jenkins with the 44th pick. The Packers' offensive line was that desperate for help; the receiving corps wasn't.
Much of the Packers' decision-making has to do with LaFleur and his staff having confidence in the returning receivers. That can't and shouldn't be underestimated.
Another factor is that LaFleur seems intent on throwing to the running backs and tight ends, and running the football.
It sounds simple but it is music to (this) Packers' fans ears.
In addition to re-signing Lewis, the Packers signed offensive lineman Billy Turner in free agency and got an added bonus when Cole Madison, a highly regarded fifth-round pick in 2018, reported to the team after missing last year for health reasons.
The Packers also drafted Notre Dame running back Dexter Williams, who is a dual threat as a runner and receiver. Williams is the potentially ideal accessory to go with Jamaal Williams and Aaron Jones. Jamaal Williams is a reliable short-yardage ball carrier who gets at least what is blocked and then some. Jones is the home-run threat because of his quickness, agility, vision and decisiveness. He's got a ton of talent. He's got to stay healthy.
Then there is Dexter Williams.
His skill set falls between Jamaal's and Jones's. He's a true cut-and-go ball carrier with excellent vision and burst. He's also got a running back's toughness and instincts between the tackles. So why did he last so long in the draft? Frankly, teams make mistakes, and Williams' 4.50-and-change speed didn't make him a "got to have" guy with undrafted free agency looming.
At any rate, Gutekunst's selection of Dexter Williams is another indicator that the Packers covet the run game and true balance.
At the end of the day, though, the Packers are still a pass-first team in a pass-heavy league. Gutekunst and LaFleur know it, and quarterback Aaron Rodgers knows it.
So the question remains: Do the Packers have enough weapons in the passing game to become an explosive, dynamic attack?
Clearly, all bets are off if Adams or Rodgers is injured for any length of time. Aside from that, the Packers appear to be quietly increasing the position group's diversity, athleticism and speed.
For example, the Packers may have coveted Brown, the Ole Miss receiver, as much as I did. But they know far better how LaFleur intends to use the slot position.
The Packers list 13 receivers and six tight ends on their roster.
The holdovers are Adams, Geronimo Allison, Trevor Davis, Jake Kumerow, J'Mon Moore, Equanimeous St. Brown and Marquez Valdes-Scantling.
The newcomers are Jawill Davis, Matthew Eaton, Kabion Ento, Allen Lazard, Teo Redding and Darrius Shepherd.
Here's a quick take on each receiver:
** Adams is a perennial All-Pro whose potential is limitless. Ideally, Adams would catch five or six passes a game for 80 yards and a touchdown or two. I see him as a big-play 85 catch, 1,200-yard and 10-touchdown receiver in this season.
That's plenty of wear and tear on the team's No. 1 guy.
** Geronimo Allison was on pace for a double-digit touchdown, 1,000-yard plus season before he was injured in 2018.
That wasn't a fluke. Allison and Rodgers have legit chemistry.
Allison's presence and Randall Cobb's departure make the No. 2 receiver position a moot point. It is Allison's job unless he's slow to come back from injury.
** Valdes-Scantling, 6-4, 206, has a world of potential.
MVS combines top-end speed with excellent size and exceptional hands. He has a terrific opportunity to gain a stranglehold on the No. 3 receiver job, which in Green Bay is also an incredibly important job.
** Equanimeous St. Brown has excellent size (6-5, 214) and above-average agility to adjust to off-target passes. St. Brown may have a role as a red-zone slot receiver given his size and apparent sure-handedness.
** Jake Kumerow, at 6-4, 209, already has the advantage of chemistry with Rodgers. It showed in training camp and it reappeared when Kumerow did after his injury.
Kumerow has the talent to contend for the job as the No. 3 or No. 4 receiver in this attack.
** J'Mon Moore had the rookie dropsies and it kept him from growing at the position. This year, Moore needs to relax and let the game come to him. He has the benefit of getting the NFL's version of a "do-over" in LaFleur's new offense. Moore is a physically gifted player who isn't the only receiver to have a less than ideal start to a career. Look at Adams.
** Trevor Davis is a first-rate punt returner and above-average kick returner as well. He's got to stay healthy. He's also got to pick up LaFleur's offense on the fly and flash early.
The NFL's de-emphasis of special teams makes players like Davis – in spite his skill set – more expendable than in the past.
** Jawill Davis played eight games and caught 12 passes with the New York Giants last season. That NFL experience counts for a lot. He also has good size (6-0, 197) with exceptional speed at 4.37 in the 40-yard dash.
Jawill Davis might be the answer at slot receiver.
** Darrius Shepherd is a sure-handed 5-foot-11 receiver out of North Dakota State. Shepherd runs an average 4.57 40 but was a tremendous high-volume receiver in college, which is similar to Greg Jennings, James Jones, Jordy Nelson and so on.
Shepherd is also a true slot receiver who's quickness and agility, plus sure hands, gives him a legit shot to make the team.
The other receivers will begin to either distinguish themselves or fade fairly early in the offseason workouts and training camp.
As for the tight ends, the Packers' decision to draft Texas A&M's Jace Sternberger with the 75th pick is interesting in that it raises the possibility of lining him up in the slot.
Sternberger has excellent hands and looks to be a clever route-runner. He could provide matchup problems at 6-4, 250, in space.
Ultimately, LaFleur's offense appears to be seeking balance in terms of run vs. pass, and also versatility in the short-to-intermediate passing game (by incorporating the tight ends and running backs).
It makes for a lot to look forward to when training camp arrives.
And it's only mid-May.