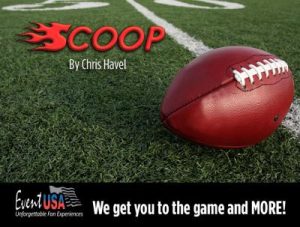 By Chris Havel
Special to Event USA
Mandatory three-day mini-camp opens Tuesday with multiple jobs up for grabs
GREEN BAY, Wis. – The Packers spent the offseason buying free agents and spending high draft picks on players to fix a porous defense.
The decision was a no-brainer. How it all comes together under second-year defensive coordinator Mike Pettine remains to be seen, but the increase in size, speed and experience is notable.
The Packers' defense ranked 18th in yards allowed and was among the NFL's top ten in sacks last season. Don't be deceived. Those numbers say more about Pettine's coaching ability than the defense's personnel.
It can't help but be better this season.
So what of the offense?
Tickets & Game Packages for All Home & Road Games! >>
Ever since the Mike Holmgren era, I have believed that a smart offensive-minded head coach and a top-notch quarterback surrounded by decent players – coupled with a dynamic defense – is the surest formula for success.
On offense, clever play-calling and a talented quarterback with decent weapons and a gutty offensive line can do wonders.
On defense, if you don't have the horses to run the race – despite outstanding coaching – you're probably going to lose.
I believe it's why GM Brian Gutekunst went heavy on defense.
If pass rushers can't win one-on-one battles a defense is doomed. If cornerbacks can't cover long enough to get to "two Mississippi" it's all over but the shouting.
Now, it appears Pettine has a few thoroughbreds to trot out.
The offense is new head coach Matt LaFleur's baby.
It's up to him to make it work with the holdovers, although the offense did get some help in free agency and the draft.
The Packers' offensive line is expected to feature two new guards to go with left tackle David Bakhtiari, center Corey Linsley and right tackle Bryan Bulaga.
Free agent Billy Turner will open as the starting right guard. His size, speed and nasty will be much welcomed, especially on screen passes and in the run game.
Rookie Elgton Jenkins, the 44th pick overall, is likely to start at left guard. He is an interior offensive lineman by trade after playing center at Mississippi State.
Like Turner, Jenkins is big (6-4, 310), powerful and athletic.
To say the Packers did next to nothing to help the offense is inaccurate. Two new starters on the offensive line is a big deal. So are the additions of rookie tight end Jace Sternberger, whom the Packers selected with the 75th pick, and the re-signing of veteran Marcedes Lewis.
Those moves are strong indicators that LaFleur intends to utilize his tight ends this season.
The running backs are set with Aaron Jones, Jamaal Williams and rookie Dexter Williams.
That leaves the wide receivers to step up and deliver.
Davante Adams, the lead dog, likes what he sees so far.
"A lot of big-play potential," Adams said on a recent radio interview. "Obviously with the guys we have, the quarterback we have, the running backs we have, just all around … the tight ends, we have some special players."
Adams said the Packers' skill position players and LaFleur's new system are going to create opportunities to make big plays.
"To be in a system where we're exposed to a lot of different things where we can get the ball in space, I see a lot of potential in that in these coming years."
The Packers' offense is fortunate in several ways.
First, if LaFleur is indeed the sharp offensive mind he's purported to be, the Packers' offense should be fresh.
Second, Aaron Rodgers remains one of the NFL's best.
Third, the running backs that were selected by the previous GM happen to fit LaFleur's scheme. Gutekunst didn't have to replenish both the running back and wide receiver positions.
Fourth, the holdovers at receiver possess talent.
I suspect Marquez Valdes-Scantling will be the opening day starter opposite Adams. It's also my guess that Geronimo Allison will open as the slot receiver.
Allison (6-3, 203) was on pace for a 1,000-yard season before suffering a serious groin injury last year. Rodgers trusts him and for good reason: Allison has made big catches in big moments.
Allison's knock is his 40-yard dash time (4.6), but lining up in the slot compensates for that by playing to his strengths. He is crafty in terms of getting open, but especially so when a defensive back can't jam him at the line of scrimmage. Allison also is courageous in traffic and plenty fast enough.
Valdes-Scantling (6-4, 206) is a legit 4.3 receiver with sure hands and an understanding of the offense.
MVS was ninth among NFL rookies with 38 catches and seventh with 581 receiving yards. He averaged 15.8 yards per catch with eight covering more than 20 yards and four going for more than 40 yards. That tied for first among rookies last year.
Thus far, Allison and Valdes-Scantling have been going full speed straight ahead this offseason.
That still leaves Jake Kumerow, Trevor Davis, Equanimeous St. Brown and J'Mon Moore to battle for playing time.
In addition, LaFleur plans to throw it to the backs and tight ends more than his predecessor.
If the Packers' offense struggles this season it won't be due to a lack of quality skill-position players.
If the offense thrives, and there's good reason to think it will, the Packers should be in position to compete with the NFC's elite.