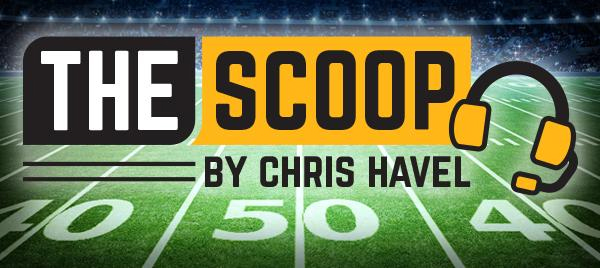 By Chris Havel
Special to Event USA
LaFleur captures first NFL victory at Soldier Field versus NFC North rival
GREEN BAY, Wis. – Aaron Rodgers ought to know a kick-butt NFL defense when he sees one. He's definitely had his own kicked enough through the years.
Last Thursday, Rodgers was talking about an incredible defense, once again, only this time it was different. He was talking about the Green Bay defense after the Packers' 10-3 victory over the Bears at Soldier Field.
"We've got a defense," Rodgers told NBC afterward.
Vikings at Packers this weekend! Tickets, game packages, meet the players, tailgate party, we have everything you need!
The Packers also have a head coach in Matt LaFleur who appears to be able to see a game for what it is as it unfolds.
That's a great sign for a first-year head coach.
LaFleur realized early on that the Packers-Bears' 100th season kick off was going to be a slugfest.
First team to 10 wins.
LaFleur's play-calling and in-game coaching reflected it.
He was willing to let his defense chew up the Bears' offense, and if the Packers' drives stalled, well, let the punter do his thing. He didn't force the issue. He didn't needlessly give the Bears any obvious openings. He didn't need to prove his offensive scheme is all-world. He coached to win the game.
Now, LaFleur's offense needs to be much better this week.
The Vikings' defense reminded everyone that it can hit, especially Atlanta quarterback Matt Ryan. Minnesota dispatched the Falcons 28-12 at home Sunday and it wasn't that close.
The Packers' offense will have the benefit of being at home against the Vikings. A jacked-up Lambeau Field crowd should make it difficult for the Vikings' offense to execute.
Perhaps more important being at home can only help a Packers' offense that struggled at Chicago.
The Packers and Rodgers managed just two scoring drives in four quarters. They were interspersed between J.K. "Great" Scott's nine fantastic punts – the ninth netting 68 yards. It wasn't always pretty for the Packers, but it was enough to get past Chicago's flailing offense and underwhelming quarterback Mitchell Trubisky.
LaFleur didn't screw it up.
When the Bears' still-vaunted defense held the Packers' offense to nine plays on their first three drives for negative yards, LaFleur could've tried to force the issue with his run scheme.
Instead, he spread the field and Rodgers completed four straight passes – the first a 47-yard bomb to Marquez Valdes-Scantling; the last an 8-yard touchdown to Jimmy Graham – to give the Packers' suddenly no-huddle attack some life.
The sloppy offensive rollout for both teams made it look as if each defense had too many men on the field. Indeed, the Bears' defense did have 12 men on the field when Rodgers hit Graham for the game's only touchdown.
It was one of those nights.
Rodgers completed 18 of 30 for 203 yards and the touchdown for a 91.4 quarterback rating. He was sacked five times, but didn't yield a turnover and seemed in-sync with LaFleur.
Rodgers especially liked LaFleur's play call on a second-and-9 at the Packers' 7-yard line clinging to a 7-3 lead. Davante Adams limped off just before the snap, but Rodgers stayed with the play and hit Trevor Davis for a 28-yard completion.
"A really nice call right there by Matt (LaFleur)," Rodgers said.
Then, he hit Robert Tonyan for another 28-yard gain to help set up Mason Crosby's 39-yard field goal with 5:15 to play. That made it 10-3 Packers and ratcheted up the pressure on the Bears.
Trubisky had no response.
He finished 26 of 45 for 228 yards and an interception. Trubisky, like Rodgers, also was sacked five times. The Packers' pass rush forced the Bears' offensive line into four offensive holding penalties, which are as good as a sack.
The Packers' defense got strong performances from Blake Martinez, Kenny Clark, Montravius Adams and Raven Greene, among others.
The Smiths – Preston and Za'Darius – each posted a sack, with Preston's closing out the game.
On the prior series, ex-Bears safety Adrian Amos intercepted a Trubisky pass intended for Allen Robinson in the corner of the end zone. Amos said he recognized the play based on formation.
As for Trubisky, Packers defensive back Tramon Williams said, "We wanted to make Mitch play quarterback. We knew they had plenty of weapons and all of that. We wanted to make Mitch play quarterback."
When called upon, Trubisky came up short.
In fact, Eddy Pineiro's 38-yard field goal in the first quarter elicited wild cheers from Bears' fans. Little did they know those cheers would become boos by game's end.
Pineiro's kick was the Bears' offensive highlight.
So Chicago has a kicker. The Packers have a defense.
That's a fair trade.
"It was fun to watch," Rodgers said. "It's been a long time since I've seen a performance like that. I give a ton of credit to (defensive coordinator) Mike Pettine and his staff and to those players … an incredible effort."
The victory was LaFleur's first in the NFL.
"I'm proud of our defense and the effort they gave," LaFleur said. "I thought they were smothering."
The offense, LaFleur said, is another matter.
In fact, Rodgers apologized to the first-year head coach after the game upon handing him the game ball.
"I promised I'll be better," Rodgers said.
"We didn't do (the defense) a whole lot of favors with our performance on offense. But they came up with big plays every time we needed them."
Crosby, Scott and Trevor Davis all were strong on special teams.
LaFleur said: "Our special teams really picked up the slack. Our offense has a lot to improve on, but I can't tell you how proud I am of the effort we gave and to be able to come out of here with a victory."
LaFleur gets to 2-0 on the strength of Aaron Jones and the running attack, and turnovers created by Pettine's defense.
Prediction: Green Bay 23, Minnesota 20