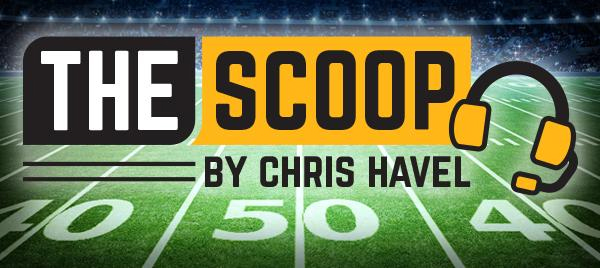 By Chris Havel
Special to Event USA
49ers' pass rush, patient offense show Green Bay who's boss in the NFC
GREEN BAY, Wis. – With the National Anthem still reverberating around Levi's Stadium, and dusk closing in, the band should've queued up Taps especially for the Packers.
For the second time in three weeks, Green Bay's substandard play merited a funeral dirge, this time in honor of the Packers' 37-8 loss to the 49ers Sunday night in Santa Clara, Calif.
Green Bay's west coast trips are as revealing as they are painful. The further the Packers travel, the farther they have to go, or so it seems after their most recent roughing up in California.
The 49ers (10-1) held onto the NFC's top seed with the victory. The Packers (8-3) fell into a tie with Minnesota (8-3) atop the NFC North after the loss.
A dejected Matt LaFleur, who looked every bit the first-year head coach, acknowledged the obvious afterward.
"First of all give the 49ers a ton of credit," LaFleur said. "That's a pretty darn good football team. I'm disappointed with myself, with how we got out-coached and how we got out-played. It's unacceptable. We've got to take a look at ourselves. We've got a lot to correct if we're going to be the team we want to be."
The Packers' opening drive set the tone.
It ended with their first turnover in four games. Fred Warner got a strip-sack of Aaron Rodgers, and Nick Bosa recovered and returned it to the Green Bay 2. Tevin Coleman scored on the next play to give the 49ers a jarring 7-0 lead.
Then it got really ugly.
The Packers' next four drives went like this:
** Geronimo Allison drops a pass on third-and-4. Punt.
** Rodgers fires incomplete to Jamaal Williams on third-and-9. He would've been short of the line to gain anyway. Punt.
** Allison is called for an illegal block in the back – a terrible call, by the way – which led to third-and-13. An incomplete pass ended the drive. Punt.
** After moving 52 yards in seven plays, LaFleur elected to go for it on fourth-and-1 at the San Francisco 28. Instead of slicing the 49ers' lead to 10-3 with a field goal, the Packers ran Aaron Jones straight ahead and into DeForest Buckner for no gain.
They turned it over on downs and that was that.
You know it's an awful night when the Packers' best news was that right tackle Bryan Bulaga's knee injury isn't season-ending. Alex Light played ok, but it was an early blow nonetheless.
There are several similarities between this loss to the 49ers and the Packers' 26-11 loss to the Chargers three weeks ago.
Both times the Packers either didn't try or couldn't establish the run. They also couldn't pass protect well enough to give their receivers time to get open or Rodgers time to find them.
Raise your hand if you think the Packers need to draft a starting-caliber offensive tackle, a kick-butt linebacker and a top-notch receiver in the first three rounds of next April's NFL draft.
I thought so. You can put it down now.
Green Bay clearly lacks a strong No. 2 receiver and it shows. Neither Allen Lazard nor Allison is up to the task, and MVS had just one catch while Jake Kumerow was shut out on one target.
Furthermore, Jimmy Graham is on his last legs. The sudden burst isn't that sudden anymore. Robert Tonyan's return will help, but it's not like he's going to be the savior at tight end.
On top of that, fullback Danny Vitale and tight end Marcedes Lewis have been largely ignored of late.
Rodgers completed 20 of 33 passes for a paltry 104 yards and one touchdown. He was sacked five times and finished with a pedestrian 75.8 passer rating.
"We were pretty bad on offense," Rodgers said. "I still like our chances, though."
Rodgers believes the Packers can put themselves in position to make a return trip to Santa Clara in the postseason.
I give Rodgers credit for even wanting to return to the scene.
The Packers eked out 60 yards and zero points in the first half. It was the third-fewest yards in a half in Rodgers' career. Their second-fewest yards in a half were the 50 against the Chargers.
"There wasn't a whole lot positive tonight," Rodgers said. "A lot of the stuff we talked about during the week, eliminating negative yardage plays, obviously we didn't do that. They got after us up front, and the coverage was good on the back end."
The 49ers' defense came into the game allowing just 142 yards passing per game. That's the fewest by a defense in 37 seasons. They also harassed Rodgers constantly and notched five sacks.
Buckner and fellow tackle D.J. Jones abused the Packers' Corey Linsley most of the game. In fact, it might've been among the worst performances of Linsley's career.
"We crave every single game," Buckner said. "Every week is a new challenge. The good thing about this team is we don't get scored of who our next opponent is or 'Oh, this team is supposed to be a top team.' It's just another team."
The 49ers know how good they are, according to Buckner. They merely reminded everyone else on Sunday night.
The return of 49ers tight end George Kittle was huge. Kittle caught six passes for 129 yards and a touchdown.
Kittle's 61-yard touchdown catch, coupled with Deebo Samuel's 42-yard scoring grab, highlighted Jimmy Garoppolo's big night. Garoppolo completed 14 of 20 passes for 253 yards, two touchdowns and no interceptions. He had an eye-popping 145.8 passer rating while being sacked three times.
Garoppolo stayed poised in the pocket despite constant pressure. The rap on him was that he would wilt in the face of a pass rush.
That was hardly the case.
"Our guys aren't just in there pumped about where we're at," 49ers coach Kyle Shanahan said. "They're pumped about the possibilities where we can go."
Where the Packers go next is New York to face the Giants.
Green Bay needs to refocus and re-set this week. They need to drill down on the running game and find out why the 49ers' defense – good as it is – was able to blow it up.
They also need to get Light ready at right tackle, and consider Lucas Patrick at center if Linsley doesn't pick up the pace.
The Packers must decide if it's good enough to be considering among the better teams in the NFC, or if they're going to dare to seriously challenge the 49ers, Saints and Seahawks.
Right now, Green Bay is a distant fourth and reeling.