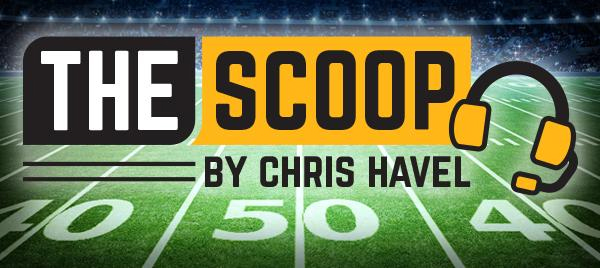 By Chris Havel
Special to Event USA
49ers running game and Packers own miscues spell defeat
GREEN BAY, Wis. – The Packers have occasionally been charged with winning ugly this season. Well, if that's true, winning ugly is still better than losing in the NFC championship game.
While they out gained the 49ers in yards, first downs and time of possession, unfortunately they also gave up three turnovers to none, falling to the 49ers by 37-20. Hence, the Packers, under the first campaign of Matt LaFleur, finish the season at 14-4 and one game away from their first Super Bowl berth in 9 years.
"Right now, (the 49ers) are the gold standard in the NFC," Packers head coach Matt LaFleur said after the loss.
To win this game, the Packers had to play essentially perfect football. Unfortunately, Aaron Rodgers lost a fumble and threw an interception in the first half allowing San Francisco to score 10 points off the turnovers. That opened the floodgates. Similar to the first meeting between the teams when a fumble on the very first possession set the 49ers up on the 5 yard line for an easy touchdown. Throughout the season, the Packers have won 14 games, in part, by avoiding turnovers and forcing them on the other team. It was just the opposite unfortunately yesterday.
After that San Francisco coach Kyle Shanahan served up a steady diet of handoffs and misdirection. And soon the Packers defense was gassed. On the other side of the ball, once the 49ers had a nice lead, they teed off on Aaron Rodgers. When you have five first round draft picks on your defensive front, you can pretty much dictate what you want to do in rushing the QB, as the run is no longer a threat
There were bright spots. Davante Adams had nine catches for 138 yards, including a 65-yard bomb against 49ers' cornerback Richard Sherman. Aaron Jones rushed 12 times for 56 yards and a touchdown plus picked up a receiving touchdown.
"We just weren't very consistent in the first half," a subdued Rodgers said after falling to 1-3 in NFC title games. "Made a couple of mistakes personally that hurt us and kind of let it get away from us."
Everyone knew going into this game that the 49ers had a strong rushing attack but no one expected this type of production. Raheem Mostert lit up the Packers' defense.
In short, the 49ers' offensive and defensive lines were superior to Green Bay's on this day.
Packers' cornerback Tramon Williams played with the much-traveled Mostert in Cleveland. He didn't seem surprised by the back's big day.
"Eight passes … the rest runs," Williams said. "The first rule of football is 'Stop the run' and we didn't do that. The kid's fast – track-and-field fast. He made some money tonight."
Williams chose to praise Mostert rather than point fingers. Shanahan rode Mostert all the way to the finish line, only calling 8 passing plays throughout the game.
"The lanes that we saw and the way he was running we just wanted to keep feeding him," Shanahan said. "I know he was feeling it. That wasn't too hard to see."
The 49ers' eight total pass attempts were the third-fewest in a playoff game in the Super Bowl era. San Francisco quarterback Jimmy Garoppolo completed six passes for 77 yards for a 104.7 rating.
I'm not sure what's more amazing: That Garoppolo only threw eight passes for the game? Or that Mostert only had eight carries in his first three NFL seasons?
The Packers' wondrous 14-4 season can be divided into three parts:
** The team's hiring of LaFleur and GM Brian Gutekunst's solid moves in free agency and the draft leading into training camp.
** Green Bay's unexpected but impressive 8-2 start that was quelled by a disheartening loss to the 49ers Nov. 24 at Santa Clara.
** The Packers' six-game winning streak after that loss. It earned them the NFC's No. 2 seed and included a home playoff win over Seattle. It also gave the Packers another shot at the 49ers – their measuring stick.
It was an opportunity to find out if the Packers were Super Bowl caliber, or merely a really good team whose health, cohesiveness, talent and desire carried it as far as it could.
This game showed that the Packets are not quite there yet. They are the class of the NFC North division, going 6-0, sweeping all division opponents, but they are not the class of the NFC. Not yet anyway. Rome was not built in a day. Gutekunst has been at the GM helm for two years and LaFleur for one year as coach.
Don't dismay, Packers fans. Put yourself in the shoes of the Cleveland Browns fans. They haven't sniffed a game of this significance since Abraham Lincoln was president…..well maybe not that long. In the meantime they've had a revolving door of coaches, it seems like at the rate of one per year.
Yet the 49ers went from four wins in 2018 to a berth in Super Bowl LIV. The Packers went from six wins in 2018 to 14 wins and an NFC championship berth this season. Take heart.
Change can happen, and it can happen fast, as the 49ers and the Packers demonstrate.
"It's still kind of surreal," 49ers linebacker Fred Warner said. "With the stuff this team has gone through, this organization, it's special. It's the pinnacle of football right here."
So where do the Packers go from here?
Clearly, Green Bay's shortcomings were exposed, thanks to the 49ers. There shouldn't be any allusions. There is much hope and much to be proud of, of course, but there also is much work to be done.
A complementary receiver, a sideline-to-sideline hell-raiser at linebacker and reinforcements on the interior of both lines is necessary. It isn't going to be easy replenishing the roster, especially with the Packers selecting 30th in each round of this spring's NFL draft.
However, the cache of being a 14-win team might stir interest from prospective free agents. Furthermore, the vibe in Green Bay is excellent under the direction of Gutekunst and LaFleur.
Clearly, Rodgers was disappointed but not discouraged.
"The window's open and I think we're going to be on the right side of one of these real soon," he said. "That's the exciting thing. It doesn't make this feeling any easier, but that is very exciting moving forward."
Rodgers acknowledged the gap between Green Bay and San Francisco, but he doesn't think it is insurmountable.
"They got us a couple times, but I don't think (the gap) is that big. I think we're really close."
Packer fans everywhere are hoping he is right. Stay tuned, as we will find out more on this continuing saga in 2020.