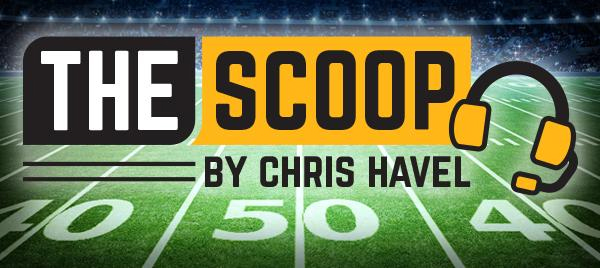 By Chris Havel
Special to Event USA
A more explosive, balanced offense that can take the heat off the Packers' 'D'
GREEN BAY, Wis. – It was a Thursday night NFL matchup one has come to expect: Jaguars at Titans in mid-December of the 2018 season.
Nevertheless, I watched because it's the NFL, and it's a Thursday night in early December in Green Bay. Obviously, I couldn't know at the time that the Packers would be searching for a new coach in a few weeks.
Tennessee rolled to a 30-9 victory over Jacksonville during which TV viewers sat in slack-jawed awe of Derrick Henry's 238 yards rushing. He totally dominated a talented but unmotivated Jaguars defense.
While Henry's performance was eye-popping, I was more curious about the Titans' offensive coordinator, Matt LaFleur. Everyone in the stadium knew Henry was the Titans' lone weapon, but that didn't keep LaFleur – their first-year play caller – from displaying great patience mixed in with a fair amount of creativity to get the job done.
I remember thinking, "Now that guy can call plays!"
A few weeks later, after Mike McCarthy's firing, I booked The Nashville Tennessean's NFL writer as a guest on my radio show. While Joe Rexrode agreed that LaFleur was a gifted coach on the rise, he thought it was premature to be talking about him as an NFL head coach.
In January, Rexrode returned to discuss the Packers' hiring of LaFleur.
What caught my eye on that Thursday night in 2018 holds true today: LaFleur finds ways to win with the weapons at his disposal.
With Marcus Mariota and Austin Davis at quarterback and Taywan Taylor and Anthony Firkser in the passing game, LaFleur threw it to Dion Lewis out of the backfield when he wasn't handing it to Henry.
The Titans won six of nine and just missed the playoffs.
Today, we don't have to imagine what LaFleur's team might do with an All-Pro quarterback, a touchdown-making running back and one of the NFL's top receivers operating in concert with a solid offensive line.
We know what it would do.
LaFleur's team would win the NFC North, capture a home playoff victory and ascend to the NFC championship game.
So what does LaFleur do for an encore?
In fairness, any discussion of "Year 2" of the LaFleur Era should begin with this disclaimer: Anything short of advancing to Super Bowl LV might be considered a step back.
That's ok. The expectations are high, but it's for good reason.
LaFleur has laid the foundation for success.
It begins with his rather earnest approach to communicating with everyone from the front office to the practice squad players.
LaFleur, 40, is as straightforward as circumstance allows. He is fun to be around, by all accounts, but he's a lot more of a no-nonsense guy than my own bias might've allowed me to guess due to his age.
LaFleur's first challenge was dealing with a ruptured Achilles tendon.
It might've been a blessing in disguise. Instead of being the hand's-on coach who might jump in and throw a few passes during a drill, he was forced to become an eye's-on coach who had to sit back a bit.
He also held to his commitments by showing up to address the team the day after the injury, and again immediately after the surgery. Players were impressed by his "we're all in this together" mindset.
It may not seem like much, but don't underestimate it.
LaFleur's next challenge came from Aaron Rodgers' criticism of his decision to hold joint practices with the Texans. The coach responded by saying he welcomed players' input, but wouldn't allow it to dissuade him from doing what he feels is best for the entire team.
Thus, the Cleveland Browns are coming to town this summer.
Perhaps the greatest difference in Year 2 is increased comfort level.
LaFleur and Aaron Rodgers have a healthy coach-QB relationship. That is to say they've adopted the "we're in this together" (sound familiar?) mindset that produces champions.
Rodgers had a fine season by NFL standards.
But there's still room for improvement.
"I thought he played pretty damn good last year," LaFleur said of Rodgers. "He led us to 13 wins and a playoff win. Certainly, there are areas for us all to improve on and it starts with me first. That's laying out a great plan for these guys and putting guys in position (to succeed).
"Too many times the quarterback's going to accept all the blame when things don't go right and they're going to get a lot of the praise when things do go right. It's just the nature of that position and everybody's going to be critical of it. That's fair. That's what you sign up for when you get into this league."
The Packers expect to add receivers and a tight end through the draft and free agency. They also may add another offensive lineman, either to groom behind Bryan Bulaga or to replace him.
The Packers' offensive weaponry almost certainly will be better.
So will the offense's ability to get deeper into the playbook.
LaFleur said they never got into their "up-tempo package" – mostly because it was impeded by inexperienced receivers – but expects to build upon the foundation that's been laid.
He expects Rodgers to be even better in 2020.
"I'm excited about that," LaFleur said. "Here's a veteran guy that plays at the highest level of anybody. He's a future Hall of Famer. The foundation has been laid for us. He knows exactly what to expect going into Year 2. Certainly, we're going to refine some of the things we do offensively, but just really excited to get him back in the building and work through that process."
Accountability is critical.
It's especially meaningful when it begins with a team's best players such as Rodgers, David Bakhtiari, Davante Adams and the Smiths (Preston and Za'Darius).
The Packers' locker room is in good hands.
As an aside, it also seems LaFleur has the Packers' house in order in terms of nutrition and training regimen. The team's excellent overall health can't be all about simple good fortune.
From a purely football standpoint, past and recent history suggests LaFleur's team will be better in Year 2.
Mike Holmgren's first three teams went 9-7 but improved each year.
In 1992, they just missed the playoffs. In 1993, they advanced to the playoffs and lost. In 1994, they won a playoff game before bowing out. Two years later, they won Super Bowl XXXI.
Mike Sherman's first team went 9-7. He followed it up with back-to-back 12-4 seasons and three straight NFC North titles.
Mike McCarthy's inaugural team went 8-8 in 2006. A year later, the Packers were 13-3 and advanced to the NFC championship game. Three years later, they won Super Bowl XLV.
The Packers may be better in 2020, but finish with a worse record. That's ok so long as they are better-equipped to win against the highest level of competition in the post-season.
The Packers could go 11-5 and still be better than their 2019 counterpart.
That's because the next logical step in Year 2 of the LaFleur Era is a deep post-season run, perhaps all the way to a berth in Super Bowl LV.
That's not a pipedream. It's what can happen when LaFleur, who's pretty good at finding ways to win, gets all the offensive toys he needs.