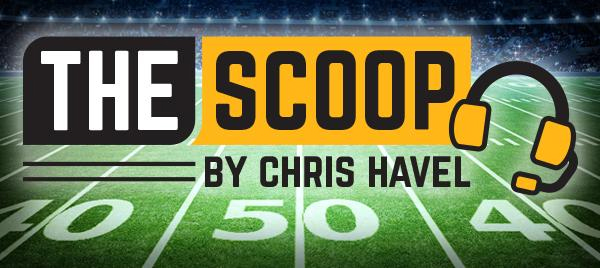 By Chris Havel

Special to Event USA
2020's receiver class goes 9 or 10 deep so Green Bay should get big-time help at 30
GREEN BAY, Wis. – The Packers' mock draft scenarios run the gamut.
Trade up? Trade down?
Stand pat and use the 30th pick to select the best available receiver, offensive tackle or inside linebacker?
That seems like a dizzying array of options.
In fact, it isn't.
The Packers and GM Brian Gutekunst would be wise not to overthink it. Green Bay's offense desperately needs a talented, high-end receiver to pair with Davante Adams. It is the Packers' single-greatest need.
Green Bay addressed its holes at inside linebacker and offensive tackle by signing Christian Kirksey and Rick Wagner early last week. They missed on inside linebacker Joe Schobert, tight end Austin Hooper and receiver Emmanuel Sanders in free agency, but that doesn't mean they have to reach in the April 23-25 NFL draft.
Frankly, the solution to improving the Packers should be obvious.
The Packers need to sit tight at 30 and draft the receiver whose skill set best suits head coach Matt LaFleur's offense. The lone exception would be if a receiver the Packers absolutely love tumbles within their reach – perhaps into the mid-20s – and the cost to trade up isn't prohibitive.
Otherwise, it's a no-brainer at 30.
The question is which of the receivers would be the best fit here?
The possibilities are many.
Oklahoma's CeeDee Lamb, Alabama's Jerry Jeudy and Henry Ruggs III, and LSU's Justin Jefferson likely will be long gone by the 30th pick. That still leaves a cluster of gifted receivers to choose from.
Here's a closer look at the best receivers likely to be available with the 30th pick (in order of my preference):
** Justin Jefferson, LSU
With Lamb, Jeudy and Ruggs all gone by the 20th pick, the Packers' best hope would be LSU's Justin Jefferson sliding into the 20s. That would allow at least an opportunity to trade up if possible.
Jefferson (6-1, 202) ran a 4.43-second 40-yard dash and posted a 37 ½ inch vertical leap. Physically, he's plenty strong and fast.
What sets Jefferson apart are his ball skills and play-making ability. When the ball is in the air in a 50-50 situation, Jefferson expects to make the catch every time.
He has exceptional hands and can play in the slot or on the perimeter. He's slippery and could develop into a bona fide chain-mover.
Jefferson needs to hone his route-running and ability to beat press coverage, but that's what the NFL's offseason and training camp are for.
Jefferson led LSU's national championship team with 111 catches for 1,540 yards (13.9 per catch) and 18 receiving touchdowns in 15 games.
This is the one receiver I would trade up to acquire.
** Jalen Reagor, TCU
Reagor (5-11, 206) ran a 4.47 40-yard dash, did 17 reps at 225 pounds and registered an insane 42-inch vertical leap. His 17 reps is a great indicator of his strength and the 42-inch leap is ala Michael Jordan.
He is the son of former eight-year NFL veteran Montae Reagor. He is a supremely confident, self-assured athlete who plays that way.
Reagor caught 43 passes for 611 yards (a 14.2 average) and five touchdowns. He also is a sensational kick and punt return specialist who averaged 20.8 yards and scored two touchdowns on 15 returns.
Reagor dealt with poor quarterback play at TCU but still managed to be highly productive. He is a smooth athlete whose concentration has been called into question, but he has exceptional hands and is a naturally gifted play-maker who would fit LaFleur's scheme.
** Denzel Mims, Baylor
Mims (6-3, 207) ran a 4.5 40-yard dash, did 16 reps at 225 pounds and displayed a 38 ½ inch vertical leap.
He's a perimeter receiver with great size, good speed and a ridiculous catch radius. He had 66 catches for 1,020 yards (15.5 per catch) and 12 touchdown receptions in 14 starts.
Mims is an excellent red-zone threat given his great size, agility and concentration when the football's in the air. He is a bit of a long strider and some scouts question whether he can defeat press coverage. He also raises doubts about his ability to beat press coverage.
Mims would be a Day One starter in Green Bay.
** Brandon Aiyuk, Arizona State
Aiyuk (pronounced EYE-yook) is a 6-0, 205-pound athlete who ran a 4.5 40-yard dash, did 11 reps at 225 pounds and posted a superb 40-inch vertical leap at the combine.
A transfer from Sierra College entering the 2018 season, Aiyuk excelled almost immediately as a receiver/return specialist. In 2019, he took another leap that had Arizona State fans giddy.
He caught 65 passes for 1,192 yards (18.3 average) and eight touchdowns. He was also one of the top return specialists in the nation. He is a slick, instinctive pass catcher according to scouts who believe he has star potential with some NFL polishing.
Aiyuk has been criticized for not being more physical and competing with defenders for 50-50 balls. It's likely he would be the Packers' No. 3 receiver behind Adams and Allen Lazard to open the season.
His upside could be higher if he gets stronger as he matures. He has tremendous hands, is a ball snatcher and quickly converts from receiver to runner once he catches it.
Aiyuk has the instincts and vision of a running back, which explains why he'd fit into LaFleur's scheme.
** Laviska Shenault, Colorado
Shenault (6-1, 227) ran a 4.58 at the combine and displayed his strength by banging out 17 reps at 225 pounds.
Shenault (pronounced lu-visk-uh shuh-nault) was a second-team all-conference selection in 2019 after his production dropped. He caught 56 passes for 764 yards, a 13.6 average and four touchdowns.
Some scouts compare him to the NFL's Sammy Watkins due to his excellent ball skills and physique.
Called a "high end talent" but "not a sure thing" by some scouts, Shenault is a lethal weapon with his combination of strength and agility. However, he needs polish as a route-runner and it's unclear if he can be a surefire No. 2 starter in the NFL.
I like Shenault's versatility, power and hands, but I don't love him.
** Tee Higgins, Clemson
Higgins (6-4, 216) led the Tigers in receiving yards as a junior with 1,167 yards for a 19.8 average and 13 touchdowns. He also finished tied for the Clemson record for touchdowns (27) with NFL stars DeAndre Hopkins and Watkins.
Some compare Higgins to Cincinnati's A.J. Green. It's preliminary but possible.
Higgins has excellent body control and ball skills to attack downfield. He is a bit "leggy" off the line but he also uses those long legs to blow past would-be defenders.
His instincts, physical skills and personality suggest he'll be a very good NFL starter.
Any one of these six receivers would compete to start opposite Adams. They also would represent a significant upgrade to the receiving unit. All the Packers need to do is sit tight at 30 and draft their favorite of the remaining receivers at that point.
It isn't sexy, but it's what the Packers need to take the next step.