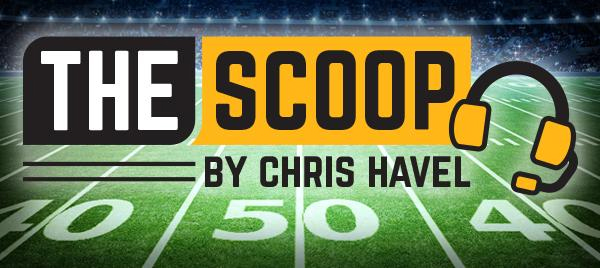 By Chris Havel

Special to Event USA
Packers' options, beyond receiver, include 3-technique defensive end, offensive tackle
GREEN BAY, Wis. – Go big or go home.
That fairly sums up Pro Football Hall of Famer Ron Wolf's draft day philosophy. As the ex-Packers GM often said leading up to the draft, "They only make so many big men who can really kick a**."
In other words, if Packers GM Brian Gutekunst believes he can acquire an immediate impact receiver elsewhere in the April 23-25 NFL draft, he should use the 30th pick to upgrade the offensive or defensive line.
If it shakes out that way I am all in.
The Packers' current starters at the 3-technique defensive end are Dean Lowry and Tyler Lancaster, with Kingsley Keke and Montravius Adams in the wings. When I see those names, and with all due respect, I picture 49ers' running back Raheem Mostert gashing Green Bay's defense.
The Packers' need at inside linebacker was addressed by the signing of Christian Kirksey. As needs go, a 3-technique is a close second.
(Quick football primer: A 3-technique defensive end lines up on the outside shoulder of the guard in the B-gap between the guard and tackle. That player is responsible for controlling or penetrating the gap.)
On offense, the Packers signed Rick Wagner to fill the hole at right tackle. That shouldn't prevent the Packers from drafting an offensive lineman, especially a tackle, if the right one slips to the 30th pick.
With that in mind, and the caveat that they will select a starting-caliber receiver elsewhere in the draft, here is my "Go big or go home" list.
I've got my top 3-technique and offensive lineman at 30, as well as my top two Day 2 candidates at defensive end and tackle.
** First-round 3-technique defensive end
Remember the name Ross Blacklock.
The TCU defensive end is a 6-foot-4, 290-pound wrecking ball.
He clocked 4.9 seconds in the 40 to go with a 29-inch vertical leap at the NFL scouting combine.
While playing at 320 pounds as a true freshman with the Horned Frogs he earned Freshman All-American honors by posting 27 tackles, 6 ½ for loss, and two sacks in 14 starts. An Achilles injury forced him to miss his sophomore campaign, but he dropped 25 pounds in the process.
A leaner, stronger Blacklock menaced Big 12 offenses in 2019.
He finished with 40 tackles, nine for loss and 3 ½ sacks in 12 starts.
Imagine Blacklock lined up next to Kenny Clark, with Za'Darius Smith playing off his left outside shoulder pad. That trio would essentially take away the strong side of the field for opposing offenses.
Blacklock is relentless as a pass rusher and features the athleticism to keep would-be blockers off him.
Blacklock's rare lateral movement and quickness, combined with the instincts of a natural edge rusher, would be difficult to pass up at 30. He would be an immediate starter on defense.
** Day 2 3-technique defensive ends
Alabama's Raekwon Davis lacks Blacklock's pass rush ability, but he's a beast as a run stopper. Besides, with the Za'Darius and Preston Smith and an ascending Rashan Gary, who needs more pass rush? It's the run defense that needs to be bolstered, and Davis has the skillset to do it.
Davis (6-6, 316) has an 82-inch wingspan to go with his quick feet.
He was a terrific run stopper at Alabama who can play the 3-technique or even nose tackle when Clark is out. He had 47 tackles and a half-sack while missing time with an ankle injury last season.
When he is on his game, he flashes late-first round talent.
Davis would be good value with the 62nd pick and a steal with the 94th.
North Carolina's Jason Stowbridge caught my eye as a third-round candidate as a 3-technique defensive end.
Stowbridge (6-4, 275) has more pass-rush potential than Davis, and is better-suited to playing outside than along the interior. However, his speed (he ran a 4.89 40-yard dash) and strength (26 reps at 225) plus explosiveness (a 31-inch vertical leap) are awfully eye-catching.
Strowbridge has a bit of nasty to his game and the high motor to keep clawing away at opponents.
He is a bit of a 'tweener who needs NFL coaching, but in the right situation he could be a great value pick at 94.
** First-round offensive tackle
Georgia's Isaiah Wilson (6-6, 350) is a monster.
Wilson was projected to be a top 15 pick had he returned to college for the 2020 season.
Wilson is a powerful man who is a road grader in the run game that enjoys finishing plays with violence. At the same time, he is surprisingly quick to the second level and would be the Packers' future right tackle. That's only if Wagner managed to beat him out in training camp.
Wilson also possesses a left tackle's skillset.
I'd have to think long and hard before I passed up Wilson at 30.
** Day 2 offensive linemen
If the Packers get their receiver at 30 and Houston offensive tackle Josh Jones slips within earshot of the 62nd pick, Gutekunst would have to consider trading up to secure a future, long-term tackle.
Jones (6-5, 311) checks all the measureable qualities.
He's got nice size, above-average athleticism and raw potential. His best bet would be to begin his NFL career sitting and watching David Bakhtiari and Wagner. It's not something Packers' fans want to hear, but when you've got a plug-and-play tackle in waiting it's a good thing.
If Jones slides in the third round, the Packers could get a future starting tackle at an incredible bargain.
My other offensive line candidate in the late-third round is Wisconsin center Tyler "Badass" Biadasz.
With Corey Linsley in a contract year, the Packers would be wise to consider his replacement. They could do worse than Biadasz, who was one of the most dominant centers in college football in 2018.
Biadasz regressed in 2019, mostly due to injuries, but there's no reason to think he won't recapture his form.
When he is right, he is a nasty, forceful run blocker who plays with attitude. He also can create a wall in pass protection because of his impressive strength at the point of attack.
If Biadasz is on the board when the Packers are on the clock with the 94th pick, and they can trade back and still acquire him, it's an easy call.