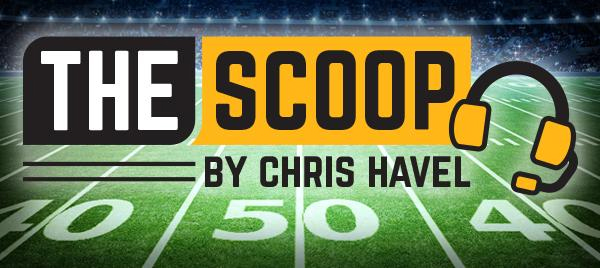 By Chris Havel

Special to Event USA
Packers could look to late-third round for options, beyond receiver, including QB
GREEN BAY, Wis. – The mere suggestion that the Green Bay Packers may draft a quarterback is guaranteed to spark a heated debate.
Most Packers' fans don't want to hear it.
That goes double if it's a Day Two pick (rounds 2 or 3).
They point to Green Bay's 13-3 season and NFC Championship berth as reason to believe the Packers are close to winning a Super Bowl. With another weapon at receiver, another year in head coach Matt LaFleur's system and a new linebacker (Christian Kirksey) in the heart of the defense, the Packers should be a bona fide championship contender.
So why waste a pick on a quarterback?
Furthermore, why risk upsetting Aaron Rodgers in the process?
Those are good questions, to be sure, but let's not be too hasty.
The Packers should draft a quarterback under one condition: They truly believe he has the skillset to develop into a starting-caliber QB.
Anything less is a waste of time.
The Packers selected Brett Hundley. That didn't work out.
They traded for DeShone Kizer. That also proved to be a failure.
So what about this year's draft?
There are only two quarterbacks I would consider for Green Bay.
The first is Jordan Love out of Utah State.
The 6-4, 224-pound quarterback is an excellent athlete with a strong arm and the ability to elude the pass rush.
In 2018, he looked like a future NFL starter while garnering second-team All-Mountain West honors. He ranked eighth in the FBS with 32 touchdown passes while completing 64 percent of his passes for 3,567 yards and six interceptions in 13 starts.
He slid back in 2019, due in part to staff turnover and new teammates. He threw 20 touchdowns to 17 interceptions and his draft stock slid.
The Packers may have a shot at Love with the 30th pick.
Here's another possibility: Hope someone comes calling for Love and trade back to wind up with two second-round picks and two thirds.
Another quarterback prospect, although more likely a fourth-round pick, is Florida International's James Morgan.
Morgan (6-4, 229) is a Green Bay native who grew up idolizing Brett Favre and Rodgers. He has a powerful arm, but his accuracy and instincts leave a bit to be desired.
That's why he's a fourth-round pick.
Some see Morgan as a No. 3 quarterback in the NFL. With strong coaching and continued development, however, he could become a very capable backup and spot starter in the NFL.
Either way, most Packers' fans pray Rodgers will play forever.
My guess is Green Bay will pass on quarterbacks in this draft. They are too close to winning a title with precious other needs to get them there.
It's always a possibility though.
In this COVID-19 world we're living in – which has mandated virtual offseason workouts, virtual drafts, etc. – the Packers should be commended for taking a pro-active approach.
Last week, they announced the hiring of Dr. Chris Carr as the team's new (first) Director of Performance Psychology and Team Behavioral Health Clinician.
Mental health needs to be taken seriously. That's especially true in this COVID-19 world. Players' mental health needs surely will be taxed by the coronavirus and the potential to lose loved ones to the virus.
Furthermore, the entire upside-down nature of the current circumstances creates a climate that is more psychological challenging than ever.
It's difficult enough trying to find a niche in the NFL. Now try doing it as a young player whose family and friends may be suffering back home? I want to welcome Dr. Carr to Green Bay, especially in a time of crisis. I suspect he'll be worth every penny spent to create the position.
I salute Packers president Mark Murphy on the move.
Rodgers already weighed in with a "clapping" emoji to note his approval.
As for the Packers' drafting a quarterback, I suspect Rodgers already knows that day is coming, but I think he's already preparing for it. I also believe he'll handle it better than his predecessor, mostly because I think the organization will handle it better.
Meantime, Murphy offered some insight into the upcoming draft.
"With so many states under stay-at-home orders through the end of the month, the normal offseason programs will obviously not start as planned," Murphy wrote on Packers.com. "The details of the offseason programs are being worked out with the NFLPA, but much of it will likely be handled virtually with players communicating with their strength coaches as well as position coaches."
The NFL draft is set for April 23-25.
Murphy said, "The focus will be on the teams and the players that are selected, but technology obviously will be crucial. The league described the concept as a hub with four spokes. The hub will be the league office and Roger Goodell, and will be where the selections are announced. The four spokes will be the draftees, the clubs, fans and former and current players. There will be cameras in various locations to interview people within the four spokes."
Virtual this, virtual that, it's hard to keep up, but just remember this: "With the 30th pick in the 2020 NFL draft, the Green Bay Packers select …"
I'll have the answer in next Monday's column.