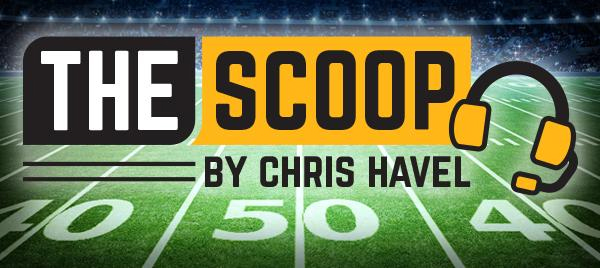 By Chris Havel

Special to Event USA
Green Bay's GM Gutekunst has numerous options with a limited number of holes
GREEN BAY, Wis. – hen NFL commissioner Roger Goodell steps to the makeshift podium in his basement Thursday night to announce the first pick in the 2020 draft it will mark my 29th year covering the event.
Each of the previous 29 drafts invariably begged two questions:
** No. 1 – Who do I think the Packers should draft?
** No. 2 – Who do I think the Packers will draft?
This draft is no exception.
Occasionally, the answer to those questions is the same, but not always. This is Packers GM Brian Gutekunst's third draft, and only his second with Matt LaFleur as the team's head coach, so the sample size is small.
Then again, Gutekunst has revealed several glimpses into his thinking.
In 2018 Gutekunst's trade down with the Saints, and the move back up to select Louisville cornerback Jaire Alexander, illustrated his ability to manipulate the draft. It signaled that the then-first year GM could play with the big boys.
In the process, he landed a fine cornerback and an extra first-round pick.
In 2018 he also doubled down at cornerback by selecting Iowa's Josh Jackson in the second round. It was the first of numerous "double downs" (either in free agency, the draft, or both) at several positions.
In 2019 he stood pat at No. 12 and selected Michigan's Rashan Gary. It was actually a "triple down" with edge rushers Za'Darius and Preston Smith already acquired in free agency. It allowed Gary time to develop but not at the expense of the Packers' pass rush.
Then, Gutekunst traded back up into the first round to select Maryland safety Darnell Savage Jr. with the 21st pick. Again, it was a "double down" with free agent safety Adrian Amos already in the mix.
I don't recall what it cost Gutekunst to move up and draft Savage, but I do know this: The pro-active Packers got a top-flight safety with great potential that wouldn't have been there otherwise.
Last year he drafted Mississippi State guard Elgton Jenkins with the 44th pick when he could have had a strong receiver (Mississippi's A.J. Brown or D.K. Metcalf, Georgia's Mecole Hardman or Ohio State's Terry McLaurin) simply for the taking.
Instead, he took Jenkins.
Clearly, the Packers' GM knows the value of strong line play. Furthermore, he needed to find out what he had in Marquez Valdes-Scantling and the rest of the young receivers. Now he knows.
So what is Gutekunst to do with the 30th pick?
** Trading down is a strong possibility. Two things must happen for this to materialize – another team needs to make an enticing offer and the Packers need to believe they can still acquire the player(s) they covet.
** If the Packers stay put with the 30th pick here is my "wish list":
** No. 1 – TCU defensive end Ross Blacklock, but I doubt he'll still be on the board. If Blacklock is there the Packers shouldn't blink twice. They should draft him and start thinking about a receiver.
** No. 2 – I would take Blacklock ahead of LSU receiver Justin Jefferson, whom I love. I just don't think Jefferson will be there, either.
** No. 3 – If Blacklock and Jefferson are gone I would be thrilled with either of two inside linebackers – LSU's Patrick Queen or Oklahoma's Kenneth Murray. Again, it's probably wishful thinking.
** No. 4 – USC offensive tackle Austin Jackson would be a steal at 30. Again, I doubt that Jackson will be on the board. I might be tempted to select Houston offensive tackle Josh Jones at 30, but I wouldn't do it. Veteran Rick Wagner gives the Packers time to find another tackle.
So that's my preferred pecking order: Blacklock, Jefferson, Murray/Queen or Jackson.
If they're all gone, and they could be, I've still got two players that I would be thrilled to see the Packers draft.
** No. 1 – Utah cornerback Jaylon Johnson has been on my radar for a while now. The reason is the kid can play.
Johnson (6-0, 193) clocked a 4.5 40-yard dash with 15 reps at 225 pounds and a 36 ½ inch vertical leap. He's a playmaking cornerback with terrific size and length to play press coverage. He can turn and run if necessary, but his greatest asset is his strength and awareness.
Johnson immediately would challenge Kevin King to start opposite Alexander. In the meantime, he would fit nicely on the perimeter to allow Alexander to move to the slot corner on passing downs.
He was a first-team All-Pac 12 selection while carrying a 3.6 GPA.
He's smart (see the GPA) and instinctive in both man and zone coverage with good recognition of route combinations. He has decent burst and agility in short spaces and explosiveness to fend off "jump balls."
Johnson naturally has "rake it or take it" skills on 50/50 balls.
I prefer Johnson to Alabama's Trevon Diggs and LSU's Kristian Fulton, two cornerbacks from "big time" schools who are going to be good NFL players but lack Johnson's overall game.
If Johnson is off the board when the Packers are on the clock – and each of the aforementioned players also is gone – there's still a bright side.
His name is Laviska Shenault.
Shenault (6-1, 227) is blessed with outstanding physical skills.
His best attributes are his "vice-grip hands" as scouts refer to it, and his strength and leaping ability to make the tough, contested catches.
Shenault also lined up at every position, including wildcat at Colorado, where he flashed as a powerful ball-carrier out of the backfield.
If Gutekunst and LaFleur are left with the prospect of choosing between Shenault and Baylor's Denzel Mims – who would be a nice consolation prize – I would take Shenault in a heartbeat.
Mostly, it's because Shenault has zero problems with drops, whereas Mims has been through a bout or two of it. The Packers can't afford to relieve the J'Mon Moore scenario a second time. The Missouri receiver was a good athlete, but he couldn't catch a cold.
Mims is better than Moore in that regard, but the question is out there.
The easiest way to answer it is by drafting Shenault instead of Mims.
One final thought: It's not beyond the realm of possibility that the Packers could draft Jaylon Johnson at 30, and move up into the second round to snag Shenault.
That's my take.
The rest is up to Gutekunst.