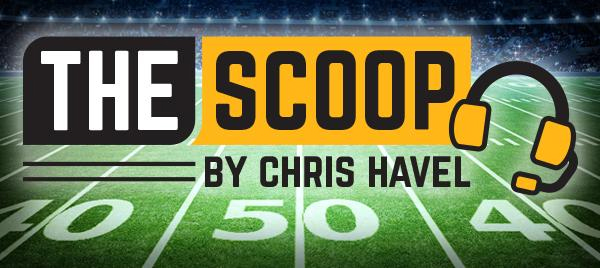 By Chris Havel

Special to Event USA
Gutekunst's gutsy move lands Rodgers' successor and maybe the next Mahomes
GREEN BAY, Wis. – The Green Bay Packers' bold move to trade up in the first round of Thursday night's NFL draft and select Utah State quarterback Jordan Love brings to mind the Rolling Stones' classic, "You can't always get what you want."
Those Packers' fans who are disappointed with GM Brian Gutekunst's decision need to recall the song's next line.
"But if you try sometime – like moving up from the 30th pick to the 26th pick – you get what you need."
Fans wanted a receiver, an inside linebacker, a defensive end … heck, just about anything but a quarterback. They wanted Gutekunst to get Rodgers and/or the defense the help necessary to get to Super Bowl LV.
I don't blame them. In fact, I was right there with them, but this is why fans cheer, sportswriters opine and GMs draft.
The greatest single endorsement in favor of the Packers drafting Love came from ESPN's Stephen A. Smith – who knows nothing about football – when he totally skewered Gutekunst for the decision.
I'll take Stephen A's displeasure as a sign it was a great move.
The reality is quarterbacks as talented as Love are difficult to acquire unless you're the Cincinnati Bengals and you own the first pick because you're awful. Even at that I'm not convinced Joe Burrow is going to be a better NFL quarterback than Jordan Love when it's all said and done.
No, Packers' fans didn't get what they wanted.
But the Packers got what they needed: A quarterback with the best arm in this draft who is athletic, smart and eager to learn while sitting and watching one of the league's all-time greats.
The Packers' greatest need, it could be argued, was hiding in plain sight.
Rodgers said he wants to play until he's 40. That's great. I hope he does. But just because the mind is willing doesn't mean the body will be able.
Rodgers turns 37 on Dec. 2. He isn't a kid anymore. He's far from it.
But he can still play at a high level. Winning now and drafting Love aren't mutually exclusive. It is possible to do both. In fact, I think the Packers are going to post a double-digit win total this season.
Rodgers led the Packers to the NFC Championship last season without any help from the 2020 draft. It would be foolish to think they were only a receiver, or an inside linebacker, or whatever away from getting past San Francisco and advancing to the Super Bowl last year.
And let's not forget: The 2020 draft isn't over.
The Packers still have eight picks. That's enough ammunition to get both players I coveted coming into this draft: Utah cornerback Jaylon Johnson and Colorado receiver Laviska Shenault.
Gutekunst will get Rodgers significant help at receiver in this draft.
Count on it.
If New England's Bill Belichick had traded back into the first round and selected Love at 26 many fans and media would be calling it "genius."
Gutekunst beat The Hoodie to the punch.
And all he will get for his trouble is criticism.
That's fine.
When Kansas City selected Patrick Mahomes – after the Bears traded up to take Mitch Trubisky – not everyone was sold on it. Now, Mahomes isn't merely the face of the Chiefs, but the face of the league.
By the way, the common comparison to Love is … Patrick Mahomes.
Gutekunst drew high praise for his wheeling and dealing in 2018. He traded down from 14 to 27 with the Saints, and then went back up to 18 to get Louisville cornerback Jaire Alexander.
It was a terrific move that netted a first-round pick to boot.
In hindsight, Gutekunst's better move would have been to stay at 27 and select the other Louisville player: Quarterback Lamar Jackson, who merely became the NFL's MVP in 2019.
The Packers' drafting of Love is a shrewd, long-term investment.
In order to acquire a quarterback of his talent and potential the Packers would have had to suffer through a dreadful season to pick that high. And even then landing a top-flight quarterback isn't a sure thing.
The lowly Lions were miserable last season. They had the third pick in Thursday night's draft. They took Ohio State cornerback Jeff Okudah, who will help their secondary, to be sure. But the fact remains Matthew Stafford – who is no Aaron Rodgers – is getting long in the tooth.
A few years from now the Lions and a lot of other NFL also-rans might be wishing they'd had the foresight and the fortitude to draft Love.
The Vikings will receive high marks for landing LSU receiver Justin Jefferson, who is going to give their offense a boost. Then again, it's still Kirk Cousins throwing to him.
Perhaps Rodgers' unique perspective will enable him to understand Gutekunst's decision. Rodgers was the Packers' first-round pick in 2005 when Brett Favre was still the man in Green Bay.
Rodgers, of all people, should accept this for what it is.
It's not his call. It's the right call.
If Rodgers reacts like the consummate pro he professes to be – and I've no reason to think he won't – he can spare the Packers and their fans the unnecessary drama that occurred back in the day.
This draft is more about the Packers' future than it is Rodgers' future, which is as it should be.
Love (6-4, 224) can make all the throws with ease.
He also can escape the pass rush. He ran a 4.7 40-yard dash to go with an explosive 35 ½ inch vertical leap.
Check out his scouting report:
** Tall in the pocket and a smooth, natural thrower.
** Arm strength to dime it into windows.
** Tight spirals come from a variety of arm slots.
What's not to like?
Love was college football's eighth-ranked quarterback two years ago. He threw for 32 touchdowns and just six interceptions in 13 starts. He completed 64 percent of his passes for a school-record 3,567 yards.
He appeared destined to be a Top 10 pick.
Unfortunately, Utah State's coaching changes and drop in talent led to Love's decline in touchdowns and increase in interceptions. Love did his best to win games, even if it meant taking more risks than he'd prefer.
He didn't throw more interceptions because he got worse. He threw them in an effort to lead an undermanned Aggies squad to victory.
Clearly, he isn't a stats guy. He's a winner.
Packers' fans should withhold judgment and give Love a chance.
They also should trust in Gutekunst.
The Packers' 2020 draft isn't over. It's just heating up.