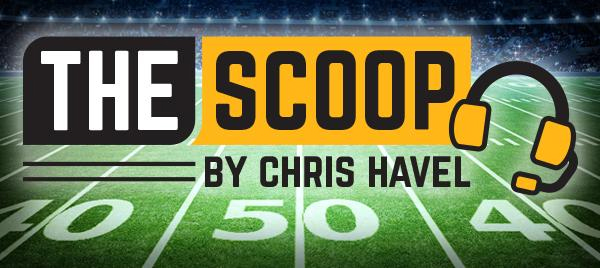 By Chris Havel

Special to Event USA
Green Bay defending its division title, beating 49ers in San Fran to name two …

GREEN BAY, Wis. – As the calendar ushers in June, and "Return to Play" plans are being discussed by the NHL and NBA, I find myself praying to the Football Gods that the Packers play a 2020 NFL season.
I can think of 100 reasons to want it.
I'm not talking about merely a return by teams on the field. I'm talking about back to the way it was with a jam-packed Lambeau Field, a sizzling hot Aaron Rodgers and Lambeau Leaps galore.
That's three reasons.
As part of an easing of restrictions related to the COVID-19 pandemic, today is the first day Packers coach Matt LaFleur will be able to return to his office at 1265 Lombardi Ave. It inches the Packers that much closer to normalcy, which is good, and I can't wait to see what LaFleur does for an encore after 14-4.
Let's see … that's an easing of COVID-19 restrictions and seeing LaFleur follow up his inaugural season, so that's 17 reasons.
Here's a congratulations to Aaron Jones and his girlfriend on the birth of their son during the COVID-19 pandemic. That stands as one reason for Jones to celebrate. I'm seeing 15 touchdowns for Jones this season – hey, A.J. Dillon is going to get some, too – after his 19-TD 2019. Jones alone is reason enough to want a season. He's that exciting.
Let's see … Jones' baby boy and 15 TDs makes 36 reasons altogether.
The Packers' season has to happen. Eight of the biggest reasons are the Event USA's player reception parties. I can't recall how long I've hosted this event, but I can tell you it won't feel like football without them. Everyone from Jordy Nelson and Nick Collins to Preston and Za'Darius Smith has made these parties awesome through the years.
Let's see … that's eight Event USA parties, Nelson, Collins and the Smiths, so that's 48 reasons.
Rashan Gary and Darnell Savage – the Packers' first-round picks in 2019 – are strong candidates to elevate their games. Gary's role will expand. It has to. The Smiths can't play 900 snaps each forever. My best guess is eight sacks for Gary. Savage will see time as the slot cover corner. He is building off a solid rookie season. I see six interceptions.
Let's see … that's eight sacks for Gary, six picks for Savage and one for the Smiths (hopefully) not having to play 900 snaps each. So that's 63.
The Falcons' Matt Ryan had an MVP season in Year 2 of LaFleur's offense in Atlanta. Image what Rodgers might do? Better yet, I'll tell you what he'll do. Rodgers is looking at 38 touchdowns, 4,000-plus yards passing and six interceptions.
Let's see … the touchdowns, the passing yards and another MVP trophy for Rodgers makes three, so that's 66 reasons to want a Packers' season.
Tyler Ervin is going to have a role this season. He'll be used out of the backfield because of his versatility and explosiveness. He'll also be the full-time punt and kick return man. I see a handful of touchdowns for Ervin this season, both on offense and special teams.
That's 72 reasons.
The greater Green Bay economy is impacted by an estimated $13 million per Packers' home game multiplied by eight. I shudder to think about the impact on the community, and especially those charitable organizations that rely on ancillary income generated by the Packers.
That's 73 reasons.
Mike Pettine took a lot of heat – and understandably so – for his role in the defense's undressing at San Francisco last season. I'm extremely curious to see what Pettine does this season at Levi's Stadium. I will make this prediction: There's no way the Packers' defense is worse.
In fact, I think the Packers will win a defensive struggle with the amazing Mason Crosby nailing a 48-yard field goal to win it.
Let's see … that's Pettine's retribution, my amazing prediction, the defense not being as bad and Crosby to win it, so that's 77 reasons.
The Packers' April draft wasn't deemed underwhelming by many in the national media that will come to realize they underrated it. A.J. Dillon is going to give the Packers juice in short-yardage and goal-line, merely two of the most important plays in any game. When he catches it out of the backfield – at a speedy 247 pounds – he will bring a physical presence the offense sorely lacked.
Let's see … that's a Packers' draft that is underrated, Dillon in short-yardage and goal-line, plus Dillon out of the backfield, so that's 81.
The Vikings, Bears and Lions all need to be reminded that championships aren't won in the offseason. They are won helmet-to-helmet and Green Bay swept the NFC North last season. That makes for a tidy 6-0 record within the division and a leg up in a tough NFC.
Let's see … that's three division foes, a 6-0 mark in the division and a leg up, so that's 91 reasons.
The COVID-19 pandemic has been hard on everyone, sports fans included, and in times like these any escape is welcome. In the case of Packers' fans and their team it's the greatest escape AND their reality all rolled into one.
Let's see … that's hard times, sports as an escape and the Packers as the greatest escape of all, so that's 94 reasons.