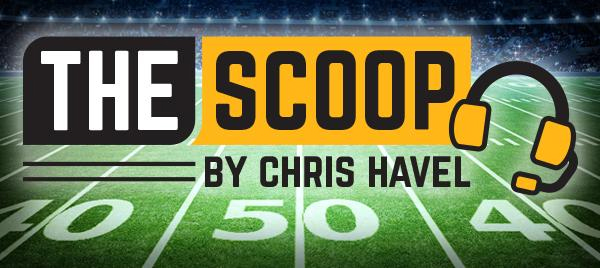 By Chris Havel

Special to Event USA
This week it's the non-Hall of Fame Packers – next week, it's Favre, Starr, etc.
GREEN BAY, Wis. – What with the COVID-19 pandemic, George Floyd's murder and a rather reflective mood permeating our nation, I thought it might be a good time to look back at my time in Green Bay.
I arrived in August of 1991 as the Press-Gazette's Packers beat writer. Since then, so many people have had a great impact on my career, which includes my thoughts on football and life.
Here are five of the most influential Packers on my life:
** Johnnie Gray
The undrafted free safety played nine seasons for the Packers. He had 22 career interceptions and ranks among the team's all-time leading punt returners. Mostly, Johnnie was noted for being a tremendous leader, tough-as-leather player and big-time hitter.
I grew up admiring Gray, one of the Packers' few bona fide stars in the late 1970s and early 1980s.
Then, I had the opportunity to co-host the radio show "Sports Line" on The FAN with him for eighth seasons. Johnnie worked at Syble Hopp School during the day, and would co-host the show in the afternoon.
It was a great education about football and life.
Johnnie's passion for both was unwavering.
Perhaps the most fun was co-hosting the show at Favre's Steakhouse on Friday afternoons before home games. The place would be empty at the 4 o'clock start of the show, but by its close at 6 p.m. it was packed.
We'd share drinks, laughs and meals.
Meantime, Brett Favre and the Packers were the NFL's darlings.
It doesn't get much better than that run in the 1990s and beyond. It was a pleasure sharing the ride with Johnnie Gray.
** Fred "Fuzzy" Thurston
The very name conjures images of the Ice Bowl, Green Bay's great offensive line of the 1960s and the legendary Packer sweep.
Fuzzy was a larger-than-life character that was impossible to dislike.
I met Fuzzy almost upon my arrival in Green Bay in 1991. The Press-Gazette sent me to do an article on the upcoming season – my first as the Packers' beat writer – and an interview with Thurston was a natural.
That conversation struck up a decades-long friendship.
Fuzzy was my contact with the Glory Years Packers. If I was good enough for Fuzzy, they reasoned, I was good enough for them. Fuzzy opened up a lot of doors for me, including his and Sue's while working on a project. For that I'll be eternally grateful.
One of my best road trips was with Fuzzy to his hometown of Altoona. Undoubtedly the greatest Railroader of all-time, Fuzzy remained a hero in the small northwest Wisconsin town a stone's throw from Eau Claire.
It was like being given a tour by the town's mayor.
Fuzzy was affable as can be.
Most of all, we talked football. We hit everything from his days before arriving in Green Bay to his thoughts on being a perennial underdog. Fuzzy didn't mind. He just always seemed grateful to play the part of former Packer and congenial host.
** Sean Jones and Gilbert Brown
The Packers' defensive line of the 1990s ranks among the NFL's all-time greatest. Reggie White, Gilbert Brown, Santana Dotson and Sean Jones were massive, powerful men that imposed their will.
Brown was the least approachable of the group. He would sit at his locker after games with a scowl – win or lose – that gave the impression it was best to leave him alone.
In fact, Brown is among the most engaging, fun-loving players I've ever known. It's just that he figured out it was easier to let Big Dog, Santana and Sean do the talking. He'd just sit back and do the playing.
I remember Brown's first training camp in Green Bay. The coaches had them doing their one-on-one pass rush drill. The impact of Brown's pads thudding against whichever player stepped in his path was bone-jarring. It would echo throughout the practice field.
Brown was an immovable object.
He also was a great interview when you'd get him by himself. The only two people I learned more about the Packers' defense from were Sean Jones and Fritz Shurmur. Brown was a student of the game.
Jones was nobody's fool.
He always had an interesting, thoughtful take on a game's events. He often held court in the locker room and did much to steer the dialogue. He controlled the locker room like a politician without seeming so.
Jones was a terrific pass rusher in his day, and could still bring it when he was in Green Bay. He always deferred to Reggie White, though, but still managed to be the defense's spokesperson for much of those years.
** James Campen
When Packers' fans think of Campen, more often than not, they think of the longtime offensive line coach. The strong-as-an-ox center is something of an afterthought.
The fact is Campen was a godsend to Brett Favre in the early years. He was a top-notch center and communicator. His knowledge of the game served him well as a position coach.
Campen also was friendly. He was in the locker room when I first arrived in Green Bay. We struck up a connection and actually socialized several times. He helped pave the road for me with a tight-knit group of offensive linemen including Ken Ruettgers.
Players such as Campen often go under the radar, but it's men like him that form the core of any great locker room. He also was good with the media in terms of being an educator. He would explain what the offense was trying to do – without being defensive – and it was illuminating.
** Harry Sydney
When Syd came to Green Bay I was in my third year covering the Packers for the Press-Gazette. Syd was brought in by head coach Mike Holmgren to play fullback and teach offense. He was almost a player-coach from the start in 1992.
Syd came from the San Francisco 49ers' championship teams. He didn't accept losing. He also didn't accept shortcuts or the easy way out.
He helped Brett Favre understand the offense from a fullback's perspective, and he became a team leader from Day One. Syd and I struck up an acquaintance just talking about football and life.
That was 28 years ago.
Since then, we've gone on to co-host the radio show "Sports Line" for 17 years. It's been that long and it still never gets old. We occasionally disagree, but it's always with a genuine respect and effort to see where the other person is coming from.
Syd also taught me the art of adjustment along the way. If we have technical difficulties, roll with it. If we have a producer that's not quite cutting it, stay cool and deal with it off-air and/or after the show.
Anybody that knows Syd understands that he's worked for everything he has accomplished. Currently, he operates My Brother's Keeper, a male mentoring program in Green Bay.
NEXT WEEK: The Packers' Hall of Famers who influenced me most.