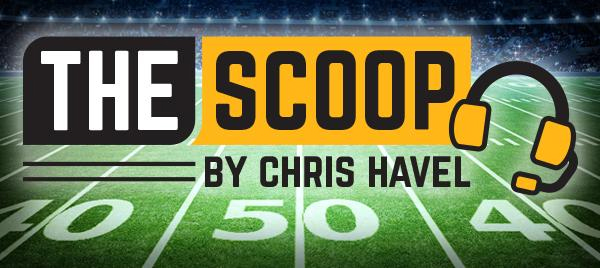 By Chris Havel

Special to Event USA
Green Bay's upgrades on offense, defense that no one is talking about this offseason
GREEN BAY, Wis. – The Packers' roster was significantly upgraded this offseason.
Naturally, some fans and media would disagree with that assertion.
They believe the Packers had a major fail by not selecting one of the top-rated receivers in the draft. They also feel that Rick Wagner is a downgrade at right tackle, Christian Kirksey is an injury risk at inside linebacker and Devin Funchess is nothing special at receiver.
To them I say, "It's your pessimism and you're welcome to it."
The fact is the Packers have improved on both sides of the football.
The most meaningful upgrade is playing in Year 2 under head coach Matt LaFleur and defensive coordinator Mike Pettine. Both coaches displayed competence and cohesion while winning along the way.
The NFC Championship Game berth wasn't a fluke.
It is impossible to know whether the Packers will win 13 regular-season games this season. In fact, it is possible Green Bay will be a better team capable of a serious playoff run despite posting fewer victories.
That's because the sum total is going to be greater than the parts.
It has to be that way if a Super Bowl berth is going to happen.
In April, Packers GM Brian Gutekunst drafted to upgrade the roster now while building for the future. After selecting Jordan Love, the franchise's quarterback of the future, they drafted for the here and now.
Gutekunst, in concert with LaFleur, drafted a powerful running back with breakaway speed, a bona fide H-Back to marry the run and pass, and a trio of offensive linemen with potential in this scheme.
A.J. Dillon, Josiah Deguara and the offensive linemen bring specific skill sets that enhance LaFleur's preferred way to play offense.
Time in the scheme represents the most significant upgrade.
Consider the hours LaFleur, his offensive coaches and Aaron Rodgers have spent together on Zoom this offseason. The thrust of their conversations isn't based on getting to know one another while they endeavor to learn the finer points of an offense.
It's taking their familiarity with each other and the scheme and working together to reshape, revamp and advance the attack.
Rodgers received praise from his coaches for his insight and input during this virtual offseason. They didn't seek out Rodgers' opinions as a way to placate him in the wake of drafting his heir apparent. They sought it because they need each other to make this offense click.
The coaches know it. Rodgers knows it. His teammates know it.
When training camp opens July 28 (fingers crossed) I doubt it will take long to see changes, adjustments and alterations in the offense. I also predict the newcomers will be penciled into roles right out of the gate.
In this topsy-turvy offseason that's golden.
Four of the first six games are on the road. It's difficult to win on the road in the NFL under normal circumstances. Given the unknown nature of the COVID-19 pandemic it can make road games even more difficult.
The Packers need to start fast.
Dillon, Deguara and Funchess give them a chance to do so on offense. They won't be asked to do anything they aren't capable of. Funchess has been around long enough to know what's up, while Dillon and Deguara bring specific skill sets that were absent on offense last season.
It's still a wonder that LaFleur coaxed 13 wins out of that team.
Defensively, the underrated Kirksey should be the glue that ties it together. The addition of speed in the middle, coupled with terrific edge rushers, a rugged line and capable DBs makes the defense formidable.
With that, here are five players flying under the radar … for now:
** Raven Greene started in the Packers' 10-3 victory at Chicago in the regular-season opener. He had six tackles, five solos and a pass defended. The 5-11, 197-pound safety played the "lurk" position – the same one Oren Burks hasn't been able to master.
Greene took to it right away.
Unfortunately, he was injured in Week 2 and didn't return until the Packers activated him before the NFC Championship. Greene didn't play, but it demonstrates how highly regarded he is by the coaches.
Greene's skillset better enables the Packers to defend the middle of the field, especially against the run and in the short passing game. Keep an eye on him.
** Darnell Savage Jr. is still a youngster by NFL standards, but he managed to become an integral part of Pettine's defense as a rookie. He flashed speed and smarts despite limited experience.
This season, Savage Jr. will be used in a variety of ways, including covering the slot receiver at times. He also is excellent as a blitzing defensive back due to his instincts and athleticism.
He's got All-Pro potential.
** Jace Sternberger, like Greene, was injured early in the season but regarded highly enough to bring back for the postseason.
Sternberger is still making the adjustment from being a "glorified" slot receiver to actually developing into a legit tight end. However, his skills as a receiver and route runner will get him on the field sooner than later.
An offseason of strength conditioning should help him be able to handle the blocking assignments that go with the position.
** Left guard Elgton Jenkins had a terrific rookie season.
I expect him to take his game to All-Pro caliber territory in 2020. Once LaFleur's running attack is fine-tuned, with Aaron Jones, Jamaal Williams and Dillon to rotate, fans should see Jenkins' impact grow.
Already solid in pass protection, Jenkins' athleticism should enable him to get into the defense's second level to make downfield blocks.
Jenkins is a rising star.
** Kingsley Keke flashed here and there enough to see his potential as an inside pass rusher and capable run defender. He has an opportunity to become what Montravius Adams was supposed to be.
If Keke elevates his game, as expected, it will make Kenny Clark's life a whole lot easier … and the defense a whole lot better.
That's plenty of reason to be excited about the Packers' prospects.
Pessimism be damned.