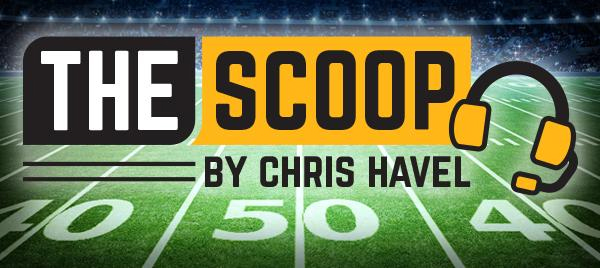 By Chris Havel

Special to Event USA
Experience versus youth? 11-on-11s will be critical for Green Bay's evaluation process
GREEN BAY, Wis. – The Green Bay Packers are expected to have rookies and veterans report Tuesday for training camp.
Fans won't be allowed to attend practices due to the COVID-19 pandemic. Beyond that it's a learn-as-you-go process.
The Packers haven't released a "media availability" schedule to my knowledge, but I have to believe some access will be granted. How else will fans know how their beloved Packers are looking beyond any information provided by the team's in-house staff?
Before the Packers hit the practice field, according to sources with knowledge of the NFL's proposal, the schedule looks like this:
** Day 1: Testing/virtual meetings. Days 2-3: Virtual meetings. Day 4: Testing/virtual meetings. Days 5-6: Physicals. Days 7-15: Strength and conditioning (with a day off). Day 16: Practice starts. Day 21: First padded practice.
If the reports are accurate, the Packers will begin on-field practices Wednesday, Aug. 12, with padded practices to start Monday, Aug. 17.
Also, practice squads will be increased from 12 to 16 players, with six of the players allowed to have an unlimited number of accrued seasons. It provides the Packers with some measure of roster flexibility.
Essentially, the Packers will have a 69-man roster this season. They will have the typical 53-man squad plus the 16-member practice squad, which may include up to six veterans.
The Packers will have three weeks (Aug. 17 to Sept. 6) in pads as they prepare for Week 1 (Sept. 10) of the NFL season. The Packers are at Minnesota for their Sept. 13 season-opener at U.S. Bank Stadium.
With that as the backdrop, here are three key areas to watch (if possible) during training camp:
** No. 1 – Evaluation versus preparation?

The elimination of preseason games puts GM Brian Gutekunst and head coach Matt LaFleur in a challenging position. They must attempt to properly evaluate the team's talent while preparing for a critical season opener on the road against their NFC North Division rival Vikings.
LaFleur adroitly handled a similar challenge last season.
While he was finding his way as a first-year NFL head coach – which included trying to fully implement his scheme – the Packers kept winning. It presented something of a conundrum.
LaFleur had to balance changing the culture, as well as the scheme, without doing anything to inhibit the team's winning ways. Aside from a glaring lack of experience at receiver, it's one reason he didn't fully incorporate his "hurry-up" or "two-minute" offense along the way.
The Packers went 14-4 before falling to San Francisco in the NFC Championship Game. By almost every measure LaFleur's first season was an unmitigated success.
This season COVID-19 related challenges have arisen.
Without preseason games, Gutekunst and LaFleur are going to have to select a roster with limited information. It's why the 11-on-11 drills are going to be particularly important. Where else can the GM and coach get film of live, head-to-head action in order to base their decisions?
It might make for some heated, intense practices. Surely the players know what's at stake, and that the clock is ticking from Day One.
My best guess is that there will be orchestrated matchups in practice. You'll see rookies and first-year players put in similar situations against similar competition to fairly evaluate their performances.
I also suspect every scrap of practice video will be analyzed to the max. Furthermore, the situations involving "live" padded practices will be very fluid. Injuries and absences will affect the circumstances daily.
Beyond that, a COVID-19 outbreak similar to the one baseball's Marlins are experiencing (nearly 15 percent of the roster tested positive) would be devastating to even the best-laid plans.
Gutekunst and LaFleur are going to have to rely on their wits – and a fair amount of luck – to have something that resembles smooth sailing.
** How quickly will newcomers be thrust into roles?

In April, the Packers drafted offensive players with skills that fit in LaFleur's scheme. A.J. Dillon is the bruising back with breakaway speed that the offense lacked. Josiah Deguara is the true H-back that the Packers didn't have a year ago.
So how quickly will the rookies – especially Dillon and Deguara – be integrated into the offense? Will they be given roles early on? What of the trio of rookie offensive linemen and their chance to compete?
Barring injury, I suspect Dillon will be one of the Packers' four running backs along with Aaron Jones, Jamaal Williams and Tyler Ervin. Each is unique with a specific skill set that fits the scheme.
Deguara, the last of the rookies to sign, also is expected to contribute. Whereas Danny Vitale and others were miscast as a true H-back, Deguara showed in college that he can block with a vengeance, run precise routes and catch the football blindfolded. I'll be curious to see Deguara up close and in action as training camp unfolds.
** Just how good is the Packers' defense?

Za'Darius and Preston Smith teamed up with Adrian Amos to form one of the Packers' finest free agent classes since its advent in the early '90s.
Their encore performance will go a long way to determining the degree of havoc defensive coordinator Mike Pettine's crew can wreak.
Meantime, it'll be interesting to see how the Packers' secondary matches up against the receivers. It appears unsigned veteran cornerback Tramon Williams will be an insurance policy if one or more of the young defensive backs fails or is injured.
Frankly, I feel better with Williams on the roster. In a season with so many unknowns his experience would be incredibly valuable.
Then again, the Packers know what Tramon Williams can do. Until he's needed, they'll be busy trying to figure out exactly what they have.
Buckle up for what looks to be a long, strange ride this season. That's with the full hope and expectation that there will be a season.