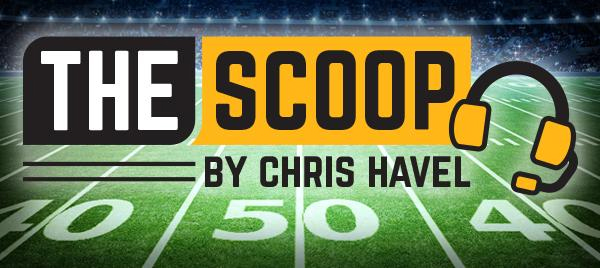 By Chris Havel

Special to Event USA
LaFleur's weekly Sunday update offers insight into playbook, practice routine
GREEN BAY, Wis. –If the players are handling their business as smartly as the head coach appears to be, the Green Bay Packers should be ready to roll Saturday when on-field practice begins.
From Allen Lazard to attacking the middle of the field, Matt LaFleur adroitly answered reporters' questions in a wide-ranging 20-minute Zoom news conference Sunday.
LaFleur, 40, exudes a calm competence that engenders confidence.
It's obvious why his players got on board last season.
LaFleur is on top of it.
It's easier for the players to follow when the head coach knows where he wants to go and provides a strong strategy to get there. That's LaFleur.
Given the COVID-19 pandemic and the unprecedented circumstances it has created, in addition to football's typical challenges, I can't imagine many teams are better equipped to cope than the Packers under LaFleur.
Today, the word "team" means everyone who is still allowed in the building at 1265 Lombardi Ave. The reality is it's going to take an entire village to complete the Packers' season.
The head coach sets the tone.
If he prioritizes the daily COVID-19 testing and emphasizes "doing the right things" like wearing a mask, social distancing and hand sanitizing it's more likely his players also will take it seriously.
That offers hope there won't be an outbreak.
In turn, it gives greater rise to the prospect of completing a season. The Packers announced last week their fans won't be able to attend the first two home games, but that still leaves six in play.
Six games with fans are better than eight without.
On Sunday, LaFleur spoke of the COVID-19 challenge.
He is asking players to arrive earlier at the facility each day to get tested and get on with the business of football.
"We don't want to delay the day too long," LaFleur said. "In a perfect world we'll try to have guys come in earlier, get the testing out of the way, and then practice roughly the same time as last year."
LaFleur intends to begin practices at 10:10 a.m. That's actually five minutes earlier than a year ago when there wasn't COVID-19 testing. Talk about sending a message regarding no excuses.
He also said they will hold some night practices at Lambeau Field in preparation of the two night games scheduled among the first four.
"There's a lot of things we're working through and around," he said, "but most of all we need our guys to make sure nobody's infected."
LaFleur is making his players' health the priority.
That's always the case. The pandemic merely emphasizes it. The Packers were the league's healthiest team in 2019. Some might say it was luck. I say it bodes well given the heightened challenge this season.
Today, a player's health isn't just about ankles and knees and getting a day off. It's also about testing and tracing and temperature-taking.
Oh, and by the way, it's about preparing to play winning football.
LaFleur's approach to installing offense and defense is interesting. On offense, it's about getting individuals up to speed and then pulling it all together as a unit. On defense, it's about the unit working cohesively while individuals are expected to know their roles within the structure.
The installs were completed during the team's recent eight-day stretch of strength-and-conditioning and virtual meetings.
Offensively, players need to know exactly their assignment any given play. For example, what route does WR3 run on plays X, Y and Z?
When the Packers begin on-field practice Saturday, LaFleur will incorporate the individual into the team. They will review the tape from that day's practice and get ready to be better the next day.
"Actually, with the virtual installs, and now doing it on the field, we're going to be able to hit everything twice," LaFleur said. "The virtual meetings allowed players to learn at their own pace. Now, we'll be able to put that (literally) into practice."
Defensively, it's been getting together as a group and then splitting up. That won't change when they begin on-field practices.
"Offensively, it's making sure we all have a better understanding of who we are and what are players can do," LaFleur said. "Consistency is the greatest measure of performance. We need to be more consistent."
LaFleur noted that "situational football" – in particular third down plays – are also going to be emphasized beginning Saturday.
"Third down is going to be a big emphasis throughout camp," he said.
LaFleur also talked about several other topics.
Here are some of the highlights:
** Mason Crosby, Jace Sternberger and four other Packers players are on the COVID-19 list. LaFleur said he didn't have any updates to share in terms of when they will return.
** LaFleur was asked about Allen Lazard's success last season.
"He attacks it the right way," LaFleur said. "He has a great mindset. We showed a lot of clips to the team of the effort he gives, not just playing wide receiver but on special teams.
"His mindset, his mentality, it's so contagious it rubs off on the other guys. He brings his work ethic every day."
To take the next step, which is being Robin to Davante Adams' Batman, LaFleur said Lazard needs to keep his sharp mental edge.
"He's made some critical plays for us – big plays in both Detroit games – with his 'do whatever it takes' mentality," LaFleur said. "Whether it's a pass route and he's going to catch it, or being a decoy, or in the run game he dominated his opponents. They knew they better put in their mouth guard and buckle up their chinstrap every time he's on the field."
** LaFleur was asked about Marquez Valdes-Scantling's falloff.
"He was battling through an ankle (injury) and I do think some confidence was lost by him," LaFleur said. "We need him to regain that. I do like his approach this week on video of his workouts. He seems to be in the right frame of mind with just how he's attacking it.
"He does have incredible speed and he scares the defense when he's out on the field."