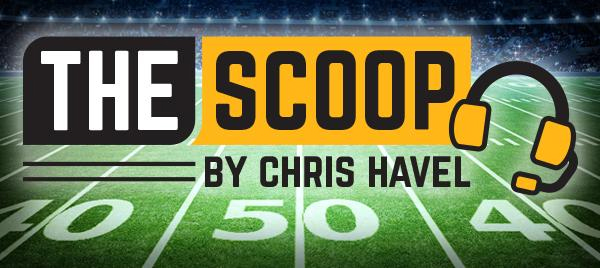 By Chris Havel

Special to Event USA
LaFleur's offense only now beginning to reflect head coach's preferred way to play
GREEN BAY, Wis. – Two weeks from today, I'll be recapping the Packers' 30-17 victory over Minnesota at U.S. Bank Stadium.
The talk will focus on the rebirth of Green Bay's "Two Aarons" – Rodgers and Jones – in the wake of a convincing season-opening win.
That prediction is based on the Vikings' defensive dismantling this offseason, their explosive but erratic offense and Green Bay's ability to field an offense that's as dangerous as its defense.
Head coach Matt LaFleur's quest for balance isn't merely about run vs. pass. It's about offense AND defense working in tandem to win the day. Let's not forget special teams, especially in these unprecedented times. It's likely that special teams will decide more outcomes in Week 1 than any other Week 1 in NFL history. Other than the medical staff, the league's most demanding job currently is special teams' coordinator.
It's a comfort knowing the Packers' Shawn Menenga has kicker Mason Crosby, punter/holder J.K. Scott, long snapper Hunter Bradley, sure tacklers Ty Summers and Raven Greene, and returner Tyler Ervin. That's a solid, veteran group going into a sure-to-be crazy season.
The Packers have a lot going for them. That said what's the easiest, most sure-fire prediction going into the season?
It has to be that the offense is going to be much-improved.
The only question is how much.
That is based on LaFleur's and Rodgers' come-together offseason in which they dived into the offense and retooled, rebuilt, remodeled – whatever you want to call it – along with the offensive assistants.
It gave Rodgers input and ownership.
Each is so important I'm not sure what order to put them in, but they're going to matter this season. That is the No. 1 reason the Packers' offense is going to better: LaFleur AND Rodgers coming together.
The same page is a nice place to start.
The Packers' scrimmage Sunday at Lambeau Field was a nice place to wrap up training camp. The 12th and final practice – four less than a year ago – provided a measure of insight into where the team is at.
Clearly, it's heightened speculation without preseason.
Disclaimers aside, the Packers' offense appears ready to make a significant leap in Year 2. Rodgers was 25 of 31 for 192 yards and a touchdown in Sunday's scrimmage, according to ESPN.
That's a tidy day, to be sure.
Before the scrimmage, center Corey Linsley said, "I think after (it) we're going to have a great picture of exactly where we're at."
He noted that it will be "much further" along than a year ago.
The backup QBs looked like backups, although Jordan Love did make several impressive throws while operating with a scaled-back playbook, according to LaFleur. Love was 8 of 14 for 98 yards and a touchdown.
Tim Boyle was 6 of 11 for 120 yards and two touchdowns.
A much smoother, more effective offense to open the season gives the Packers a chance to start fast on the strength of a balanced attack.
With LaFleur-Rodgers the No. 1 reason the offense will be better, here are Nos. 2-5, beginning with the tight end position.
** No. 2: It's all about your point of view when considering the Packers' tight end group. Jace Sternberger, Robert Tonyan, Marcedes Lewis and Josiah Deguara are as diverse as they are unremarkable.
But that's ok. In fact, that's the point.
LaFleur would like to have a 60-catch, 8-touchdown big-play tight end. What NFL coach wouldn't want to have Travis Kelce? What I respect about LaFleur is he doesn't rate the tight end unit's value on whether it features a top 5 player in the group. He needs the tight ends to get open, catch it, move the chains and block like crazy rest of the time.
They don't need to be great as much as dependable.
The versatility lends itself to LaFleur's preference to misdirect defenses by personnel and formation before the snap. The tight ends are critical to the offense's success, but clearly it's a case of the sum total being greater than the parts.
** No. 3: Marquez Valdes-Scantling, c'mon down, you're the next contestant on "Who wants to play opposite Adams?"
Valdes-Scantling's ability to be a play-maker has flashed again at recent practices. Finally, it appears, MVS is healthy, comfortable and able to begin reaching his potential in the scheme.
His size and speed combo is "one-of-its-kind" among the Packers' receivers, which is why the team has been patient with him. It appears that patience – fingers crossed, again – just might pay off.
With Davante Adams, Allen Lazard and a rejuvenated MVS, the Packers' receiving corps is significantly better than a year ago.
** No. 4: The offensive line just might absorb the loss of right tackle Bryan Bulaga and still operate LaFleur's scheme to his satisfaction. Bulaga was a wonderful right tackle. That's a fact.
However, Billy Turner may prove to be better at right tackle after an underwhelming season at right guard. Turner's athleticism allows him to get to the second level on downfield blocks. However, that's useless if he can't pass protect against the likes of the Bears' Khalil Mack.
Meantime, Lane Taylor looks like a lock at right guard, while Rick Wagner continues to recover from injury. LaFleur said Wagner is still competing for the right tackle job, but Turner's been solid.
The left side is dynamite with David Bakhtiari, Elgton Jenkins and a healthy Linsley expected to grow together in Year 2.
** No. 5: A little less of Aaron Jones just might mean even more production from the Packers' 19-touchdown running back. That may sound crazy, but in fact it's more likely than not that the number of big plays will increase this season.
Clearly, the No. 2 running back position is stronger with the addition of second-round draft pick A.J. Dillon to go with Jamaal Williams. Now, the Packers at least have an option if Jones or Williams is injured. In the past, it meant one back had to handle the entire position.
The depth makes them better from Day One.
If Dillon is as explosive as he looks, the running game could be a force. However, if Dillon struggles at times (he is a rookie) the Packers still have Jones and Williams as their go-to tandem.
What's not to like?