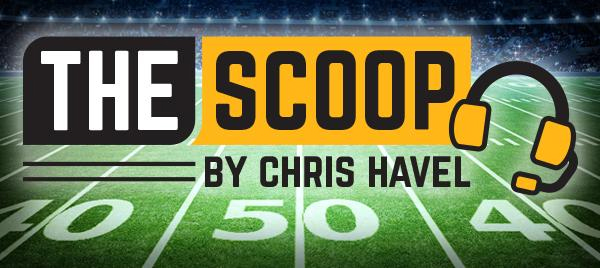 By Chris Havel

Special to Event USA
Rodgers lights up Vikings' defense while Green Bay's 'D' deals with Clark injury
GREEN BAY, Wis. – A year ago, the Packers' defense carried head coach Matt LaFleur's team, especially early in the season.
On Sunday, Green Bay's offense returned the favor.
Aaron Rodgers was superb, Davante Adams unstoppable and the offense fairly in sync in the Packers' 43-34 victory over a mostly defense-less Vikings squad Sunday at empty U.S. Bank Stadium.
The COVID-19 pandemic forced the Vikings to play without fans.
For Rodgers, the silence was (green and) golden.
The future Pro Football Hall of Fame quarterback opened his 13th season as the Packers' starter with a flourish. Rodgers completed 32 of 44 passes for 364 yards, four touchdowns and a 127.5 passer rating.
If not for Marquez Valdes-Scantling's two bad drops and another by Adams at the Vikings' goal-line with a defender draped over him, he would've thrown for 400-plus yards and five touchdowns.
Rodgers was in a zone.
His calm, workmanlike precision was amplified by the serenity of an empty U.S. Bank Stadium. He had the Vikings' defense on the edge of its cleats for most of the afternoon. It was as if Minnesota's defenders were practicing social distancing on and off the field. They scarcely got within 2 yards of Rodgers all day.
Adams saw Rodgers' big day coming.
"I've seen that laser focus come since the beginning of the week," Adams said. "There's a certain type of look in his eye he has, walking around wearing his headphones. I don't know what he's listening to, but whatever it is, I need to listen to that as well."
"Yeah, that's my guy. I expect nothing less form him at this point."
Adams did his share by catching a franchise-record tying 14 passes for 156 yards and two touchdowns. The Vikings' defensive backs, especially veteran Mike Hughes, had no answer for Adams.
The offseason loss of cornerbacks Xavier Rhodes and Trae Waynes – coupled with edge rusher Danielle Hunter's absence (neck) – was too much for Minnesota's defense to overcome.
The Packers' 43 points was the most in an opener in franchise history. The point total also was the highest allowed by Vikings head coach Mike Zimmer's team since he was hired in 2014.
It isn't going to be this easy for the Packers' offense all year.
Rodgers victimized the Vikings' defensive inexperience. Expect Minnesota to be much better defensively for the Nov. 1 rematch at Lambeau Field.
On the other hand, the Packers' offensive misdirection – the illusion of complexity – worked to a great degree. Allen Lazard had a 19-yard run and Tyler Ervin added three for 38 yards off jet sweeps.
Rookie A.J. Dillon pounded for 14 yards on 2 carries that merely made me want to see more of him. Josiah Deguara had one catch for 12 yards and one hellacious downfield block to spring Aaron Jones.
The Packers' defense was on the field for 18 minutes, 44 seconds, the lowest time of possession since the NFL began keeping the stat in 1975. Za'Darius Smith had a sack and Jaire Alexander bested him with an interception and a sack for a safety.
On the safety, Alexander misread a run play at the Vikings' 3-yard line, but rather than stop and retreat he kept coming and nailed Kirk Cousins in the end zone.
"Once I anticipated run, I shot my shot," Alexander said. "I slid to the DMs, basically, and when I saw it wasn't a run, it was too late to turn back so I just kept going."
Alexander's safety cut the Vikings' lead to 7-5. His interception just before half set up a 45-yard Rodgers-to-MVS touchdown to make it Green Bay 22, Minnesota 10 at the half.
"The turnover before the half was absolutely huge," LaFleur said. "That was big-time."
One of the few disappointments, if you can call it that, was the Packers' defense allowing Minnesota to put up 24 second-half points.
"When we're up on somebody, we can't relax, not for one second, especially in this league," LaFleur said. "Every week around the league you see teams battle back, and once that momentum starts going one way, it's hard to stop it."
The Packers' defense suffered a blow when Kenny Clark left with a groin injury in the second quarter. The Vikings' Dalvin Cook immediately attacked the area vacated by Clark.
It's unclear how long the defensive tackle might be out. I expect the Packers will sign a defensive tackle – perhaps a veteran free agent – to fill the void. Montravius Adams' inability to stay healthy and contribute (he was inactive Sunday) continues to plague the Packers.
Tyler Lancaster and Kingsley Keke tried to fill the void, but unless Adams suddenly figures it out (unlikely) the defensive line needs help.
Christian Kirksey posted 12 tackles and Krys Barnes, who was added on Friday, chipped in with seven tackles. Kirksey looks like the real deal, and Barnes looked like he belongs.
On the offensive line, Lane Taylor's knee injury and Lucas Patrick's shoulder injury are of major concern. Taylor might be done for the season, while Patrick's condition is unknown.
Elgton Jenkins started and played well at right tackle until Patrick's injury forced him back to left guard with Rick Wagner coming in. When Billy Turner returns from a knee injury, he'll likely be returning to his former position – right guard.
Now, the Packers have a week to prepare for the Lions, whose epic fourth-quarter collapse led to the Bears' 27-23 victory at Detroit. The Lions look ripe for a Packers team that scored 43 points despite missed opportunities.
A 2-0 start to any season – including two division wins – is welcome.
It's especially so in this unprecedented season.