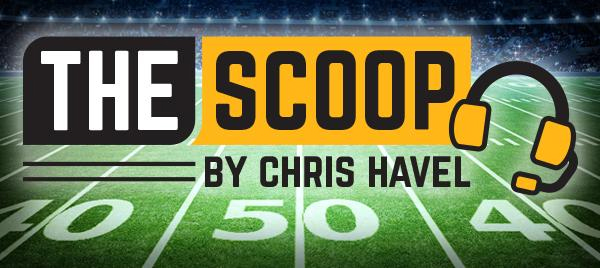 By Chris Havel

Special to Event USA
Green Bay's 'D' recovers after shaky start, Sullivan's pick-6 sends Detroit packing
GREEN BAY, Wis. – Matt LaFleur was displeased at halftime.
The Packers' head coach let his team – and in particular his defense – know the first-half effort in Sunday's home opener at Lambeau Field didn't come close to meeting expectations.
Message delivered. Message received.
After trailing 14-10 late in a lethargic first half, the Packers' defense finally forced a stop and Aaron Rodgers and the offense took it from there. Rodgers found Robert Tonyan for an 11-yard touchdown to give the Packers a 17-14 lead before intermission.
Then lightning struck on the Packers' first play of the second half.
Aaron Jones took a handoff, knifed his way between the center and right guard, and galloped 75 yards for a touchdown to make it 24-14. In the span of minutes a four-point deficit became a 10-point lead.
"I've talked about it over the years, how monumental those opportunities to double up can be, to go from down four to up 10 in not much time," Rodgers said. "We scored in 45, 50 seconds and we scored on one play. Next thing you know we're up by 10 points. That was important."
Whatever LaFleur said during the break made an impact.
His team – particularly the defense – took it from there.
Defensive coordinator Mike Pettine's crew allowed just 172 yards and a touchdown after the Lions' first two touchdown drives. The defense had surrendered five straight touchdown drives going back to the Vikings' final three possessions of last week's 43-34 loss to the Packers.
The second half was highlighted by Jones' run and cornerback Chandon Sullivan's 7-yard "Pick Six" to make it 31-14 and the rout was on.
"It didn't start the way we wanted but certainly they answered the bell," LaFleur said afterward. "The guys didn't blink. They didn't flinch. They just stuck together and were able to rally and get it together."
Sullivan echoed the coach's comments.
"We just talked about it at the halftime," Sullivan said. "We were not pleased with how we came out on the first drive, gave up a touchdown, and that's unacceptable. We have a standard and we just hold everybody accountable to that. So second half, we came out, we wanted to make an impression early and we were able to."
While the Packers' defense was figuring things out, and star receiver Davante Adams was sidelined with a hamstring, Jones and the offense effectively carved up Detroit's defense.
Jones rushed for a career-high 168 yards and two touchdowns. He also caught four passes for 68 yards and a score.
"I definitely miss the fans, the pats on the helmet, the pats on the back, them screaming," Jones said. "But I mean any time I get in the end zone I like the Lambeau Leap. It's a tradition we have here. Hopefully I'll pick up a sponsor."
The tarp that covered the first eight rows at Lambeau was covered with advertising, so Jones may get his wish.
Green Bay's running game was dominant.
The Packers rushed for 259 yards on 35 attempts for a 7.4 average. When they weren't gashing the Lions' defense on the ground, Rodgers was beating them through the air.
Rodgers completed 18 of 30 passes for 240 yards, two touchdowns and a 107.6 quarterback rating. Through two games while playing behind a patchwork offensive line, Rodgers has been sacked just once.
A bona fide running game will do that for a quarterback.
It doesn't hurt to have a star like Jones, either.
"We have some playmakers on this team and "33" is a special player," Rodgers said of Jones.
The Packers' offensive line deserves a fair share of credit, too.
Green Bay opened with (left to right) David Bakhtiari, Elgton Jenkins, Corey Linsley, Lucas Patrick and Rick Wagner. When Linsley left with a hand injury in the second half, Patrick moved to center and rookie Jon Runyan, Jr., stepped in at right guard.
It was pretty good work for a unit that already has lost right guard Lane Taylor to a season-ending injury and has been without Billy Turner, who is still recovering from a knee injury.
The Packers had a couple of "firsts in forever" on Sunday.
Sullivan's "Pick Six" was Green Bay's first interception return for a touchdown since Bashaud Breeland did it Dec. 9, 2018, vs. Atlanta.
Jones' 75-yard thunderbolt was the Packers' longest touchdown run since Ahman Green's 90-yard burst vs. Dallas in 2004.
The Packers are now just the eighth team in the Super Bowl era to score at least 40 points in each of its first two games. The last two teams to accomplish that feat – the Saints in 2009 and Broncos in 2013 – went on to reach the Super Bowl.
It's a bit early to be talking Super Bowl, but the Packers' expectations are high. They view themselves as a contender and a team that is more than capable of defending its home turf.
"Today's a game we expect to win," Rodgers said. "No, we don't have the home crowd, but we've had such an advantage at home over the years. We were 7-1 (at home) last year, we've obviously been good in the division the last couple years, haven't lost, but these type of games you have to win."
Now it's on to New Orleans for a Sunday night game featuring the Packers (2-0) and the Saints (1-0) – perhaps the NFC's top two teams. They call New Orleans "The Big Easy" but there won't be anything easy about knocking off Drew Brees and Co., but that's the expectation.