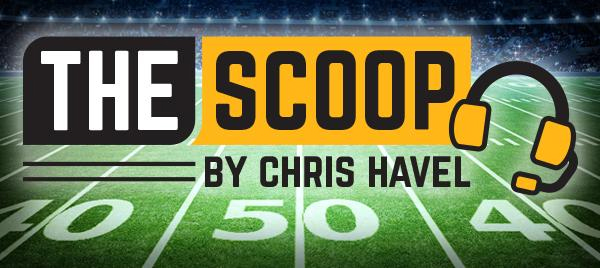 By Chris Havel

Special to Event USA
Green Bay's overall depth, balance too much for New Orleans in 37-30 victory
GREEN BAY, Wis. – Every time the Saints went marching in, or looked to be on the verge of it, the Packers responded in a big way.
After trailing by four at halftime, Green Bay racked up 24 second-half points for a 37-30 victory over the Saints Sunday night in front of 750 fans inside New Orleans' Mercedes-Benz Superdome.
The Packers (3-0) have scored 122 points, the most in team history through three games, with true balance and quality depth. Resiliency, deception and execution have defined Green Bay's offense.
Aaron Rodgers completed 21 of 32 passes for 283 yards and three touchdowns to nine different receivers. That is impressive considering star receiver Davante Adams was out with a hamstring injury.
With the Saints' defense electing to shade its coverage toward Marquez Valdes-Scantling (1 catch, 5 yards) the Packers turned their attention to Allen Lazard, who had six catches for 146 yards and a touchdown.
Lazard's career night featured catches of 48 and 72 yards to set up Packers' touchdowns, and he also caught a 5-yard scoring pass. Lazard also drew a pass interference penalty that set up a fourth touchdown.
It earned the Iowa State product his first game ball since college.
"We have the best deep ball thrower in the league if not NFL history," Lazard said. "To be able to go out there and connect on those plays I think is huge. It's demoralizing for the defense."
The Packers' tight ends also contributed in a big way.
Robert Tonyan, Marcedes Lewis and Jace Sternberger combined to make nine catches on 10 targets for 104 yards and two touchdowns. Lewis also contributed a crushing block on the Saints' Cameron Jordan to allow Aaron Jones to knife into the end zone for a 1-yard touchdown.
Lewis' in-line blocking also helped Billy Turner – who was making his first start of the season at right tackle – slow down Jordan's pass rush. Rodgers was sacked just once and that was probably his own fault.
It also was the first time this season Green Bay finished a game with the same offensive line that it started with. Credit Packers' head coach Matt LaFleur with using Lewis to help Turner handle Jordan.
LaFleur's play-calling also showed immense trust in MVS, Lazard and the tight end group. It was as impressive an offensive showing for the Packers since, well, their victory over the Lions last week.
LaFleur and Rodgers aren't merely on the same page. They're on the same paragraph while seeing, reading and attacking defenses.
"We've gotten in a good flow," Rodgers said. "I feel so much more comfortable in the offense this year, and I think Matt has really settled in to the rhythm of the play calling, and it's made my job a lot easier."
One of LaFleur's greatest strengths is seeing the game for what it is. If he senses it's going to be a shootout he adjusts his play-calling and decision-making accordingly.
"I really like the timing on certain calls," Rodgers said. "Sometimes, you've got to kind of dig deep at certain times and hold on to something and trust the players. I really appreciate the flow that we had tonight and the trust in us to make the plays."
The team statistics were almost identical.
The Packers and Saints were 5 of 11 on third downs. The Saints outgained the Packers by 28 yards (397-369), while Green Bay picked up 24 first downs to New Orleans' 21.
So what decided the outcome? Turnovers and penalties were the major difference. Frankly, the Packers were the more disciplined team.
Green Bay was flagged for just two penalties for 10 yards, while the Saints were a disastrous 8 for 83, including four first downs allowed.
The Saints also committed the game's only turnover.
With Drew Brees on the sideline for a play, Taysom Hill mishandled the football on a read option, and Za'Darius Smith was right there to jar it loose and recover the fumble.
Smith's game-changing play came late in the third quarter with the score tied at 27 and the Saints coming off a fourth-down stop at midfield. Instead of retaking the lead, New Orleans' turnover enabled the Packers to set up Mason Crosby's third field goal and take a 30-27 lead.
After forcing a critical three-and-out, Rodgers led the Packers on the game-clinching drive. Green Bay went 64 yards in seven plays with the drive being extended by the PI call and capped by Tonyan's 1-yard touchdown grab.
Defensively, the Packers had trouble with Alvin Kamara all night.
Then again, most NFL defenses do.
Kamara rushed six times for 58 yards, but it included a 49-yard lightning bolt. He also caught 13 passes for 139 yards and two touchdowns, including a highlight reel 52-yard score that included six missed tackles.
Clearly, Saints' head coach Sean Payton planned to ride Kamara to the final gun and victory. But with Christian Kirksey sidelined by a shoulder injury, and Kenny Clark inactive with a groin injury, Green Bay's defense sucked it up.
On the Saints' critical three-and-out in the fourth quarter with Green Bay clinging to a three-point lead, Kamara was stopped on tackles by Krys Barnes, Ty Summers and Chandon Sullivan.
Summers and Barnes registered nine tackles each. Kingsley Keke stepped up with two tackles and a pair of sacks in Clark's absence.
Talk about previously unheralded players stepping up.
It's a big reason the Packers are undefeated going into Monday night's game against the Atlanta Falcons at Lambeau Field.
Another big reason for Green Bay's success is its multi-faceted attack and its execution. The Packers haven't committed a turnover in three games. The only other team that can say that is the defending Super Bowl champion Kansas City Chiefs, who play tonight at Baltimore.
"A big reason why we've been able to generate points is, No. 1, we do a great job of taking care of the football," LaFleur said. "Our quarterback is as good as anybody, ever, at just making great decisions, throwing with great accuracy and timing. I think our offensive line has done a great job."