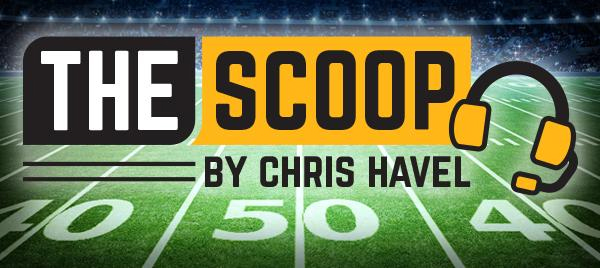 By Chris Havel

Special to Event USA
Green Bay's self-scout during bye surely reveals room to grow on both sides of ball
GREEN BAY, Wis. – The Packers are an amazingly imperfect 4-0.
While chasing perfection – chasing it relentlessly, knowing all the while they can never attain it – they've caught excellence along the way.
And with apologies to the great Vince Lombardi, they've caught almost everything else Aaron Rodgers has thrown their way.
Most of all, Matt LaFleur's Packers have caught the NFL's attention.
Green Bay currently owns the league's longest regular-season winning streak at nine, dating back to last season. Defending Super Bowl champion Kansas City was going for its 11th straight win when Las Vegas upset the Chiefs 40-32 on Sunday.
Meantime, three of the NFC's top contenders – Seattle, Tampa Bay and San Francisco – may look great from afar, but they're far from great.
The Buccaneers (3-2) lost 20-19 to Chicago (4-1) on Thursday night, while the Seahawks (5-0) scarcely slid past Minnesota, 27-26, on Sunday night. In between, the 49ers (2-3) were crushed by Miami 43-17.
Furthermore, the Bucs' defense suffered a major blow when Vita Vea, the dominant nose tackle, suffered a season-ending broken leg. In addition, ex-Packers coach Mike McCarthy's Cowboys – considered an NFC contender – lost terrific QB Dak Prescott to a gruesome leg injury.
In Green Bay, it's been a strong start to a promising season despite injuries to All-Pro defensive tackle Kenny Clark, top tackler Christian Kirksey, right guard Lane Taylor and receiver Allen Lazard.
Through it all Rodgers has been exceptional.
He has completed 98 of 139 passes (70.5 percent) for 1,214 yards, thirteen touchdowns and zero interceptions. His 128.4 passer rating is off the charts and a full 21.2 points ahead of the Packers' opposing QBs.
He is playing as well as he has throughout his Hall of Fame career.
"I like where we're at, I really do," Rodgers said following Green Bay's 30-16 victory over Atlanta going into their Week 5 bye.
"I like the diversity in our approach," he continued. "Again (coach) Matt (LaFleur) was really good kind of mixing it up with the calls. Obviously we had to do some different things without Davante (Adams), without Allen (Lazard) and without Marcedes (Lewis), but I thought we had a nice plan and we executed really well."
Perhaps these two statistics exemplify the Packers' offensive diversity.
The Packers are the NFL's only team to have six players with 12-plus receptions and 100-plus receiving yards this season. They also are the only team to have two running backs (Aaron Jones and Jamaal Williams) with 12-plus catches and 100-plus receiving yards.
The offensive line also has been consistently good despite being routinely shuffled due to injuries. The backs have had room to run and Rodgers has had time to throw. He's been sacked just three times.
Jones is on pace to rush for 1,496 yards, the Packers own the time of possession by more than eight minutes (34:20 to 25:40) and the line has allowed zero or no sacks in each of its last five regular-season games. The sack streak is the team's best since 2015 despite losing starting right guard Lane Taylor to a season-ending injury early on.
Clearly, the offseason Zoom meetings were productive, and the ensuing execution has been a solid 'A' this season. The Packers have committed just 19 penalties in four games. Consider this: The Buccaneers had 11 penalties in their one-point loss to the Bears Thursday night.
The Packers also are the NFL's only team without a turnover so far.
It all suggests a Packers' team with depth, discipline and determination. Their so-called "football IQ" must be off the charts.
LaFleur has said repeatedly that there's plenty of room for improvement. Once again, he's right.
The run defense needs to tighten up. The pass rush has been alternately overpowering and underwhelming through four games. And the offense needs to keep its receiving corps healthy.
Clearly, Green Bay's record-setting attack can be even better.
Imagine a Packers' team that has scored 152 points – the most in team history through four games – with the potential to do more.
It's no coincidence LaFleur is 17-3 through his first 20 games, second only to San Francisco's George Seifert (who inherited a Super Bowl champion from Bill Walsh) and went 18-2.
The Packers' defense should get better with the healthy return of Clark (groin) and Kirksey (shoulder). In addition, rookie linebacker Kamal Martin (shoulder) should return sooner than later.
The Packers' tackling needs to improve, too.
"We've missed too many tackles that's two games in a row where we've had quite a few," LaFleur said.
Za'Darius Smith, who is tied for the NFL lead with five sacks, agreed.
"I want to continue to harp on that – tackling and finishing in that run game is something we've got to clean up as a defense," Smith said.
LaFleur views Za'Darius Smith as the defense's lynchpin.
"He's an inspiring player, an inspiring person, and he brings a lot of juice and energy," LaFleur said of Z-Smith. "In order for us to perform at our best as a whole defense, he's got to be playing at a high level."
Second-year linebacker Rashan Gary flashed early, but has been slowed by an ankle injury in recent weeks. The bye should help him heal up. Chandon Sullivan (concussion), Kevin King (quad) and linebacker Krys Barnes (shoulder) all were banged up in the win over Atlanta.
Greater roles have been given to Tyler Lancaster and Kingsley Keke (two sacks) up front, in addition to Ty Summers and Barnes at inside linebacker, and Raven Greene and Will Redmond in the secondary.
The Packers have forced three turnovers in four games.
That needs to improve as the season wears on.
Jaire Alexander, who has been really good, wants more for the defense.
"We've done a lot of good things," Alexander said. "We also had things that we need to work on. But it's a promising start and we're just going to continue on this path of ascension."
That path continues with a trip to Tampa Bay to face the Buccaneers and future Hall of Fame quarterback Tom Brady. The Bucs' offense features receivers Mike Evans (22 catches, six TDs), Scotty Miller (15 catches for 250 yards and a touchdown) and Chris Godwin, who is expected to return from injury.
The Bucs lost tight end O.J. Howard to a season-ending injury, but are being patient while Brady's old running mate, Rob Gronkowski (12 catches, 140 yards) rounds his way back into shape.
Defensively, the Bucs will try to adjust to life without Vea as they prepare for the Packers and their nationally televised 3:25 p.m. kickoff Sunday at Tampa Bay.
As for LaFleur's Packers, they will try to build on their strong start.